At just 21, the actor and musician Alex Wolff has already made his mark on the industry, both as an actor (Hereditary) and as a musician. Now he has added another couple of notches to his belt with his assured feature debut as writer and director of The Cat and the Moon, which had its U.S. premiere at the San Antonio Film Festival this week.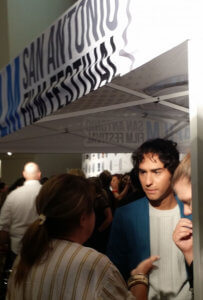 The Cat and the Moon tells the story of Nick (Wolff), a teenager sent to New York to live with family friend Cal (Mike Epps) while his mother is in rehab for an unspecified addiction. Nick's father is deceased, and Cal is the only person who has volunteered to take care of him.
But Nick proves to be trouble from the start. He asks the cab driver who's brought him to Cal's house if he has any weed, and on his first day at a new school, he falls in with a group of boisterous, hard-partying kids. Soon, he's drinking and drugging constantly, breaking all of the boundaries that Cal has tried to set for him.
Far from offering the standard "troubled kid" scenario, Wolff layers his screenplay with an authenticity that captures the pulse of the city and gives the characters real dimension. It also subverts expectations. In fact, with its story of youth run amok and its moments of improv, it often feels like Larry Clark's Kids by way of John Cassavetes.
Wolff's Nick is a complex character. Although friendly and easygoing on the surface, he's a burning ball of rage inside. He's still grieving for his father, and his mother has become far too much of a burden to him to handle. As Cal, Epps provides a convincing portrayal of a chill New York jazz musician who also attempts to be something of a father figure for the isolated young man. The scenes between Nick and Cal ring with truth, whether they're reminiscing about Nick's dad or spontaneously playing an improvised tune together.
The rest of the cast is also convincing, including Skyler Gisondo as his buddy, Seamus, and Stefania LaVie Owen as Seamus's girlfriend, Eliza, whom Nick is also attracted to.
The mostly nighttime cinematography by Anthony Savini and kinetic editing by Frank Reynolds perfectly complement Wolff's scenario. The film's flavorful score is a combination of rap and dance music for the party scenes and mellow jazz for the segments at home with Cal. Much of the jazz score was composed by Wolff and his pianist father, Michael.
The Cat and the Moon was screened Wednesday, July 31, 2019, at the Carlos Alvarez Studio Theater in the Tobin Center for the Performing Arts, San Antonio, Texas. It is scheduled for theatrical release later this year.