When it comes to how he approaches his art, Steven Wilson is something of a renaissance man. Dabbling in various musical disciplines and sub-genres that stretch across an ever growing multitude of projects, bands and artists, Wilson has also quietly earned himself a name as the "go-to" guy for producing and remixing albums by classic progressive rock and metal acts ranging from Opeth to King Crimson.
But when it comes to his own bands, Wilson seems to walk a straighter line right down the middle. The lighter, more introspective pop stuff is usually reserved for Blackfield, the jazzier and trippier avant-electronica is saved for No-Man, the heavier progressive rock for Porcupine Tree, and so on.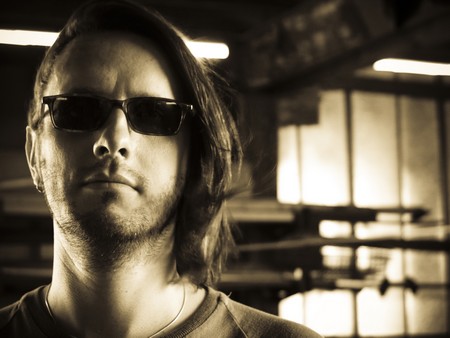 With his more recent solo albums, the ever prolific Wilson seems to have found a special place for that not quite so easy to characterize stuff that doesn't really fit any of those other bands though.
On 2009's solo debut album Insurgentes and the just released double disc set Grace For Drowning, Wilson sets darker and more personal lyrical themes against a musical backdrop that is much further out there. It's music that really defies conventional labels, although avant-prog-jazz-fusion, with a touch of melancholic doom probably works just as well as anything else.
As the artist who has done more to proudly fly the flag of modern day prog-rock than anyone else, Steven Wilson has always worn his influences on his sleeve. For proof of this, look no further than Porcupine Tree's Pink Floyd homage "Time Flies" from The Incident.
So, not surprisingly, on Grace For Drowning, you can hear little bits and pieces of everyone from Joy Division and King Crimson to Brian Eno and Radiohead in the mix. But what you mostly hear on this record is Steven Wilson himself. On Grace For Drowning, Wilson goes all out for broke in a wildly layered mix of sounds and styles that come off a little like all of the above, and yet like none of them at all.
This occasionally makes for some rather challenging listening. Grace For Drowning is not an album that is easily digested within just a single listen. But as repeated plays reveal subsequent new discoveries, the payoff does eventually come. For those with the patience to get there, Grace For Drowning is ultimately a very rewarding listening experience.
Dedicated to his father (who passed away earlier this year), Grace For Drowning explores much of the same darker territory Wilson first mined on 2009's Insurgentes. Death and mortality are the two most prevalent themes here. However, these don't begin to surface until three songs in, on the "title track" of disc one, "Deform Is To Form A Star." Instead, the first disc opens with two instrumentals that couldn't be more different from one another.
First up is "Grace For Drowning," a short piano interlude (with lovely playing from Jordan Rudess). This segues into "Sectarian," a fusion-prog workout recalling mid-period King Crimson, complete with abrupt time changes and cacophonous soprano saxes. Perhaps owing to Wilson's recent work on the Crimson remasters, "Sectarian" provides only a hint of the KC influence which later manifests itself more fully on the twenty minute long "Raider II."
"Postcard" is another of this albums many songs drawing on themes of melancholy. But here the somber mood is lightened considerably by a lovely sounding string and choir arrangement by Dave Stewart. This is followed by "Raider Prelude," a short, doomy sounding slice of funeral music that recalls "Light Mass Prayers," the prelude to Porcupine Tree's "Dark Matter" from their Signify album.
This makes for a great segueway into "Remainder The Black Dog," a tour de' force combining swelling mellotron, wildly swirling saxes, flutes and clarinet, and some amazing guitar work from the great Steve Hackett. Hackett's signature sustain is especially gorgeous in the ebb and flow fade that comes towards the end of this beautiful nine minute track.
Disc two (which carries the intriguing subtitle "Like Dust I Have Cleared From My Eye"), opens with the short instrumental "Belle De Jour." This is mainly highlighted by Wilson's acoustic guitar and another nice string arrangement from Stewart. This carries over into "Index," once again contrasting the shades of light and dark that make up the heart and soul of this album. "Track One" (which is actually track three on disc two) shifts between light glock and mellotron flourishes, and more of the bludgeoning, ever-present wall of musical doom.
The twenty minute epic "Raider II" is the true standout here though. A magnificent opus in the best tradition of classic prog, "Raider II" is all musical bluster and raging cacophony. This is the sort of joyful indulgence that will have you racing to check for references on all your old King Crimson albums. Perhaps more than any other track on Grace For Drowning, "Raider II" emphasizes the musical balance between darkness and light, as lilting flutes give way to crashing metallic guitars at will. The mellotron choir vocals here have likewise never been used to darker effect.
Despite its being an occasionally difficult listen on first blush, Grace For Drowning is ultimately a very satisfying effort from the modern day standard bearer of prog-rock, and one of music's true renaissance men.