Written in 1893, Mrs. Warren's Profession wasn't publicly staged in England until over 30 years later. Its frank (though euphemistically phrased) treatment of prostitution was the obvious reason for the play's suppression, but its truly modern subject was the newly developing role and rights of working women. It's a testament to both Shaw's brilliance, and to the slow, slow progress of societal change, that the play still feels pretty current.
The present production by BOO-Arts at Manhattan Theatre Source does very well by Shaw. Director Kathleen O'Neill, founder and director of the company, creates a pleasing, almost earthy sense of intimacy by placing the audience on two sides of the action. Shaw's dialogue is supremely fluent and expertly whittled, but also somewhat heightened; staging the play so that we're practically embracing the cast pulls a modern American audience into the action and helps make everything seem quite natural. Ms. O'Neill has grasped both the essential characteristics and the depths of Shaw's characters: not only the pivots of the story — the middle-aged madam of the title and her independent-minded daughter Vivie — but the four class-conscious men orbiting the women.
All the roles are very well cast, though some of the British accents are more successful than others; the excellent James Dutton, who plays Vivie's young, ne'er-do-well boyfriend/boy toy, has an advantage here, being British-born. His lounging, lunging, cynical Frank Gardner is like a prancing Wodehouse fop made suddenly self-aware. Broadway veteran Joy Franz is a magnificent Mrs. Warren, commanding the stage, revealing her history to her daughter with power and grace and pathos.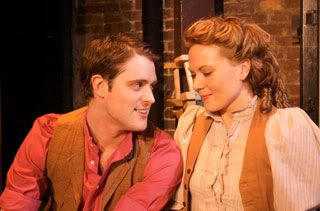 Ashton Crosby is a delightfully humorous Rev. Gardner. Joseph Francini is an effective Praed, the aesthete of the group, and David Palmer Brown has a grand time with the meatier role of Sir George Crofts, who initially appears to be a cad and blowhard but turns out to be rather more, and less.
Caralyn Kozlowski is a wonder as Vivie, completely disappearing into her complex character, biting down on emotions, then opening up just enough for us to read her precisely, controlling herself and controlling the men with the only real power she has: her determination. She makes us laugh even as she faces the serious conundrum of woman's lot.
Including intermission, the play runs two and a half hours, but it zips by. It's actually one of Shaw's shorter plays, and as such it's done more often than some; still, this is a fairly unusual opportunity to see a top-notch staging with an excellent cast in an intimate setting. Mrs. Warren's Profession runs through April 18 at Manhattan Theatre Source.