Thanks to everyone who took the House Trivia Quiz. The response has been wonderful; and thanks also to the FOX Official House website for linking to it. If you have taken the quiz, you may now proceed to the answer key below. If not, don't peek! Take the quiz first. Unless you can't resist. I won't tell. I know how much Dr. House hates tattletales. Look at what he did to poor Von Lieberman in "Distractions."
Part I: Name That Episode
1. Mention made of Wilson's brother.
"Histories." His long-lost and presumably homeless brother motivated Wilson to refer Victoria, a homeless woman with bizarre symptoms, to House in the season one episode.
2. House plays piano (name at least four).
Season one: "Socratic Method" "Damned if You Do," "Role Model." Season two: "Skin Deep," "All In," "House vs. God." Season three: "Half-Wit." Season four: "Games." (Partial credit for the season one episode "Control," in which House played a mean air-piano solo to The Who's "Baba O'Riley."
3. House plays guitar (name three).
Season three: "Que Sera, Sera" and "Human Error," and in season four's "Alone." (Partial credit for "Games." Even though House didn't play guitar in that episode, the lovely acoustic piece on the patient's recording was actually Hugh Laurie playing an original composition.)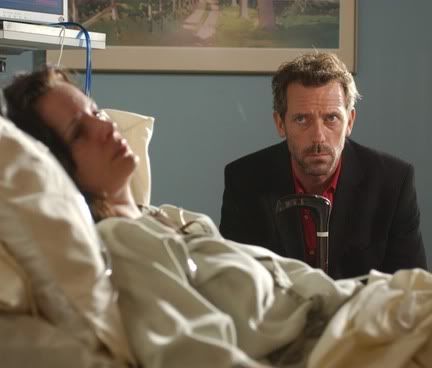 4. House gets a motorbike.
"Daddy's Boy (season two)." He did, however, do some window shopping earlier that season in "Autopsy."
5. House and Wilson take a spin in House's Corvette.
"Mob Rules" (season one). A gift from the Arnello brothers, the 'Vette made its only appearance in that mid-Vogler arc episode.
6. Cameron runs on a treadmill.
"Kids" (season one).
7. House discloses why he became a doctor.
"Son of Coma Guy" season three).
8. House affects a (bad) upper-crust British accent.
"Socratic Method" (season one). House (played by British actor Hugh Laurie) badly disguises his voice in a late-night call to his patient's last doc. It was a bit of humorously subtle irony as most viewers did not know early in season one that Laurie is British, although the comically snooty accent he uses is nothing like his own speaking voice.
9. House harmed himself intentionally (name three episodes).
Once each in seasons one, three and four, respectively: "Detox," "Merry Little Christmas," "97 Seconds."
10. Carmen Electra cameos.
"3 Stories" (season one).
11. House loses his department.
"The Mistake" (season two).
12. Chase's dad dies.
Also "The Mistake."
13. We see a picture of Cameron's dead husband.
"Spin" (season two).
14. We meet Foreman's mother.
"House Training" (season three).
15. Wilson moves into House's house.
At the end of "Clueless "(season two).
16. House faces a judge. Name three.
"Detox" (season one) "Words and Deeds," "Finding Judas" (both season three).
17. House eats cotton candy.
At the end of "Sports Medicine" (season one). With Cameron.
18. House undergoes an MRI.
"Skin Deep" (season two).
19. House Plans a trip to the Galapagos Islands.
"Fetal Position" ( season three).
20. House diagnoses mass hysteria.
"Airborne" (season three).

Part II: House and Music

21. Name four instruments that House keeps in his apartment.
Gibson Jumbo acoustic (acquired in "Human Error" to replace his old acoustic); Gibson Les Paul model (played in "Que Sera, Sera"); five-string banjo (in his bedroom); Dobro guitar; Stratocaster; Gibson Flying V — if he fixed it.
22. Name two episodes in which we've heard House sing.
"Ain't She Sweet" in "Deception," "Serenade" from the Romberg Operetta The Student Prince in "Need to Know," "God Rest Ye Merry Gentlemen" in "It's a Wonderful Lie."
23. What type of instrument did John Henry Giles give House as a gift?
His old trumpet, for saving his life in season one's "DNR."
24. Name the classical piano piece that House plays on the piano at the end of "Skin Deep."
"French Suite No. Five in G Major (Bach)."
25. Name the Oscar Peterson piece House plays at the end of "All In."
"Hymn to Freedom."
26. Name the piano piece played by House in "House vs. God."
"What a friend we have in Jesus"
27. What are two musical pieces House has on his iPod?
"Beautiful" (the Elvis Costello version), "Hava Nagila," "Baba O'Riley," Puccini's "Nessun Dorma" are among the presumably thousands of tracks on his iPod.
28. What's the first episode in which House played a musical instrument?
House was playing an elaborate Baroque period piece as the camera zoomed in on his apartment window in "Socratic Method."
29. What brand guitar did House acquire in "Human Error?"
Yet another Gibson, adding to the several already in his collection.
30. What's the name of the song House played with Dave Matthews in "Half-Wit?"
"I Don't Like Mondays." (Credit also given for "The Entertainer")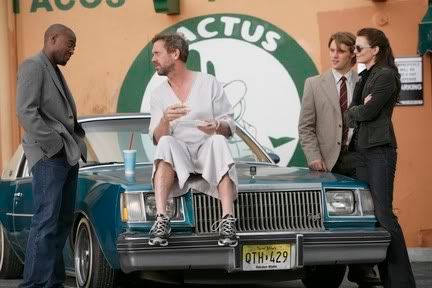 Part III: House Soundtrack
31. John Mayer's "Gravity"
Final scene of "Cane and Able" — a dialogue-free scene, with just Hugh Laurie watching all of his own dreams of being pain free trickle away as he grabs his cane from the back reaches of his closet. Gravity, indeed.
32. Jeff Buckley's "Hallelujah"
Final montage in "Acceptance", the season two opener.
33. Ryan Adams' "Desire"
Bookends the opening and closing scenes of "Skin Deep."
34. Elvis Costello's "Beautiful"
"Autopsy" as House contemplates Andie's words to him and window shops for a motorbike.
35. Sigmund Romberg's Operetta The Student Prince
House (Hugh Laurie) singing a love serenade from it after his rendezvous with Stacy in "Need to Know."
36. Lucinda Williams' "Are You All Right?"
Perfect closing song for "Fetal Position," as House gives up on the notion of a holiday sits in solitude, depressed and alone.
37. Gomez' "See the world"
"Half-Wit" — so beautifully evokes House's state of mind at the end as he contemplates entering the restaurant — taking a baby step out into society.
38. Donovan's "Season of the Witch"
Final song in "Words and Deeds" as House rests in his jail cell after being acquitted of drug charges.
39. Bird York's "In the Deep"
"Autopsy"
40. Three Dog Night's "One"
"Occam's Razor"
Part IV: General Knowledge
41. Name four languages besides English that House can speak or understand.
Hebrew, Yiddish, Spanish, Mandarin, Hindi, Portuguese.
42. How many times has Wilson been married?
Three.
43. How many times (and in what episodes) have patients died?
"Maternity," "Babies and Bathwater," "Histories." Season two: "Daddy's Boy," "The Mistake," "Euphoria," "Forever." Season three: "Informed Consent," "Que Sera, Sera," "Son of Coma Guy," "One Day, One Room," "House Training." Season four: "97 Seconds."
44. When did Cameron and Chase first get together?
At the end of "Insensitive."
45. How many canes has House had since the first episode?
Three in the first season (the original, the silver-tipped cane used in "Sports Medicine," the new cane he shows to Cameron in "Kids.") In season two he gets a new cane after Wilson severs the old one in "Safe." In season three he gets that awful three-legged cane in "Whac-a-mole," which he then swaps with an elderly man for a new one; and he gets another new cane after Hector (Wilson's dog) chews through it in "House Training." He has had the "flaming cane" ever since.
46. Who is Ingrid and what is her connection to Wilson and House?
She is the masseuse introduced in "Detox" by Wilson, making a second appearance in "Who's Your Daddy."
47. What are House's parents' names?
John and Blythe.
48. What's Chase's father's name?
Dr. Rowan Chase. His address is 221B Baker Street, a reference to Sherlock Holmes.
50. Name one Woody Allen reference in the series.
Stacy quotes Annie Hall regarding the messiness of relationships.
51. What is Cuddy's specialty?
Endocrinology.
52. What is Cameron's specialty?
Immunology.
53. What is Chase's specialty?
Intensive/critical care.
54. What is wrong with Foreman's mom?
She has Alzheimer's.
55. Name the three episodes in which we have seen House's scar.
"Skin Deep," "Top Secret," "Frozen."

Part V: House Connections
56. WKRP in Cincinnati
Dr. Johnny Fever needed a heart transplant in season two's "Sex Kills."
57. Night Court (extra point if you can name both).
Charles Robinson (Mac on Night Court) was an African American clinic patient needing some blood pressure meds in season two's "Humpty Dumpty." John Laroquette, Night Court's smarmy Dan Fielding was vegetative state guy in "Son of Coma Guy," in season three.
58. Buffy (extra point if you can name more than one).
Buffy's Dawn (Michelle Trachtenberg) played a tick victim in "Safe"; Tom Lenk guested in season two's "Spin," and Adam Busch played played a cow-loving clinic patient in "Sex Kills."
59. St. Elsewhere.
St. Elswewhere's saintly young doctor David Morse became the vengeful Detective Tritter in the mid-season three arc.
60. 24
Sarah Clark (Nina on 24) was the high-powered CEO Carly in "Control."
61. Heroes
Heroes' Greg Grunberg played the distraught husband of an organ donor in "Sex Kills."
62. Full Metal Jacket
R. Lee Ermey reprised his tough-as-nails military man (different rank and different branch of the service) as House's abusive father, John.
63. X-Files
Besides Daniel Sackheim who has been a director and producer on both shows, Pruitt Taylor Vince (the creepy Gerry Schnauz in the X-Files' season four episode "Unrhue") played the obsese epicure in "Que Sera, Sera."
64. Cabaret
Joel Grey, starring as the MC in Cabaret as a dying researcher in "Informed Consent."
65. Pippin
John Rubinstein starred in the title role of "Pippin" on Broadway long before being a jerk of a surgeon in "Sex Kills."
Part VI: Props
66. Red, sweet, sticky.
The red suckers that House is always eating.
67. Keeps him "warm and cool."
House's black motorcycle jacket.
68. Has a "ginormous scratch"
House's orange motorbike (standing corrected on the actual quote, which was "ginormous scrape!).
69. Big, round, red and white.
The gigantic tennis ball, and source of House's thinking power.
70. Good for grinding your own medications and for smashing your hands.
Any one of the many mortar/pestal sets House seems to collect.
71. Chick Webb.
A poster of the physically disadvantaged, brilliant jazz drummer hangs in House's apartment (first season he hung it in his office).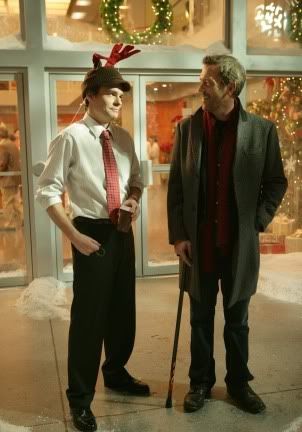 72. He has two by Sota.
House's very, very expensive turntables for his precious vinyl collection.
73. One has flames; one is silver-tipped.
House's canes.
74. Hold the pickles.
…on House's favorite food — a Reuben sandwich.
VII: Patient Care

75. Risked his license to get her a transplant.
Carly in "Control."
76. She wrote House love letters.
Georgia in "Poison."
77. Just one word for her: jelly.
Clinic patient with a terrible vaginal infection in "Deception."
78. Chase chastely kissed her.
Andie in "Autopsy."
79. She had a "tattoo of a skunk" on her shoulder.
The young nun in "Damned if You Do."
80. House "ate the berries…"
…(in this case anesthetic gas) to help Adam, his young autistic patient in "Lines in the Sand."
81. House couldn't "kill her dream."
Greta, the astronaut in "The Right Stuff."
82. Road trip and a hoagie.
"Son of Coma Guy"