I confess. I'm a gadget freak. I always have been. I started using PDAs when they were in monochrome; I was first on my block to get a DVR. My laptop and I are connected at the fingertips (or at least it seems that way most of the time.)
And I'm an avid reader. My husband and I have a library of more than 1,000 books (I lost count after that). My nightstand and the floor next to it are piled with a heady combination of fiction and non — a mix of the classic, the absurd, the political and the tense; I can't travel without at least two or three novels thrown into my carry-on bag. Just as I can no longer travel without my computer in tow. The gadget freak meets the reading addict.
So, it is with great anticipation that I await my brand new Amazon Kindle, just announced this morning by Amazon.com as the perfect marriage between book and technology. It should be delivered tomorrow, so the verdict (as far as I'm concerned) is still out. But the device is being released right on schedule for me.
My middle-aged eyes are beginning to lose their near focus; and I've discovered that I need three different powers of reading glasses to function. Large-type books are just too clumsy and heavy. I'm not a big fan of audiobooks unless they're read by Hugh Laurie (OK, or Jeremy Northam).
I've been considering the purchase of an e-book reader for about six months; I've read all the reviews; been to all the forums and discussion groups. Sony has one (just introduced in its second generation); Bookeen just introduced the Cybook Gen3; there's the Illiad and a few others. All are pretty pricey, but worth it if they do the job(s). For me that means portability and ease of readability. And one of the good things about e-book readers is that you can adjust the size of the font from normal to super-large with the click of a button. Perfect.
Some people use their PDAs or cell phones as e-book readers, and I even tried that at one point. Although the type was clear, and it was a weird reading experience to have my book in that little three-inch display. The type was too tiny and the background too bright to be comfortable for an afternoon's good read curled up on the sofa. Making the font bigger and easier to read completely screwed up my reading experience, requiring me to constantly scroll this way and that.
Dedicated e-book readers are not back lit and are hence (theoretically) easier on the eyes. They generally use a technology called "E-ink," which renders the display very paper-like. The drawback is that when you want to read in bed while your spouse (or partner) prefers a darkened room for sleep, you need to add a book light of some sort. Just like conventional reading in bed. The upside is that if you're reading on the beach, the display (like a paper book) is easy to see. Reading in normal light is not a problem.
In order to use any of these devices, you download the purchased book to your computer (which contains the correct software) and then synchronize the reader to the software. Not too complicated, if not the ideal experience for a browser like me. I hemmed and hawed, wondering which one I should (if any) I should buy. Or not.
Enter Amazon's Kindle. Just this morning. I've just ordered one and will get it tomorrow. To me (beyond the hype) after reading and comparing other e-book re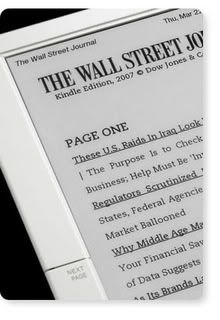 aders, this is the one that will solve the dilemma for me. It appears to be intuitive (something the others seem not to be), and small (like the others). It's not as pretty, but I think the design is intentional, allowing you to flip forwards and backwards in the book as you would a real (tree-killing) book.
But it appears that the best thing about the Kindle is the delivery system. No computers, no wires, no sync-ing. Just press button, browse the Amazon.com store, push another button and voila. Instant book-gratification. Best sellers are $9.99, and a quick browse this morning found that most books (that would likely by now be in paperback) go for around five or six dollars. No shipping fee and instant delivery. No charge to wirelessly connect to the store either. For an additional fee, you can subscribe to daily newspapers from The New York Times to LeMonde; magazines of every variety; even some blogs.
Now, mind you, it is not a cheap item. At $400 it's a bit steep. But comparing it to other e-book readers, while the price is slightly more, I think the ease and the features make it worth the extra $50-$100.
I'm looking forward to getting mine tomorrow, and will write about it again after I've played with it a bit. Can't wait.