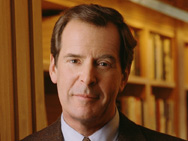 ABC evening news anchorman of 22 years, Peter Jennings, has announced he has lung cancer. With Tom Brokaw (21 years at NBC) and Dan Rather (24 years at CBS) recently retired, Jennings, 66, is the last of his generation still at the nightly news helm.
Jennings made the announcement today in the form of an email. "There will be good days and bad, which means that some days I may be cranky and some days really cranky," he wrote. "Almost 10 million Americans are living with cancer. I am sure I will learn from them how to cope with the facts of life that none of us anticipated. I begin chemotherapy next week."
"It's both Peter's and my expectation that he will anchor World News Tonight during the period of treatment to the extent he can do so comfortably," ABC News President David Westin wrote in an e-mail to the network's news staff. Lots of emails flying today. Charlie Gibson, Elizabeth Vargas and others will substitute as necessary.
"He's already bringing to this new challenge the courage and strength we've seen so often in his reporting from the field and in anchoring ABC News," Westin also wrote.
Lung cancer is the biggest cancer killer in the United States, affecting an estimated 172,570, and killing more than 163,000 Americans annually. Almost 90% of lung cancers in the U.S. are traced to smoking. Jennings smoked for years but quit in the '80s.
Jennings's ABC News bio is here; more on lung cancer from CancerCare here.
(Visited 1 times, 1 visits today)