Who is this hirsute fellow? One of SoCal's more imposing homeless chaps?
Well, if having three homes in L.A. makes you homeful, then this must be Rick Rubin, one of the most successful and eclectic producers in the recording industry.
Rick Rubin has produced wildly successful music for the following staggering array of artists: AC/DC, Aerosmith, The Bangles, Beastie Boys, Johnny Cash, Danzig, Neil Diamond, Dixie Chicks, Mick Jagger, L.L. Cool J, Nine Inch Nails, Roy Orbison, Tom Petty, Public Enemy, Red Hot Chili Peppers, Run D.M.C., U2, Jay-Z, System of a Down, and Justin Timberlake.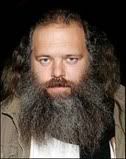 And that was just yesterday – heh. At this moment, he is up for a Grammy in the following categories :
Record of the Year – Dixie Chicks – "Not Ready To Make Nice"
Album of the Year – Dixie Chicks – Taking The Long Way, Red Hot Chili Peppers- Stadium Arcadium, Justin Timberlake – Future Sex Sounds
Best Producer Of The Year – American V: A Hundred Highways – Johnny Cash, God's Gonna Cut You Down – Johnny Cash, Stadium Arcadium – Red Hot Chili Peppers, Taking The Long Way – Dixie Chicks), 12 Songs -Neil Diamond.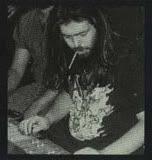 If you ask me, the guy's kind of a show-off. I mean who gets nominated for producing albums for someone like Neil Diamond and then turns around and produces the Red Hot Chili Peppers? Geez dude, give some of other knob-twirlers a chance.
In any case, despite looking like a crazed woodsman who has animal skins hanging from his cabin deep, deep in the forest, he's a really well-loved guy. Just ask Emily Robison of the Dixie Chicks. Here's what she had to say about working with Rubin on Taking The Long Road:
"He's the exact opposite of what you would think he would be. With the hard rock and
rap background, this guy with the long hair and big beard, everyone was a little intimidated by him at first. But when you realize what he's like, he's just a big teddy bear."
Rubin's impressive music industry pedigree (and amassed fortune) began while he was still a student at NYU. With partner Russell Simmons he formed the mythic Def Jam Records. Def Jam is the home of hip-hop industry giants like Jay-Z, Ludacris, Nas, Method Man, Kayne West, Lady Sovereign, and just a billion other money-makers.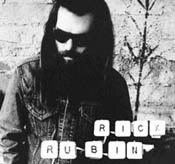 And Rick Rubin helped build this legendary label through his vision of blending hard rock with rap, which was perfectly illustrated on Run D.M.C's version of Aerosmith's classic rock hit, "Walk This Way." With this, rock-rap was born, and Rubin, more than anyone, helped define the mid-'80s sound that launched the Beastie Boys to fame and paved the way for similar artists like Kid Rock.
Simmons and Rubin were forced to break apart Def Jam when Rubin wanted to release the death-metal group Slayer's Reign In Blood. Def Jam's distributor, Columbia, refused, and the two split the company into separate entities: Rick Rubin on the West Coast with Def American (later becoming American Recordings), and Simmons on the East Coast with Def Jam.
With his new label, Rubin branched out to a wider audience and signed artists like Danzig and roots rock band the Black Crowes. He was also free to start producing more "classic" rock artists like Tom Petty, the Red Hot Chili Peppers, and Mick Jagger. This more than established his credentials as a heavy-hitter.
Production is an art form, and when working with an artist, a producer has the opportunity to take that artist and mold them into an ideal of what they think that artist should be. Sometimes that results in a "thumbprint" or a "signature sound" that makes that producer's work extremely recognizable (Phil Spector, Mutt Lange). This might be a great thing for the producer, but not necessarily great for the artist. This is truly what makes Rubin exemplary: not only does he have a great ear for music, excellent taste, and a fuzzy beard, but he also does not produce from preconceived notions.
Rick's open attitude toward production is evident in how he describes the process:
"A lot of artists really like having someone to bounce things off of, because it's hard to know. Most of them, especially the ones that are established and have had success, tend to be in a little bit of a vacuum, because most people tell them what they do is great. But there's a lack of reality in that world and it's not beneficial to the artist to be in that world…I love music and I love bands and my goal, always, working with them is to help them be their best, whatever that is."
Artist who've worked with him agree with his style, Dixie Chicks' Robison also had this to say about his approach to recording music:
"I think he knows when it's right and he's very decisive, which is refreshing, but he's also a very good listener. You just respect his ears and his taste so much. That's an earned trust. We knew the legend but we didn't know the actual reason … We came to learn that it's just that he has great ears."
And Rubin's dedication to the artist has paid off. Besides producing platinum album after platinum album across the musical spectrum and earning numerous Grammy nominations for some of the most heralded albums of the year, he just finished a project with Linkin Park and is now producing metal giants Metallica.
What's next for this music legend? Besides maybe starring in a version of Extreme Makeover, he states his dream job would be to produce a whole album with U2, having produced two new songs on their greatest hits album – thus proving even legends have heroes.