Director David Fincher himself saw sheriffs' cars tailing his school bus in the '70s. Three decades later, Fincher and his crew met with many of the people involved with the mysterious serial killer named Zodiac, including two surviving victims of an attack and the cops who investigated the cases. This is a talking movie, a new experience for a director who doesn't much care what people have to say. "If you want to see what someone is about, you look at what people do, what they say is how they want to be seen."
Fincher had previously used the Viper Filmstream camera to shoot a commercial for Hewlett-Packard, and Michael Mann used it to shoot part of Collateral, but Zodiac is the first Hollywood feature shot entirely on the Viper system. Fincher, helped by digital shooting by Harris Savides, knows how to play up contrasts with lighting and chromatisms, as in the key scenes at the lake, at Washington and Maple, or the vintage cars and police motorcycles outside Original Joe's in the Tenderloin at two in the morning.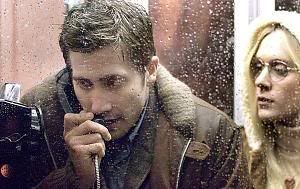 In contrast to the cops is Robert Graysmith (Jake Gyllenhaal), whose enthusiasm for the case grows unstopabble. "I need to know who he is," he tries to explain to everybody else. Paul Avery (Robert Downey Jr) is equally effective as the cocky, debauched reporter, jealous of the more cultivated Eagle Scout (blue Aqua Velva drinker) Graysmith. Leading the investigation are SFPD Inspectors Dave Toschi (Mark Ruffalo) and William Armstrong (Anthony Edwards), who attend the scenario of the first crime in the movie on the night of Armstrong's birthday. Immediately, the case becomes public due to the nationwide interest in these perverse cyphered messages inside the letters sent to the newsroom.
Also responsible for discovering Zodiac's identity are Cpt. Marty Lee (Dermont Mulroney) and a code-breaker named Sherwood Morrill (Phillip Baker Hall) who examines the handwriting. When famous attorney Melvin Belli (Brian Cox) is contacted by the killer, he tries to talk to him via television but nothing happens until Christmas when he receives another letter. The cartoonist becomes unofficially enrolled in the case as the official forces fail to delve deeper into the crimes that were committed in different jurisdictions. It seems to be a case without answers, as every time a lead comes, there is an expert to tell them to move on. James Vanderbilt's screenplay is a journey into obsession and disappointment in its most naked, grey, and educated way.
Being the main suspect, Arthur Leigh Allen (John Carroll Lynch) brags, aware of his power in a supremely uncomfortable scene in front of the assigned detectives, where all the clues point to him: a watch on his wrist with the symbol used by the serial killer, the military boots, and especially his own words after being accused of molesting kids: "I'm not the Zodiac. And if I were, I certainly wouldn't tell you". Toschi and Amstrong search Leigh Allen's mobile home only to find some squirrels, adult magazines, and several fire guns. Angry for not able to bring him to trial or maybe because he wanted to keep in touch with his family and eat sushi, Armstrong asks for a transfer in the police department leaving an overwhelmed Toschi behind. In real life, Allen died in 1992 and although his fingerprints, handwriting, and DNA didn't match those on Zodiac's letters, Graysmith remains convinced of his guilt.
Four years later Toschi is still on the force and Graysmith still a cartoonist when a new reporter replaces Avery on the San Francisco Chronicle. Graysmith starts to write a book about the investigation while trying to talk to Avery, who is rude to the ultra polite cartoonist. Graysmith is embroiled in endless research for his book but all he can find is more loose ends so he asks for help from Toschi, who unlike Avery isn't wasted but he's understandably reluctant to collaborate. With Graysmith taking on the investigation, like Avery and Toschi before him, he starts to flirt with madness, which affects his family life and relationship with his new companion, an increasingly upset Melanie (Chloe Sevigny).
One of the points of the film as intended by Fincher is to get the audience excited about the jarring events and their shock value, only to leave them feeling as worn out as the detectives and survivors in the story. When Graysmith goes public on TV, we viewers begin to dislike him in the very sense we could feel ashamed of ourselves, therefore a moral perspective is fully accomplished by Se7en's perpetrator, Fincher. A bitter taste comes back when a letter from the Zodiac re-emerges.
Fincher's opinion about truth? "There is no truth after thirty-five years. There are only varying degrees of falsehoods."