Hardly a shock to anyone, tabloid darling and starlet-gone-to-seed Lindsay Lohan entered the Wonderland rehab facility on January 17 for her various addictions, which may include prescription painkillers, cocaine, and without question, alcohol.
Lindsay issued this statement through her publicist about the decision: "I have made a proactive decision to take care of my personal health."
Lohan had been working on her latest film, I Know Who Killed Me, when she checked herself in the famous LA rehab facility.
Though she had been teetering on the edge for almost a year now, anyone familiar with the actress could see her downward direction gravely accelerate over the last few months. Numerous stories of binge drinking, bizarre behavior and incoherent musings made it clear that Lohan was struggling to keep herself in control. Clearly, Lohan's decision to receive treatment was a matter of the troubled 20-year-old's very survival.
In the weeks prior to her self-admission to the facility, Lindsay underwent an emergency "appendectomy" and was then seen drinking large volumes of alcohol within hours of being discharged from the hospital.
Last year at the same time, Lindsay was rushed to the hospital for a reported "asthma attack" and "exhaustion." Such foggy claims and subsequent bizarre behavior have sullied her reputation as an actress, including the now infamous letter from a Morgan Creek executive chastising Lohan for her poor work ethic and for using illness as an excuse to blow off filmic responsibilities. While it may be unfair to question the legitimacy of her recent surgery claims, Lohan certainly has contributed to the air of suspicion around her with frequent injuries and a proclivity for unexplained emergency visits that coincide with work duties.
Besides Lindsay's often unhinged and troubling substance abuse behavior, she also seems to suffer from other demons, as her personal relationships are often rocky, brief, and tend to end badly with her picking up the pieces. The life Lindsay has cultivated at such a young age is much more befitting of hardened rock star and professional widow Courtney Love than of a pretty, multi-talented young girl with a promising career ahead of her.
Lindsay's story isn't simply that of a spoiled star frittering away her talent, but also of a craven failure of family and friends to guide the young woman along an acceptable path. Essentially, Lindsay is saddled with the worst kind of parents: a mother who uses her daughter as a platform to launch her own delusions of grandeur, afraid to say no or take a stand; and a father so beneath contempt and mentally disturbed that he sits in a jail rotting, writing silly poetry and scribbling cartoons about his daughter.
Why no one has sat Lindsay down and FORCED her to check herself before she wrecks herself is beyond me. It just shows you that people will commit all sorts of acts of depravity and selfishness to get a glimpse of the good life, including selling out their own flesh and blood.
Another strange twist to this story is a (possibly dubious) report that Lindsay received support and the advice she needed from the most unlikely of places: Brandon Davis. For those unfamiliar (what, are you living in Canada or something?), Davis is not only friend of Paris Hilton and heir to oil millions, but the infamous ranter who gave Lindsay the "special" name, Firecrotch.
Davis, no stranger to addiction, has been a patient at the Promises clinic in Malibu (more than once), and he and Lindsay have seemingly forged a tenuous friendship after their famous rift. It is conceivable that he played some part in her steps to recovery. How sad that Lindsay may have found more hope and direction from a once-sworn enemy than from her friends and loved ones. And that, my friends, is how they roll in Hollywood.
So while Lindsay fights her demons, the worse of which is an inner circle of bloodsucking vampires and teeth-baring wolverines (excluding her younger siblings), a question remains: What's the appropriate course of action for those in the media in handling this type of situation?
I sat on this news for over a week, not really sure how I felt about covering it. In many ways I feel very motherly towards Lindsay, as I have my own young adult step-children whom I love. Anytime I have covered Lohan's mishaps, it was in the spirit of concerned warning and disapproval of her actions, rather than my usual sneering cynicism at abject celebrity failings. I like Lindsay fundamentally – at least as much as I am willing to like any celebrity. She deserves a fair chance to grow and screw up like any young person.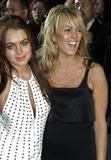 Perhaps I sympathize with her struggle to free herself from a mother who is constantly angling for attention for herself, rather than protecting her own daughter from a cruel and vicious industry. Even now, as Lindsay faces real hardship — the inner, soul-searching kind — Dina Lohan is trolling the talk circuit, double-dealing on her daughter, complaining about her right to privacy while she violates it at every turn.
Disgusting, reprehensible, loathsome and pathetic: truly this is a stage mother who possesses all the nastiest and most stereotypical traits of the breed. She is a pimp and a sham and Lindsay's recovery will depend on getting as far away as possible from her old life, her old friends, and her old ways. She must start fresh, and even then, she may not ever fully recover. Ugh, it's heartbreaking.
With that in mind, I have one final thought on this whole tawdry matter. Out of all the cowardly, yellow-bellied and dirty dealing that has been done Lindsay, none is more transparent than that of a recent story I read on PerezHilton. With the exception of perhaps Lindsay's own mother, Mario Lavandeira, the writer behind PerezHilton.com has done the most to push Lindsay over the edge.
Barely a day has gone by without his bashing, crucifying, and skewering Lindsay for his own personal gain. This in principle I do NOT have a problem with. What I have a problem with is his sudden acquisition of a conscience, parading himself around as a born-again arbiter of common decency.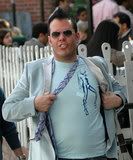 Not only did he help break the Lohan rehab story — complete with teasers and blind items — but he continued to write about it for days with his tongue clucking and his finger wagging. Then suddenly, he's posting nonsense with titles like "Not Cool At All," and "This Has To Stop" in reference to paparazzi coverage of the story.
Here are some Perez dictates on how the rest of the media should be handling the Lindsay Lohan story: "We've been giving Lindsay Lohan a hard time lately," he writes. "But we also sincerely think it's utterly important that she be allowed the time now to get healthy. Photos have popped up of the young starlet on the grounds of her rehab facility and attending AA meetings outside of the treatment center. The presence of the paparazzi – creating this unhealthy disturbance – is not healthy for Lindsay or anyone else seeking treatment for their problems. Not cool!"
He continues, halo askew, "We won't run those pics on PerezHilton.com and we ask our fellow colleagues in all media to not run them either."
And my favorite: "Seriously, can't the paparazzi leave Lohan alone as he tries to get her life in order??? Their presence could be a possible deterrent from her wanting to go to meetings and get better. We really hope other media outlets refuse to run these pictures and that the photogs leave Lindsay alone at AA and at rehab. All other times? She's fair game!"
Wow, I loved that last part, it's like, "Hey, Lindsay once you get your head on straight, it's on, you know what I mean?"
The proverbial cat is out of the bag, and you sir are the bagged-cat-letter-outer.
If you are going to write vicious, cruel, demeaning, slanderous, catty, sometimes false items about people, then you better be prepared to stand by those words. Otherwise, you reveal the true nature of your character, and there is no one with half a brain who is buying your backhanded, smoke-and-mirrors attempt to seem above the fray.
Get over yourself you preening, self-important sacksniffer.