Lindsay Lohan — never one to lead the simple life — broke her wrist last week while in New York for Fashion Week at a Milk Studios soiree.
According to her publicist, the seemingly comatose Leslie Sloane Zelnik, Lindsay "was walking in an outside area wearing flat Chanel boots" when she slipped and fractured her wrist in two separate places. Lohan was taken to St. Vincent's Hospital, where her mother, Dina Lohan, met her shortly afterwards.
Sloane Zelnik also added that Lohan's lawyers would be investigating the incident to see if Milk Studios had taken appropriate measures to cover the "slick ground," as the incident may affect Lindsay's "ability to work" and "attend movie meetings" in Hollywood.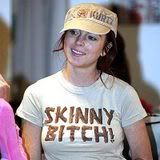 There has been no comment from Milk Studios about the incident.
Strangely, Lindsay was able to attend several evening "meetings" where the agenda centered more around "partying" and "kung fu shadow boxing" than work.
TMZ, the most committed celebrity hunter in the celluloid jungle, captured footage of Lindsay Lohan doing some kind of "Crouching Tiger, Hidden Firecrotch" action completely unaware she was being videotaped. (Hint: Lindsay, always assume you are being watched). Just watch the video for an epiphany on Lindsay's spiraling descent into madness.
It's sort of like watching a chorus girl get possessed by an Asian street thug. We could call it La-Cage-Ku-Fu. Whatever it is, Lindsay isn't letting a little thing like a double wrist-break and a cast keep her from letting her "inner" crazy out. If Lindsay wishes to pursue her "investigation" into why she's a clumsy knucklehead, she may want to cut down on the street aerobics.
All this craziness makes me wonder: is there a gas leak in Hollywood? Did someone poison the water supply? Because peeps be buggin' out.
In another example of "exaggerated for dramatic effect" news, Cameron Diaz filed a police report alleging that a photographer had "assaulted her with a deadly weapon" during a scuffle outside a friend's apartment this past week.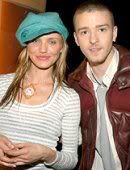 According to LAPD officer April Harding, Diaz's report states the following occurred:
"Diaz and Justin Timberlake were leaving a friend's home when a photographer hiding in the bushes tried to take a photograph of her. They both then chased the photographer for a short distance. The photographer then got into his car and drove toward both them, causing Diaz to jump out of the car's way. She felt the driver was trying to hit both of them, and so she filed the report. She's alleging assault with a deadly weapon, with a vehicle."
The photographer's agency X17 posted a somewhat different account of the evenings events on their website. His official statement on the incident states that while taking photos and videos on a public street where there were no visible "Private Property" or "Private Drive" sign, at "least two people verbally and physically assault[ed] him."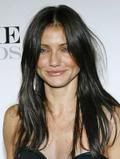 The photographer emphatically denied that he tried to run Diaz over, and was in fact trying to escape from Diaz and her fierce entourage of "at least five members", but was blocked from doing so as they stood in front of his car. Fearing violent man-slaps from the hardened street thug Timberlake, the photographer circled around the angry crew at what he deemed "a safe distance," and considered himself lucky to still be alive.
According to LAPD officer Harding, "The investigation is in its initial stages." No arrests have been made as of yet.
If I were the photog, I wouldn't be too worried. This isn't the first time Diaz and Timberlake have had run-ins with the paparazzi. Justin was previously in trouble for a 2004 altercation in LA where he and Diaz attacked a photographer and "stole" his camera. He was given, as he says, "a slap on the wrist," and warned about not using violence when dealing with pesky paps. There are of course, a variety of snapshots showing Cameron Diaz harassing, tussling and causing general mayhem with Hollywood's bottom feeders.
On the other hand, Diaz's antipathy toward the photographic set is at least partially explained in light of her being blackmailed by a photog over semi-revealing shots from her distant past.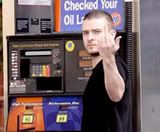 I have a certain sympathy for famous people who want some privacy, but it's not as though the negatives of fame and fortune were unknown to these people when they set sail on their journey for public worship and adulation. Were there not a consumptive demand for their visages, as it were, they wouldn't be living the good life.
Not to mention the pointlessness of fighting with these photohounds: just smile and move on. If you engage them in an effort to either break the law or entrap them into breaking the law, you are merely encouraging more and more intrusive altercations. Perhaps you should look within yourself and say, "Wow, I feel lucky I am important enough that people want to hide in the bushes and take my picture."