There is something ironic and sad about a reality TV series predicated upon your lifelong commitment to a person, only to have it end after three years. I have cans in my pantry longer than Nick and Jessica were married. Such is the world of celebrity lovers turned litigants; now all that remains is the quest for who gets to keep the bounty of their union – a bounty that would otherwise be much smaller if not for the sum total of that union.
If having only $7 million makes you poor, Nick Lachey is about to file for celebrity welfare. According to reports "close to the source" (read TMZ – the omnipresent stalkerazzi) Jessica Simpson's, 25, is offering ex-husband Nick Lachey, 31, a measly $1.5 million to settle their division of property, stating that he "doesn't have the stomach to sue" her.
That's $28.5 million less than the couple was worth before their divorce: Nick, get some antacid for crissakes. California law states that Nick, a former 98 Degrees member, is entitled to receive half of the couple's assets, but the ruthless Simpson conglomerate run by Papa Joe Simpson (father of Jessica and Ashlee) are counting on Nick taking a cool $1.5 million to avoid having to seek spousal support, and the oppressive strong-arm tactics of his soon to be former father-in-law.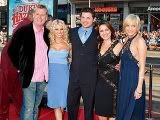 Poor Nick, still reportedly in love with the curvaceous but dimwitted Jessica, is clearly wounded. Proving that bad luck is good publicity – the divorce, his heartache and her cruelty are fueling his re-emergence as a popstar with his hit single "What's Left Of Me," a bittersweet tale of love gone wrong. The single, peaking at #6 on Billboard's Hot 100, from his second solo album, also titled What's Left Of Me, sold a whopping 170,000 in its debut week of May 27. I am certainly no pop music fanatic, but I like the single and it's all the more engaging knowing the well-publicized backstory of the song.
Nick and Jessica became stars after their reality TV series on MTV, The Newlyweds, catapulted the couple to fame – a fame that they might not otherwise have known. The intrusiveness of the show and the world into the fledgling marriage, endless tabloid speculation, and ultimately, the puppeteering of father/manager Joe Simpson clearly contributed to the disintegration of the three-year marriage. Joe Simpson, mastermind of The Newlyweds, is also owner and founder of Papa Joe records, securely nestled under the Geffen label.
Joe Simpson takes the role of stage mom to a whole new level. Managing both daughters, Jessica and Ashlee's, singing/media careers seems to have given the former Baptist youth minister a G*d complex of a different kind. Manically spinning the media to conform to his will, Simpson has managed to create, destroy and resurrect both daughters' careers with the skill of one who has sold his soul to the devil.
After successfully pitching Jessica and Nick's love and young marriage to execs at MTV, Joe was emboldened to pimp Ashlee's burgeoning music career into another reality show, The Ashlee Simpson Show. Fans got to watch Ashlee's phoenix impression as she crashed, burned, then miraculously arose from the ashes of a lip-sync scandal stemming from her appearance on SNL. The 360 degree transformation is legendary, and further proves her father's alliance with hell. Despite a popular site petitioning for her removal from the music scene, and ostensibly the universe, she has reemerged with a successful follow up album.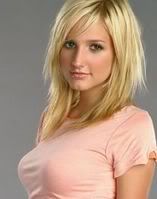 According to Billboard, "Simpson staved off a slew of Billboard 200 chart veterans…notching her second chart-topper with "I Am Me." With sales of 220,000 copies in the U.S… it duplicates the chart-topping success of her 2004 debut, "Autobiography" … in just six weeks, the new album's first single, "Boyfriend," is a top 25 track on the Billboard Hot 100."
Coincidentally, the album was released at approximately the same time leaks about the Nick/Jessica split were reported in the tabloids. That Joe is a savvy marketing genius – and probably a devil worshipper.
Not bad, considering she's merely an afterthought in the Joe Simpson climb to fame and wealth: Ashlee has out-charted her big sis Jessica with both of her albums. I am sure Christmas dinner at the Simpson household is real lovefest of one-upmanships.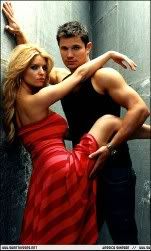 Back to Jessica and Nick. Neither side has stated the exact reason for the divorce other than the required "irreconcilable differences," but she did ask the court to change her name back to Simpson – maybe because of her father's pact with the devil, or because like, she never used Lachey anyway. Speculation as to the true reason for the split lies somewhere between Jessica being tired of Nick's partying ways, and Nick being tired of explaining the difference between fish and poultry to his hot but simple wife.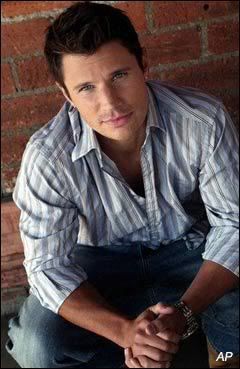 All in all, things look bright for the popstars as they go their separate ways. Nick's album is selling well; he's still young and good-looking; and $1.5 million nothing to sneeze at. Jessica is set to release her fourth album, And The Band Played On, in late 2006; plus she gets to keep the treasure trove of amassed wealth she earned due in part to her union with Lachey.
As for Ashlee, if she plays her cards right, Papa Joe has a suitor all picked out for her and will plan her post-divorce comeback with impeccable timing.
Hey Joe, someone's waiting for you down at the crossroads – say hi to Robert Johnson for me.