Former poptart and tabloid darling Britney Spears, 25, has given birth to her second child, a boy, in just under one year. She and her husband, aspiring rapper and former backup dancer Kevin Federline, 28, had their first child together, Sean Preston Federline, on September 14, 2005.
The couple will celebrate their 2nd wedding anniversary on September 18, making September the most celebrated month for anyone wishing to breed at the same rate as
the Amish.
According to TMZ, Spears checked into Los Angeles' Cedars-Sinai Medical Center yesterday evening under the assumed name of "Pebbles," where she gave birth via C-section to a yet-unnamed baby boy weighing 6lbs, 9oz, and 19 inches long, some time around 2:00 am.
While no official reports have been issued from the Spears camp, it is rumored that Britney blurted out more than once, "Having babies is like hard work and stuff!" And she didn't even have to push.
The gender of the Spears-Federline offspring had been reported by tabloids as being a girl based on her shopping habits and baby registry, which either
proves that Britney is as confused as she seems, or the little vixen was engaging in a little wink-wink with the paparazzi that hounds her so incessantly.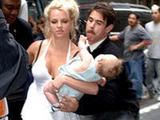 Either way, the most important fact regarding this blessed event is that Brit and K-Fed are as fertile as a pair of citified hillbillies could hope to be. Thanks be to Jesus and rub that tummy again down by the cee-ment pond.
While we all certainly wish the Federlines well in their progenous bliss, the collective world will be on pins and needles to see if the parents have learned any valuable lessons about highchair safety, carseat usage, and walking upright before continuing on their two-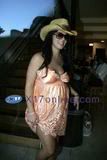 person quest to repopulate the earth every nine months.
Britney has had her share of first-year parenting foibles and has lashed out at the media for "taking cheap shots" at her and her marriage. Spears even went so far as to sit down for a Dateline interview with
Matt Lauer. For the most part, her "I don't care what people think" attitude about her life choices came off as unbelievable: why do an interview on primetime if you really don't care? But on a personal level, I believe she doesn't care what people think regarding her fashion choices, which sadly have taken a turn for the trailer-park-chic worst.
Let's hope that all this negative attention and tabloid scrutiny have an inspiring affect on Britney. For the most part, we would all like to see her get back to her sassy, pop song-singing self. Especially if it means no more Federline-seed spreading. Enough already, dude… we get it — your sperm's like magical and stuff, y'all.