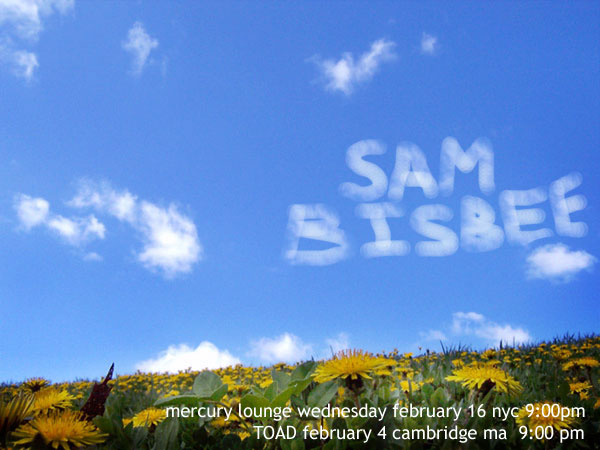 At least until he is as ubiquitous as say, the Beatles, I don't think I can say too much about Sam Bisbee. He is just an excellent and highly appealing alt-pop-rock singer-songwriter with an expressive but never maudlin voice, sharp lyrics about actual life, AND he is a super nice guy. Please consider my review of his frabjous latest album High, here.
And you think I like him, you should hear my wife gush.
TONIGHT Sam and the Bisbee boys will be performing at the Mercury Lounge in NYC (Houston St. and Ludlow) at 9:30pm. Do yourselves a favor and check him out. Tell him Eric said "hi."
As an extra bonus, on the Bisbee cyber-abode, he has a new tune up called "The Sun Shines where You Are," an energized and energizing guitar-smacking statement of close-your-eyes-and-smile bliss ("I wanna wrap my arms and legs around your arms and legs") with a heroic clear clean upper-register vocal – think Tim Finn at his best – joy channeled through the prism of experience.
This guy deserves it all.
(Visited 3 times, 1 visits today)