BC Radio Live is the flagship program of the BC Magazine station on BlogTalkRadio. It's hosted by Phillip Winn, Eric Olsen, and Lisa McKay and airs weekly on Wednesday evenings at 9:00 p.m. Eastern. Shows are archived and available for streaming or download after the live broadcast. Our guests on May 21 were The T4 Project and Mindless Self Indulgence.
Released by Mental Records on May 13, The T4 Project is a story-based concept album which was independently produced on a shoestring budget over the course of two and a half years by Shannon Saint Ryan, who also plays guitar on the album. The community of musicians who collaborated on this work span the spectrum of punk and include drummers Trotsky and Spike T. Smith, bassists Jay Bentley and Tony Barber, guitarists Fletcher Dragge, Greg Hetson, and Peter DiStefano, keyboard player Paul Roessler, and vocalists Jason Cruz and Kirsten Patches. There are ten original songs that comprise the album.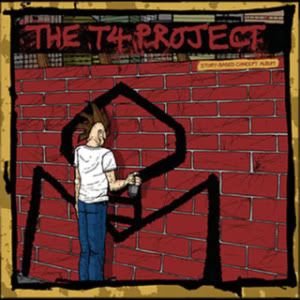 According to the project's website the songs are interspersed with eight pseudo-commercials that "surge with social and political commentary." The album also includes a 24-page booklet illustrated by artist Keith Rosson.
Several members of the project joined the hosts of BC Radio Live on May 21 to talk about how this unusual collaboration was born. What followed was a far-flung conversation with project members calling in from the east coast (Jason Cruz), the UK (Spike T. Smith), and California (Greg Hetson and Shannon Saint Ryan). Listen to the archived show to hear Shannon talk about the organic fashion in which this venture came about and find out how the project got its name. The album can be purchased as a download or as a CD.
Mindless Self Indulgence are a co-ed, New York City-based punk/electronic band noted for their incendiary live performances. The band took time out from a worldwide tour schedule to stop by the show to talk about their new album, If, released on April 29. The band consists of Jimmy Urine (vocals), Steve, Righ? (guitar), Lyn-Z (bass), and Kitty (drums). If is the band's fourth studio album, following Tight (1999), Frankenstein Girls Will Seem Strangely Sexy (2000), and You'll Rebel to Anything (2007). In between that output came two live recordings and two EPs.

Founded in 1997, the band has an enthusiastic fanbase, many of whom flooded the switchboards of BC Radio during the show, making this interview an adventure in perseverance. Eventually we got an opportunity to chat extensively with Jimmy Urine. The show went past the hour mark for the live broadcast, but the archive contains the entire interview. Check Mindless Self Indulgence's
MySpace page
for more information about the band and to listen to some songs from the new album.