After watching Brick, I couldn't avoid developing an interpretation of it related to American matriarchy's roots. That Brick is a twisted noir genre story notwithstanding, the plot is constantly sprayed in cold surrealism, so on to my allegorical interpretation of Brick.
For me, the character of Laura (Nora Zehetner) would be the enigmatic "Fatale Princess" who turns into a matriarchate figure. Why? Because translating their symbolic roles, Tug's (Noah Fleiss) character would stand for Strength (Physical), The Pin (Lukas Haas) would stand for Decadence, and Brad Bramish (Brian White) would stand for Status/Social Power. And thinking about it, Laura owns these three qualities by herself: Strength (she has a bright mind), Decadence (that comes from her sexual manipulation/politics), and Status/Social Power, too — she hosts exclusive parties and "knows everybody" in town. Therefore Laura is destinated to be the only winner in the drug ring of San Clemente, until… Brendan enters her world because he is looking for Emily/for vengeance/for truth.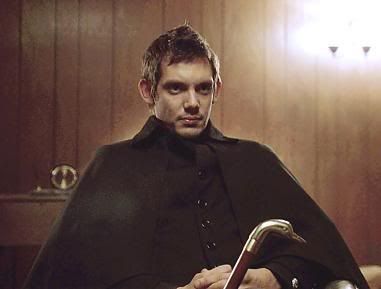 And in the end the only winner is Brendan (a moral winner?), although he keeps being an outcast/loser. Why? Because he keeps not accepting the truth he has found out. Inferring some of Rian Johnson's script subtleties, I see Brendan as the antihero who lives disconnected from the real world, because he despises it, not because he fears it. I think Brain (Matt O'Leary) plays the role of Brendan's rational well-oiled mind, the part that prevents Brendan from having an emotional collapse and promotes his survival.
When did Brendan get disconnected from real world? Probably, after ending his association with Kara (Meagan Good), whom his rational side – The Brain – qualifies as "the evil one", Brendan constructed a mental refuge for distancing himself from female dangers. Somehow, his early freshman days spent with Kara provoked in Brendan a personality split, the reason why he eats lunch behind the school, "not liking anybody" as Emily reproaches him. He's practically immune to Laura's manipulation because he suffers from a "schizo" process after being exposed to an evil feminine universe.
Kara and Dode (Noah Segan) are satellite characters in the story. On one hand Kara stands for Decadence (although minor compared with The Pin's or Laura's) and Dode stands for a minor Decadence (the consequence of his drug consumption), but while Decadence makes Kara strong, it makes Dode weak.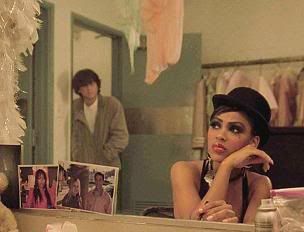 Emily (Emilie de Ravin) would stand for Purity, contaminated mercilessly by the real world — which Brendan has run away from. Brendan learned the dangers from the "spider women" – another way of naming femme fatales – soon after knowing Kara's ensnaring practices, and he wishes to liberate Emily from the hell she has been immersed in.
I think Brendan fell in love with Emily because she was special, and she was in love too, but she was too tempted by the real world's underworld. She couldn't stand her love towards Brendan, because that love existed in certain way in a world/scenario which wasn't real; it was made true in Brendan's world, which she couldn't have access to because of fear (of love, Brendan's isolation, loss of freedom).
Jerr's bringing down by Brendan confirmed for Emily his cold and ruthless "operative" nature, and thereafter she chooses not to listen to his reasoning, becoming more and more emotionally torn/disoriented. Her disorientation is used by Laura (who had already known Jerr — this isn't mentioned in the film, but in the script) in a definitive destructive way that leads Emily to death.
Brendan is tougher than Emily, he doesn't need a drug-induced alternative world to isolate himself, but Emily needed more time to adapt to Brendan's misanthropic universe, and on the way to learning this, she crosses paths with Laura and is seduced by her. So thereafter, Emily's behaviour is similar to Laura's regarding her sexual "dancing", differentiating that Emily is trapped in a cycle of sexual self-deprecation while playing Laura's game. I mean, Emily is self-destructive, but Brendan isn't in essence — he is aware of the destructive mechanisms of the real world (the school favoritism/politics) and of the underworld (drug dealing) and he resists. How? By being destructive and/or destroying everybody else around him. Anyhow, after Emily's death he seems to pursue a self-destructive path, oblivious to his fate, but Laura's greed and subsequently the disintegration of The Pin's and Tug's society turns into a victory for Brendan.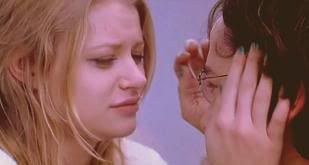 Brendan doesn't admit the truth he was searching for so anxiously and irrationally and, like Memento's protagonist, chooses to live in denial, chooses to lie to himself after Laura's confession, and orders his brain go to sleep, closing the Emily's episode – the only thing he loved – without accepting that dirty word, which despite it literally being "motherfucker", it echoes clearly to "motherkiller" (in my opinion), in the sense that Brendan's extreme isolation from reality led Emily to death and to his own defeated life after that.
I found an interesting article about the femme fatale figure, related randomly to a matriarchate. Some brief excerpts from it:
In a place, then, where there is no room for the solar hero, female figuration takes the initiative in the story, seizes the dark kingdom of film noir and broadens the blurred morality of the genre: seducers, frauds, killers with a kiss, they also block off any attempt at a linear plot and ruthlessly hurl the hero towards a desolate dead end … But having reached the point where we can state that there is a femenine imagery behind the femme fatale, why not also consider the possibility that there might be an imagery in those creatures that responds to the rule of night, linked to matriarchy, where the antidote to time is not to be found in taking up weapons but in capturing the vital forces of the future?
This article sheds some light on an overlooked figure, perhaps the most memorable icon from the noir genre, the femme fatale, whose route of greed and moral breakage is so well captured by Nora Zehetner's performance, the upper-crust high-school doll, exploiter, master of astuteness, who tries to gain the teen shamus' heart at any cost, forcing him in a casual way to turn his back on Emily's (Brendan's junkie "Dulcinea") memoirs, wishing for one moment she had been Miss Kostich, the angelical doomed girlfriend she won't ever be, whom Brendan will likely continue to yearn for ad infinitum.
Both antagonist female characters, Emily and Laura, confront Brendan in the same scenario, the football field, in a perceptible transposition by Rian Johnson of the angel/sinner figures, in a twist of male-centric climax. The suburbanite Johnson proves the new millenium loner is just the same as the gallery of Chandlerian/Hammettian antiheroes — they are saved from the downfall of the peons around them, they somehow escape a matriarchy, hiding in the return journey a broken heart.