The Sopranos creator David Chase's first full-length feature film Not Fade Away – out this week on Blu-ray and DVD – is far from perfect. Sadly, it also didn't do all that well at the box office.
But it is still probably the best, most lovingly crafted dramatic movie with a narrative dealing directly with rock and roll, since Cameron Crowe's much more commercially successful, like-minded cinematic love letter, Almost Famous.
Both films share a nostalgic, largely romanticized (and perhaps slightly exaggerated), backdrop of Rock's "Golden Age" in the 1960s and '70s, to tell a broader, coming-of-age story, dealing primarily with the loss of youthful innocence.
The stories themselves also tend to get a bit lost in their soundtracks, particularly in the case of Chase's Not Fade Away. This features an absolutely killer, dead-on accurate, mix of '60s rock hits and garage-punk obscurities, assembled with the unmistakable attention to historical detail of musical director Little Steven Van Zandt.
Another quality the two movies have in common is how personal they both feel, especially if you were actually there.
This isn't surprising, considering that both scripts draw heavily upon the personal biographies of their respective directors. What comes through most on-screen in the case of each though, is the obvious love and passion these two directors share for the initial, but seemingly unfulfilled promise of rock and roll.
It certainly touched a nerve with me, particularly in the case of Crowe's Almost Famous. Cameron Crowe's nerdy and socially awkward autobiographical high-school rock journalist, who gets his big break writing for Rolling Stone, could just as easily have come from my own personal diary.
Well, except maybe for the Rolling Stone part.
I could even tell you my own true story of sharing a Seattle hotel elevator with Crowe, David Crosby, Graham Nash, and then Rolling Stone editor Ben-Fong Torres back on CSNY's 1974 reunion "Doom Tour." When I naively asked Crowe where Neil Young was, I can still remember this young upstart's snide, but knowing reply of "Broken Arrow…again."
Obviously, Cameron had a little more perspective than I did. He was already an insider, and I was just a teenage wannabe on the outside looking in. Which probably explains why he eventually married Heart's Nancy Wilson and I didn't (even though Nancy later signed my copy of Dog And Butterfly – sigh! – to "Mister Glen"). I still have that autographed album. But that's another story, perhaps best saved for another day, and another article.
Likewise, the primary character in Not Fade Away is said to be based on David Chase's own experiences as a teenager forming a dysfunctional rock band in 1960s New Jersey with some high school buddies. This also hit a very personal note.
Like that character, I too had some experience putting together my own questionably talented rock band, starting out as the drummer, and eventually graduating to become lead singer. The difference in my own case, was we just found a much better drummer lying right under our noses all along. In Not Fade Away, the character portrayed by largely unknown actor John Magaro gets the job because he can actually carry a tune.
But since I was the 15-year-old guy who owned the drum set – we were all pals – and especially since nobody else could sing (not that I could either), they handed me a microphone. I also wrote some fairly decent lyrics like "please give me my mike back" (a reference to the neighbor who sent his kid out to shut one of our backyard rehearsals down).
But who is sweating the details?
At least the band members in Not Fade Away played a few cool gigs, and got to audition before recording legend Jerry Ragavoy (an obvious Van Zandt touch, and a nice one at that). My own failed pre-high school rock band "Furnace" never made it past our lone paid gig at the West Seattle YMCA.
I remember that night mostly for the stupid Nazi flag I wore (which for some odd, misguided reason I thought was pretty bad-ass at the time), and for some neighborhood tough guy hassling me about the flag/cape and my proudly worn, purple stacked platform heels. These didn't just make me look cool; they also made me look a bit taller, shortness of course being the secret curse of all aspiring rock stars. Just ask Prince.
I also remember that despite my Nazi capes and scarves, (borrowed from a neighbor whose politics might have been somewhat questionable in hindsight), I definitely did not get any "Satisfaction" that night. So much for reaping the sexual spoils of playing bad Rolling Stones covers at the Y's all-city teen dance party.
Conversely, my still-in-progress "career" as a rock journalist has been slightly more successful, though I have yet to be able to earn a decent, full-time living at it.
Beyond the personal connection though, what I loved most about both Almost Famous and Not Fade Away, was the loving care to detail. Yes, you would be right in calling these movies nostalgic "period pieces." Both unabashedly and unashamedly romanticize their respective '60s and '70s time capsules, and the great music that framed them.
But in telling their stories about two young men growing up and coming of age during the "classic" era of rock and roll, both Chase and Crowe nail the mood of those amazing times perfectly. In that respect alone, Not Fade Away and Almost Famous can almost be viewed as companion pieces to one another.
Of course, the marriage between music and movies has not always been an easy one, at least not when it comes to rock and roll. But there have been some noteworthy exceptions. Two cases that spring immediately to mind are those of George Lucas and Martin Scorsese.
Before Lucas ever directed the original Star Wars trilogy, he was responsible for what is quite possibly the greatest closing credits roll in all of film history with American Graffiti.
This is where the Beach Boys "All Summer Long" follows that pivotal final scene of a young Richard Dreyfuss spotting that elusive VW Beetle – the one with the dream girl he had been chasing after for the entire movie – from his airplane window. For different reasons, Lucas' use of Dylan's "Like A Rolling Stone" during the credits roll after the final scene of American Graffiti's less celebrated sequel, is equally poignant.
As for Scorsese, what would Goodfellas be without Eric Clapton's "Layla"? Or, for that matter, The Departed minus the Stones' "Gimmie Shelter"? The fact that Scorsese went on to produce great rockumentaries, like The Band's Last Waltz, and his biopics on Dylan, George Harrison, and the Rolling Stones, speaks for itself.
But for every Stop Making Sense in the history of rock and film, you'll also find an equally matching piece of genuine dog-crap like The Bee Gees' disastrous reboot of Sgt. Pepper's Lonely Hearts Club Band.
I mean, what were they thinking?
Chase's Not Fade Away works mostly on the strength of a handful of great performances, most notably by James "Tony Soprano" Gandolfini (a role he mainly reprises here, but without all the mobbed up strip bars and gunplay), and John Magaro as its brooding, Dylan-haired, Jagger-lipped protagonist.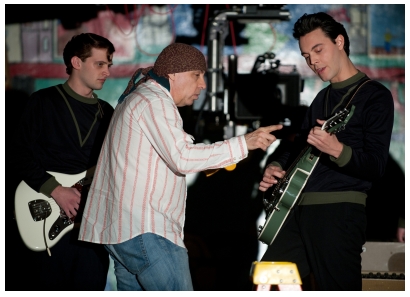 The amazing, Little Steven-curated soundtrack is what really steals the show though. Rife with all those period-perfect songs from The Beatles, The Rascals, The Kinks, and lesser-knowns like The Left Banke, it fits this film like a well-worn glove. Little Steven, aided by fellow E-Streeters Max Weinberg and Garry W. Tallent, also had a considerable hand in the original songs, all of which strike a perfect chord of '60s rock authenticity.
But in a lot of ways, Not Fade Away is as much about the Rolling Stones, and their impact on a young 1960s America, as it is about the actual characters in the movie.
Not Fade Away pays the necessary lip service to The Beatles that it should. The authenticity of the film would no doubt be in question otherwise. But there is little doubt who the guys in the movie are really fashioning their fledgling little 1960s New Jersey bred rock band after.
From its opening scene of that infamous London train meeting between Jagger and Richards (portrayed by an uncanny doppelganger for the young Keith), to the actual footage of the Stones American TV debut (and TV host Dean Martin's none too subtle dismissal), Chase's obvious affection for the Stones is pretty hard to miss.
Which is a little ironic, given just how far the original, scruffy bad boys of rock (that you wouldn't want your daughter to marry) have come, to their current position of reigning, but aging millionaires mostly riding on past glories.
Just this past week, the Stones had to adjust some of their ridiculously overpriced concert tickets down for opening night on their 50 And Counting tour, just to guarantee what used to be a routine arena sellout.
What can a poor boy do, indeed.
As tempting as it might be to wallow in the nostalgia of movies like Almost Famous and Not Fade Away, and to wander just where rock and roll lost its way, I prefer instead to consider just how far we have come. Which is certainly miles beyond Hollywood's earliest attempts at rock and roll cinema (Beach Blanket Bingo anyone?).
In today's corporate America, the term "Rock Star" has been reduced to something meaningless, or at least something which scantly resembles its original definition. These days, it is used as much to describe the empty suits climbing the very same ladder that rock once so valiantly railed against. But in revisiting what brought us here, movies like this also serve as a reminder of how far we still have to go.
Bruce Springsteen may have said it best when he once wrote the words "show a little faith, there's magic in the night."
No retreat. No surrender.