This puzzle/society simulation combination game combines the best of both worlds for gamers looking for stimulating strategy. The main play mode consists of five time periods where you match three, four or more shiny board squares in a row or column to amass funds, building materials and other objects. You basically swap pieces to get the desired combinations with quick and deliberate motion controls, which can be mastered, but take a learning curve when movements don't work. You must manipulate the falling squares in your favor to have a chance at this basic puzzler.
The strategy and challenges lean toward the puzzles because choosing buildings basically involves which building you can afford at the time. When you really get rolling, you may need to slow down and learn a building's special property (e.g. stopping time, etc.) when you purchase it by using the "show" option. The historical settings include Mount Olympus, The Coliseum and other recognizable spots that enhance the game. The music also adds some appeal and the sound effects zig when you achieve bonuses and make an illegal move.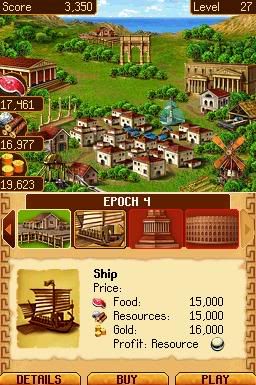 Tutorials in the "How to Play" mode explain the simple gameplay; the real trick is the taxing mental challenge of quickly matching objects before the water runs dry in the timer on the top right screen. Whatever agua is left is valuable as bonus points, so you often must find a balance between those bonus points and puzzle combinations that can yield some strong bonus tools and unlockables. Continuing the puzzle adds to your game time, but if you wait until the last second, then you should have an escape route – usually one isolated section that you can quickly solve before time is out. The challenges and navigation through the shapes increase throughout the 100 levels as you eventually get to unlock the "relax mode".
No multiplayer or online options plus a familiar format can't sink this title, but more depth, story elements or maybe some improved production values like 3-D puzzles would be nice. The basic desire to expand drives the game and the replay value is relatively high, especially for players who want to try for higher scores using the four profiles. Language choices include German, French, Spanish, Dutch, English and, of course, Italian. A PC version of this game with the same title was released last year. This entertaining, addicting game keeps the fun basic and is a great purchase at a $19.99 suggested retail price.
Cradle of Rome is rated E (Everyone) by the ESRB for alcohol reference.