The British sitcom Dr. Willoughby which only ran for six episodes in 1999 on ITV deserved a better fate. A backstage comedy with much of its humor played off stereotyped characters it is nonetheless a funny half hour with a lot more laughs than a lot of the comic fare you're likely to find on TV today.
The series stars Joanna Lumley, perhaps best known for Absolutely Fabulous, as actress Donna Sinclair who plays the eponymous heroine in Dr. Willoughby, a cheesy afternoon TV soap opera. Sinclair is a bitchy aging diva with very few if any redeeming qualities. She is demanding, rude and jealous of those around her. She throws herself at younger men. She is the kind of prima donna who is quite capable of sabotaging a young actress whom she feels is getting too much attention while stooping to stealing rolls of toilet paper from the supply room. The contrast between the vain, conniving, and insincere Sinclair and the calmly competent surgeon she plays on the show is a big part of the fun. Sinclair may be every bit the cliché, still Lumley manages to make her come alive.
Sinclair is surrounded by an ensemble of familiar back stage types. There is the dim witted insecure co-star worried about his role on the show, the naïve ingénue, a womanizing executive producer, a trouble making cleaning lady and a producer whose greatest desire is to be somewhere else. They are the kinds of back stage types that have long been the fodder for show business comedies. Dr. Willoughby is not a show that looks to mine new fields. It may make a politically incorrect joke here and there, but by and large it sticks to the tried and true. It is just as happy to get its laughs out of a raunchy joke as some shows would be from insight into character. These are broadly drawn characters played broadly by a competent cast of talented actors.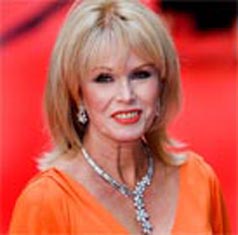 Story lines in individual episodes revolve around things like Sinclair's jealousy over the amount of fan mail others are getting, her reaction to a scandal rag story about her, and her co-star's problems with his ex-wife's alimony. In one episode Sinclair sneaks off for some cosmetic surgery leaving the rest of the cast thrilled at her absence and speculating about what might be wrong with her. In another, she forces her producer to hire an inept young actor she fancies only to discover he's gay. Sub-plots deal with things like late contract renewals and product placement. If Dr. Willoughby doesn't quite rise to the level of shows like Ricky Gervais' Extras or The Larry Sanders Show, both of which deal with similar material, it does a nice job on its own terms.
The DVD from Acorn has all six episodes on a single disc which runs approximately 144 minutes. Subtitles are available, but there is no bonus material.