I have long been a comic book fan and Batman has always been one of my favorite characters. When the Tim Burton Batman movie was announced over 20 years ago I was dismayed when I heard Michael Keaton was to be the caped crusader. Soon Jack Nicholson was announced as the Joker (a slightly overweight middle-aged man?) and the characters of Jim Gordon and Harvey Dent were minimized, I wondered how this movie could succeed.
The Movie
Releasing to theaters in 1989 the movie was an instant hit and most of my fears were alleviated. Yes, this was not the Commissioner Gordon we know and some other characters were not right but the unique takes on the Batman (Michael Keaton) and Joker (Jack Nicholson) just worked. Flash forward to 2009 and we have Batman 20th Anniversary Edition on Blu-ray.
Batman begins with an amazing close-up flyby of the bat symbol carved in stone and Danny Elfman's stirring (and now immortal) score setting a perfect tone for the movie. The initial scene shows a family being mugged in the gritty and gloomy streets of Gotham City. I remember wondering 20 years ago if this was Bruce Wayne and his family at first; it isn't but it does introduce us to Batman.
Batman makes a very dramatic initial appearance taking down the small-time crooks on the rooftops of Gotham. Batman is initially shot as the crooks panic but immediately gets up and takes them out with ease. Holding the crook up he is asked 'Who are you?' and replies 'I'm Batman'. This is a 20-year-old classic movie; people know it and have seen it many times but that line gave me chills 20 years ago and did so again when I watched the Blu-ray.
The movie does not hold any surprises; we are introduced to Jack Napier (Jack Nicholson) and know he will become the Joker. When he does transform after an initial encounter with Batman the use of darkness and lighting make his new appearance a slow and dramatic reveal. Of course we now have the Heath Ledger Joker to compare him too but Jack Nicholson's take on the clown prince of crime is iconic, unique and amazing.
Bruce Wayne has a very visual role in this Batman as well, often conflicted, absentminded when not Batman and very intense. Michael Keaton still surprises me with how well he handled this role. I am sure he was as surprised as I was when he was chosen for the role. He is not a large man, he is not square jawed, but he has intensity in his eyes and is a gifted actor. After watching this for the first time again after the Christian Bale Batman movies I have to say Keaton's 'Batman voice' is far superior to Bale's (no offense).
The movie progresses with Joker's rise to power and Batman's burning need to stop him fueled by the realization that a younger Jack Napier was the man who killed his parents. As Joker tries to seduce his girlfriend, Vicki Vale (Kim Basinger), Batman has further motivation to end his crime spree.
At the climax of the film we have Batman and Joker face off and I have to say it is perfect. Joker is not a fighter and relies on his tricks and goons for support. Once Batman eliminates all of his options, the fight is over nearly before it begins. Batman is given a chance to save the Joker and tries to despite his hate of the man but ultimately fails, we can effectively see he is conflicted by the result. Joker's reign of terror has ended and Batman can have some peace at last.
Tim Burton took a lot of chances on this film and he succeeded in delivering a striking look at the dark knight that was edgy and different. Some choices were not as favorable but did not impact the film in a noticeable way (his Commissioner Gordan always bugged me immensely).
The acting, effects and story are all commendable and despite the fact that the new generation of Chris Nolan Batman films are outstanding this one holds up as one of the best superhero movies of all time.

The Video
The fact that I own the original VHS release and three DVD versions of this movie had me eagerly anticipating an HD transfer of the film. Batman on Blu-ray does not disappoint, despite its age this 1080p/VC-1 transfer presented in a 1.85:1 aspect ratio looks very, very good. Filling my entire 16:9 display I immediately noticed that the film grain was preserved and there are little signs of any edge enhancement or digital sharpening.
The black levels are a little hit and miss; at times they were perfect and other times the image looked grayed out. The fine details really stood out in comparison to SD releases, individual hairs, makeup lines on the Joker and details on the bat suit really came to life. High Definition did not do all the effects a favor though, some still look amazing but others, in particular composite shots, show their age.
The movie uses a lot of smoke and fog which helps the movie retain a very three dimensional look on Blu-ray. Overall the transfer, while not reference quality, is the best we have ever seen and makes this the version of Batman to own.

The Audio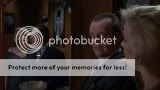 Presented in Dolby TrueHD 5.1 this is the best we have ever heard this film sound. It is certainly not reference quality considering the age of the film, but is capable and immersive. There was a good if not full use of surround speakers and bass is utilized well at times.
The mix is not perfect and sometimes the audio cannot properly reflect what is onscreen. Having said that dialogue is well mixed and the excellent soundtrack and score (Prince and Danny Elfman respectively) comes through all the speakers in a very satisfying way. As mentioned when the initial Batman theme was playing I was surrounded by the music and was brought back (chills and all) to my first viewing with pleasure.



The Extras
Presented in one of my new favorite formats, the digibook, Batman 20th Anniversary's case is actually a 50-page hardbound book. The book looks at photographs, script excerpts, and comic art and is exclusive to this release (not part of the Batman Anthology on Blu-ray). The content was not groundbreaking but is attractive and a great supplement to the movie.
There are many special features on this release, many of which we have seen before, but still worthwhile and enjoyable for the most part:
Audio Commentary: The ever-enthusiastic Tim Burton gives us an engaging and interesting commentary about his motivations, film style and whatever pops into his head. This is one of the better commentaries I have heard and made me wish this was a modern movie and it was PiP enabled. Well worth a listen during repeat viewings.
Legends of the Dark Knight: The History of Batman (SD, 41 minutes): A nice look at the history and mythos of the Batman and how he has evolved over the years. A great feature for fans of the character but offers no real innovative insights.
Shadows of the Bat (SD, 72 minutes): A great feature looking at the amazing cast, how the film developed and the shoot cycle.
Beyond Batman (SD, 51 minutes): This set of five featurettes looks at the many props, gadgets, cinematography, costumes and vehicles.
The Heroes and the Villains (SD, 20 minutes): A throwaway feature that gives us seven video profiles of the main characters.
Storyboard Sequence (SD, 4 minutes): A look at a discarded Robin storyboad sequence that was never filmed
On the Set with Bob Kane (SD, 3 minutes): Too short by far this featurette has Bob Kane (Batman's creator) discussing his thoughts on Batman and Tim Burton's film.
Music Videos (SD, 14 minutes): Three of Prince's videos from his soundtrack appear on the disc, Batdance, Partyman and Scandalous. This will appeal to few (as a Prince fan I liked the feature) but it is a nice addition.
Theatrical Trailer (SD, 2 minutes)
Digital Copy Disc: As is the norm on Warner Brothers releases a digital copy is available. As I have numerous SD versions this one meant very little to me, but some will use it I am sure.
Batman is an iconic film, a true classic in the genre and is one of my favorite movies of all time. This Batman 20th Anniversary Edition Blu-ray is not perfect but it is excellent and is now the definitive version of this groundbreaking film. The Iron Man's and Spider-Man's of today have this movie and Tim Burton to thank for paving the way for super hero movies becoming mainstream.