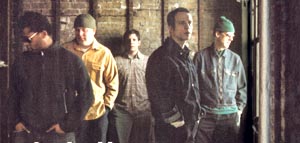 I have been aware of the famous experimental instrumental rock ensemble Tortoise for years, but had never actually heard them until I received an advance (April 6 release) of their fifth studio album, the exquisitely packaged It's All Around You.
Due to guitarist Jeff Parker's participation in the avant jazz Chicago Underground Trio, I was expecting something more daunting and angular from Tortoise, but instead It's All Around You is an exceptional series of friendly, surging, mood-soaked musical waves. I hereby label them, or at least this album, "alterna-lounge-space-surf rock," and I say that with the deepest respect.
The decidedly unglamorous quintet of Chicago indie rock scenesters consists of Doug McCombs (Eleventh Dream Day, Slint, Brokeback) on bass; Johnny Herndon (Isotope 217) on drums, percussion, vibraphone, xylophone, keyboards, drum programming; John McEntire (Bastro, Gastr Del Sol, the Red Krayola, the Sea and Cake, King Kong), on guitar, drums, percussion, EML 101, marimba, drum programming, melodica, and he is the band's producer; Dan Bitney (Isotope 217, Toe 2000, Tar Babies) on drums, hand percussion, guitar, keyboards, drum programming; and Parker on guitar, vibes, keyboards.
The mix of rolling vibes, subtle but intricate percussion, and strong, emblematic electric guitar make the opening, title track the most assertive of the set. Multitracked wordless vocals by Kelly Hogan float like cirrus clouds above a percolating electronics and percussion mix and a rather stern piano melody on the fascinating and aptly named "The Lithium Stiffs," which segues directly into the broad panorama of "Crest," and its dramatic, stately chords, delicately plucked guitar and keyboard melody, periodically countered with periodic washes of distortion.
"Stretch (You Are All Right)" is centered on lightly funky bass and electric piano, and embellished with vibes, electronics and pithy bits of surfy guitar arpeggios. "Unknown" is darkly ominous and abstract, "Dot/Eyes" ambulates about a distant planet on heavy space beats, "By Dawn" and "Salt the Sky" venture even farther out and report back from a distant, ambient void.
Beautiful stuff. You can vibe to MP3s of songs from the album here, and keep an eye out for Tortoise live this spring and summer:
Wed, April 14, Detroit Majestic Theater (w/ the Eternals)
Thu, April 15, Toronto Phoenix Theater (w/ Four Tet)
Fri, April 16, Ottawa Capital Music Hall (w/ Four Tet)
Sat, April 17, Montreal Club Soda (w/ Four Tet)
Sun, April 18, Winooski, VT Higher Ground
Mon, April 19, New Haven Toad's Place (w/ Ex-Models)
Tue, April 20, Boston Roxy (w/ Ex-Models)
Wed, April 21, New York Bowery Ballroom
Thu, April 22, New York Bowery Ballroom (w/ 90 Day Men)
Fri, April 23, Philadelphia Theater of Living Arts
Sat, April 24, Washington DC 930 Club (w/ Ex-Models)
Sun, April 25, Carrboro Cats Cradle (w/ Ex-Models)
Mon, April 26, Athens 40 Watt Club (w/ Ex-Models)
Tue, April 27, Asheville The Orange Peel (w/ Ex-Models)
Wed, April 28, Atlanta Variety Playhouse
Thu, April 29, Orlando The Social Pavilion (w/ Ex-Models)
Fri, April 30, Miami The Polish American Club (w/ Ex-Models)
Sun, May 2, New Orleans Twiropa ((w/ Ex-Models – JazzFest)
Mon, May 3, Memphis Young Avenue Deli (w/ Ex-Models)
Thu, May 6, Cincinnati Bogarts (w/ Ex-Models)
Fri, May 7, Cleveland Beachland Ballroom (w/ Ex-Models)
Thu, July 1, NL: Gronigen Swinging Gronigen Festival
Fri, July 2, NL: Den Hague New Forms / Static X Festival
Sat, July 3, France: Nantes Scopitone Festival
Sun, July 4, Belgium: Rock Werchter Festival
Mon, July 5, France: Paris Le Trabendo
(Visited 3 times, 1 visits today)