Bruce Springsteen will release his newest album, Magic, on October 2, according to a statement released today. This is Springsteen's first album with the E Street Band since 2002's The Rising, and has been long awaited by fans, many of whom have been somewhat dissatisfied with Springsteen's more recent work.
Described as "a high energy rock record" by Springsteen's long-time manager Jon Landau, the album will contain eleven tracks and was recorded at Southern Tracks Recording Studio in Atlanta, Georgia and was produced and mixed by Brendan O'Brien, who previously worked with Springsteen on The Rising and Devils & Dust. Landau also said that the album is "E Street Band heavy" and is a "little more sonically guitar-driven than any past Bruce album." All told, this sounds exactly like what Springsteen's long-time fans have been waiting for.
The hugely successful world tour that accompanied The Rising was followed by a period which saw Springsteen release a solo effort in 2005 (Devils & Dust) and an adventurous re-imagining of traditional folk music in 2006 (The Seeger Sessions), the latter of which was critically considered by many hard-core fans to be a vanity project and an unnecessary detour away from E Street. Although the European leg of the Seeger Sessions tour was a success, shows in the U.S. failed to sell out. In spite of lackluster ticket sales, the album was critically well-reviewed and was well-received by fans open-minded enough to embrace it and view it as a natural progression within the larger contextual framework of Springsteen's body of work.
Springsteen's first album, Greetings from Asbury Park, N.J., was released 34 years ago, but it was the 1975 release of Born to Run that has guaranteed him his place in rock and roll history. Fans are undoubtedly hoping that Magic will see Springsteen returning to the kind of music that earned him his reputation as one of the best songwriters of his generation. While Springsteen continues to be the most energetic of stage performers, the advancing age of the band has had fans wondering how many more E Street tours the future holds.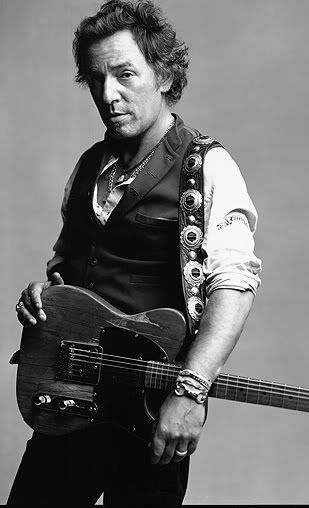 Regardless of which side of the Seeger Sessions fence one is on, a new E Street outing is something that most fans will undoubtedly embrace. Rumor has it that a U.S. tour will commence in October, although Landau will not confirm or deny. Since October is only a couple of months away, it's likely that dates and venues will be announced in the very near future.
Track Listing
1. Radio Nowhere
2. You'll Be Comin' Down
3. Livin' in the Future
4. Your Own Worst Enemy
5. Gypsy Biker
6. Girls in Their Summer Clothes
7. I'll Work for Your Love
8. Magic
9. Last to Die
10. Long Walk Home
11. Devil's Arcade