Cinema lovers who are drawn to the kind of original and experimental works they won't find at the local multiplex (or even the local art house) can look forward to the arrival of the ninth annual Boston Underground Film Festival (BUFF) later this month.
Begun in 1999 as an all-night program of short films, BUFF has grown into a four-day festival of feature-length and short films that can be characterized as being on the cutting edge of alternative cinema. The festival's official award, introduced in 2000, is Bacchus, a demonic bunny on a vibrating pedestal, and the choice of such an icon perhaps says something about BUFF's independent and playful spirit. Past festival guests include Oscar-nominated animator Bill Plympton, and cult film icons George A. Romero and Lloyd Kaufman.
I recently spoke with festival director Anna Feder to learn a bit more about the festival's past, present, and future. Feder came on board in 2004 and runs the festival with program director Kevin Monahan.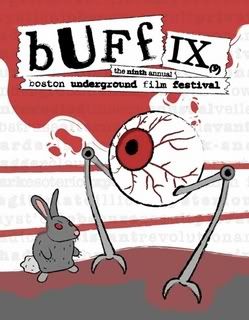 Discussing BUFF's origins, Feder said,
"It started as an all-night film festival at The Revolving Museum [since moved out of Boston] and some years it was three days and two venues, one year it was two weeks and four venues. It's been all over the place. The former director David Kleiler created an excellent festival but without any infrastructure or consistency to carry the fest from year to year."
Since assuming responsibility for the festival, developing that infrastructure has been a large part of Feder's job. What exactly does a festival director do? According to Feder,
"A festival director's job varies from fest to fest, much like a film director's job is different depending upon the size and scope of the production. I do a bit of everything. I co-program the festival with Kevin Monahan, the program director. I secure sponsorship for the festival, both cash and in-kind with the help of the marketing director. I assist the PR coordinator in dealing with the press. I assist the managing director in recruiting and training interns and volunteers. I keep track of the finances and tell everyone that we don't have the money to do whatever they are proposing. If it's really important, such as bringing filmmakers, I try to scrounge up the funds to fly them and get the rooms donated."
Since the festival has essentially been reinvented by the current directors, and the connotation of the term "underground" has unquestionably changed since its introduction, Feder put the term in its proper perspective relative to BUFF.
"'Underground' is not for mainstream consumption. It doesn't necessarily mean 'transgressive' or 'shock cinema' though we have a place for those films in our festival. Rather, underground is a fairly broad umbrella term for films that push the boundary in terms of form, content, or general sensibility.

We have animation, experimental, dark comedy, horror (usually hybrid horror films, not pure 'genre films'). I think there is a film for everyone at the fest (except for small children), but not every film is for everyone — some programs are more accessible than others. We have risqué content as well, including a documentary on stag films and a '70s-style sexploitation film this year. We also have a fairly benign, but no less interesting, documentary on urban explorers. It really runs the spectrum. No action films, though — and no romantic comedies."
In discussing the difference between art house cinema and the type of film screened at BUFF, Feder noted that
"Art house cinemas often play low budget versions of Hollywood fare these days. They have to in order to stay open… The films we play aren't just low budget versions of the films that are already out there. The work is more original, takes more risks, and is ultimately more rewarding for the viewer."
While most of the films screened at BUFF have been made on small budgets, Feder is quick to point out that low budget does not equal low quality and that the selections are all well-made films.
Feder speaks of her commitment to BUFF with the passion of someone who has found her mission in life. Among the challenges of sustaining a small regional festival are "…standing out from the plethora of other festivals in the area to attract attendees and to attract sponsorship. Finding competent people to work for free is a pretty big challenge as well."
The Internet has played a significant role in making small enterprises like BUFF more viable. Withoutabox is an online service that offers a streamlined submission service for both filmmakers and film festivals, providing both sides of the equation with a centralized point of access. Feder says that the service has been a huge asset to small festivals, making their jobs easier and also allowing for easier networking via message boards. Myspace has also proven to be an asset, allowing for quick news updating and providing an easy mechanism for keeping people informed and sending out press releases. A good deal of festival marketing happens online, and as Feder points out, "…99% of our audience is regularly on the web, so it works. And it's free. We do banner exchanges and take advantage of our sponsors' e-mail lists to have them blast info about the fest."
This year, BUFF will screen 13 feature-length films, and 70 shorts. The selected films represent approximately 15% of the submissions. Feder notes that many of these films will have a short shelf-life – they are not likely to get distribution outside the festival, and so the festival represents a rare opportunity for film lovers to enjoy a diverse program of high quality, challenging, non-mainstream films.
When asked about BUFF's future, Feder said,
"I would love for BUFF to be among the top five internationally recognized underground film festivals – with the Chicago Underground and New York Underground Film Festivals. I'd like to be able to keep a presence year 'round co-presenting films at other festivals and putting on our own screenings for films that otherwise wouldn't be seen in Boston."
---
The Boston Underground Film Festival will be held from March 22 through March 25 in Cambridge, Massachusetts. Films will be screened at the historic Brattle Theater, 40 Brattle Street in Cambridge, and the AMC Harvard Square, 10 Church Street in Cambridge. All screening tickets are $5 (advance tickets may be purchased through the venue website) and an all-access festival pass is $50 (advance purchase through the festival website). For information on other festival-related events and admission see the BUFF website.