Blogcritics and Universal Pictures are pleased to host a giveaway of Sydney White swag. Two lucky winners will get a prize pack that includes a t-shirt and* a signed poster.
In a college comedy that puts a modern-day twist on an age-old story, Sydney White tells the tale of a tomboy freshman who ditches her conniving sorority sisters and finds a new home with a group of very dorky outcasts. Fed up with the way they've all been treated, she's off to war against the reigning campus royalty.
How to enter the Sydney White giveaway:
Fill out the entry form below.
Only one entry per person.
Entries must be received by September 20, 2007.
Winners will be drawn after September 21, 2007.
Winners will be notified by e-mail and in the comments section below.
One winning entry per household.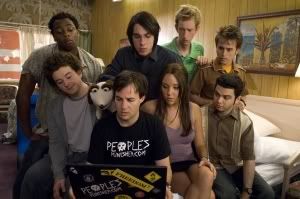 form deleted – contest has ended
*Apologies to any entrants prior to September 14th. The prizing from the publicist changed and we were not notified until then.