Whoever is running the operation at Camp Cruise is either the greatest showbiz marketing genius of our time, or certifiably insane – or, as things often go in Hollywood, a pleasant mix of both.
The SuriCircus is approaching a fever-pitch frenzy with paparazzi and celebrity watchers frothing at the mouth trying to connect the (mostly missing) dots into some kind of discernible map of coherency.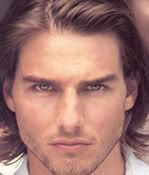 Currently, what we have is B-Lister Leah Remini claiming to have not only "seen" Suri, up close and in the flesh, but to have actually laid hands upon the three-month-old.
I have some questions about how a huge box office star like Tom Cruise became friends with King Of Queens TV actress Remini – the only obvious, albeit symbiotic, connection is that they are both Scientologists. And that really says a lot about their "friendship" and the veracity of her statements.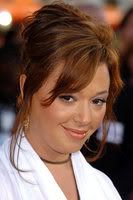 They are statements that read like a publicity stunt too, I might add. Remini told People magazine, "She's a beaming baby, she looks like Tom and Katie. She's just beautiful."
Remini goes on to vouch for baby daddy, saying Tom is "one of those doting dads." Mama Holmes looks "beautiful – I'm jealous of her," Remini said. "She bounced right back."
"They're just great parents," Remini added. "There wasn't a second that she was out of their arms except when I held her."
Because her arms are Scientologically pure and all.
And of course, as a capper on this PR campaign, Remini assured us all that, "Suri's in great shape. Everything's fine."
No webbed feet, or tail. And she does TOO have a head.
This reminds me of a movie I once saw. The stork delivered a beautiful baby to the expectant mother. All the other mothers cooed, oohed and awed until it was revealed the baby had gi-normous ears and flew around the circus tent. Oh, the cruel laughter.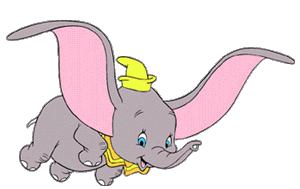 In other Tom "Madhatter" Cruise news, it seems that when he's not trying to recruit other famous new mom's into the Church of Scientology, he's busy patching up his severed friendship with Hollywood mega-mogul Steven Spielberg.
The two worked together on the 2005 remake of the sci-fi film War of the Worlds, which coincided with the famous Tom Cruise couch-humping incident when he announced his undying affection for Katie Holmes on Oprah. This bizarre behavior caused the world to collectively shudder with disturbed apprehension, and it is widely believed that Tom's unbridled madness for his new love and his Scientology spiel caused untold box office damage to the flick. With initial box office projections high, the $135 million-budgeted blockbuster grossed a relatively disappointing $234 million.
Steven no likey.
According to an interesting article in Slate, Cruise has made great efforts to rekindle and repair his friendship with Spielberg, possibly including a surprise "private photo session" featuring the two men and baby Suri at Spielberg's offices. Cruise also startled Spielberg by presenting him with an award during a tribute at the Chicago Film Festival.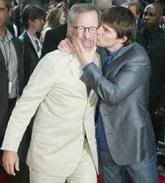 What's most interesting in this article, however, are rumors that Tom — advertently or otherwise — brought unwanted attention to a psychiatrist Spielberg mentioned in Cruise's presence as having helped a family member through a rough patch.
Cruise, representing his faith as it were, has said this about the science of psychiatry: "You have to understand that with psychiatry, there is no science behind it, and to pretend that there is a science behind it is criminal."
While Cruise denies any involvement in the subsequent Scientologist protests outside the doctor's offices, Scientology seems to rule the frontal lobe of Cruise's brain and recent actions, including perhaps his decision to severe his 14-year relationship with publicist Pat Kingsley for suggesting he not mix movie stumping with religion pimping.
As for the Spielberg incident, it's hard to say who was more annoyed by the strangely coincidental protest, Steven or his wife, Kate Capshaw. The article suggests she is the one calling the shots over whether the Spielberg/Cruise reconciliation will be cemented, even in appearances only. And never underestimate a tall, blonde pissed off wife.
Whatever is going on within the Cruise compound, one thing is undeniable: Tom is waging a publicity war, and sadly, he has yet to discover that he is his own worst enemy.