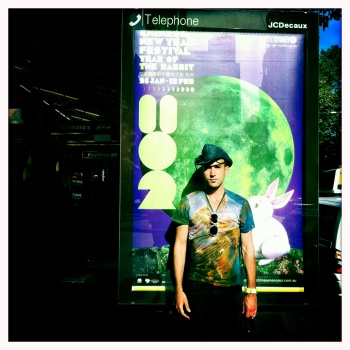 A light earnestness hangs in the air when Sufjan Stevens sings, like desert air at dusk, warm but not oppressive, dancing not dripping. And though the singer-songwriter's ambitions are grand — he has composed 90-minute concept albums for The Nine Planets, The 12 Apostles, and The Four Humors, and he seeks to explore each of the 50 states in song, with his native Michigan and Illinois already under his belt — a modesty in his delicate voice sidesteps grandiosity and a knack for telling understatement effortlessly calls forth pathos.


This brings us to Brinkley, Arkansas, the surprisingly unextinct ivory-billed woodpecker, and a rather elaborate story idea for NPR gone right.
In April it was announced that the "lord god" or "great god" bird — so-named for its majestic magnificence — the ivory-billed woodpecker of the great Southern swamp forest, last undisputedly sighted in 1944, had been rediscovered near Brinkley.
Independent radio producers Dan Collison and Elizabeth Meister, fans of the bird and of Stevens, were curious about how he writes his songs, so brimming with details of people and places. So, connecting dots no one else saw, they introduced Stevens to the Big Woods town of Brinkley.
Collison and Meister spoke with people in the town, shared the interviews with Stevens, who then wrote a song about the ivory-bill, the largest woodpecker in North America: the entrancing, wondrous "The Lord God Bird" (listen here), which was introduced to the world via Collison and Meister's story on NPR – pretty good use of the taxpayer's money, I'd say.
(Visited 3 times, 1 visits today)