If you live in the New York City area, love film, and are looking for something worthwhile to do this weekend, you might want to check out Tropfest@Tribeca, an outdoor festival of short films that will be screening Sunday evening, September 23 at the World Financial Center Plaza. The festivities begin at 5:00 PM with live music, red carpet arrivals begin at 6:00, and the screening takes place at 8:00 under the stars. If that isn't enough to interest you, the price is right, too — the evening is presented to the general public free of charge.
The festival will screen 16 short films selected from 161 submissions from ten countries. Jurors (actress Rose Byrne, actor/director Griffin Dunne, actor Tom McCarthy, and director Bennett Miller) will select the best actor and actress, and present the Target Filmmaker Award to the winning director. The award consists of a prize of $10,000 and a trip for two to Sydney, Australia, the home of Tropfest.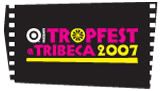 Founded in 1993 by John Polson, Australia's Tropfest has grown to be the largest short film festival in the world. Tropfest's mission is to stimulate the production of short films and provide a venue for Australia's emerging filmmakers. When asked about the current surge in interest in short film, Polson responded, "First of all, they're easy to make both in terms of the technology and resources available these days. They're also a great springboard for somebody who's really got some talent. Aspiring filmmakers can show, with just a few dollars and in a few minutes, how well they can direct, how good their ideas are, what their writing skills are like, and what their skills with actors are like."
This is the second year in a row that Tropfest has partnered with New York's Tribeca Enterprises and the first year that Tropfest@Tribeca is running as a freestanding festival. Tribeca Enterprises, founded in 2003 by Robert DeNiro, Jane Rosenthal, and Craig Hatkoff, operates the Tribeca Film Festival, among other projects, and is dedicated to expanding audience access to independent film and media.
The sixteen finalists are as follows:
August, dir. by Matthew Kehoe (Manhattan, NY)
Autumn Meadow, dir. by Matthew Schram (Manhattan, NY)
Bird Strikes, dir. by Chris Cassidy (Brooklyn, NY)
Black Tears, dir. by James Wright III (Richmond, VA)
The Closet, dir. by Bob Sentipal (Montebello, NY)
Homecoming, dir. by Josiah Signor (Brooklyn, NY)
I Graduated, But…, dir. by Alexander Poe (Manhattan, NY)
I Remain the Same, dir. by Joanna Chejade-Bloom and Kiki Allgeier (Brooklyn, NY)
Lemon and Lime, dir. by Ben Thompson (London, England)
Morning, dir. by Kathleen Johnsen (Bergen, Norway)
The Picnic, dir. by Belinda King (Marrickville, Australia)
Slices Only, dir. by Mike Tenaglia (Queens, NY)
Snookered, dir. by Daniel Knight (Sydney, Australia)
Super Slice, dir. by Stephen Franciosa, Jr. (Bronx, NY)
The Switch, dir. by Jonathan Emmerling (Manhattan, NY)
Take Me, dir. by Dana Bower (Manhattan, NY)
Read more about the finalists and the festival at the Tribeca Film Festival website. And to put a little icing on the cake, the weatherman is forecasting a lovely evening.