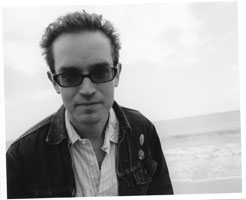 How does a spunky, slightly melancholy, New York-based alt-pop-rock singer-songwriter who looks like a cross between Marshall Crenshaw and John Cazale differentiate himself from the dozens of others who fit the same description?
If you are Sam Bisbee you make a very fine album called High, with songs like "High On You," "Alltime Low" (note theme), "Big Field," "Alright," and most especially "You Are Here," a backbeat-driven rondo of pointillist obervations that seeks to confirm the very concrete nature of existence: everyone is somewhere, you are here. I love the arrangement as well, with some of most soulful cello you will ever hear in the presence of an electric guitar.
Okay so you have this great song, now what? You have director Tobias Perse make an extraordinary stop-motion animation video utilizing polaroids and half a stick of gum, available for consumption and admiration here.
I don't really much like videos in general and I very rarely listen to a song more than once in a given sitting, but I just watched and listened to this one five times in a row. My God, I'm turning into my wife and children.
The NYC release party for High is Thursday, April 22 at 9:30 pm at The Mercury Lounge. If you go, you will be there, and that will be good.
(Visited 1 times, 1 visits today)