If your image of the harpist is some little lady playing in some corner of a fancy tea room while a gaggle of women sporting pearls and a lorgnette or two sip afternoon tea with scones and clotted cream, you probably have some idea of the kind of music the harpist would be playing. If Carol Robbins happens to be the harpist, I doubt you'd find her playing in the corner of any tea room, and she more than likely wouldn't be caught dead playing background music for afternoon conversation.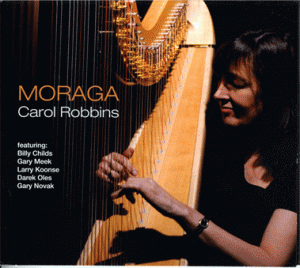 Carol Robbins plays jazz. And if you think the harp has no place in the jazz combo, think again. Even a cursory listen to her new CD, Moraga, will show you just how wrong you are. Jazz chops are in the player; not in the instrument. A creative innovator can work with any instrument. The harp in the right hands is alive with possibilities, possibilities perhaps even greater than those available to instrumentalists working with more traditional jazz instruments. A two time Grammy nominee, Robbins has put together a collection of tunes that demonstrates both her improvisational talent as well as the full potential of her instrument.
Joining Robbins on the album is award winning pianist Billy Childs, with whom she has played as a member of his Jazz Chamber Ensemble. Also featured on the CD are Gary Meek on sax and clarinet, Larry Koonse on guitar, Darek Oles on bass, and Gary Novak on drums.
Five of the nine songs on the album are original Robbins compositions beginning with the title track which opens the set. "Moraga" features some nice conversation between Childs and Robbins after Meeks opens with the melody. "The Sand Rover" has an almost otherworldly opening leading to a pulsating bass line that drives the piece. Meeks adds an out of this world solo. This is followed by "Three Rings," as haunting a tune as you're likely to hear. Meeks' clarinet shines and there is some eloquent solo work from Robbins and Koonse. "Delore" has Koonse and Robbins working together again in a sweet bossa nova. The last of the Robbins originals is "Straight Away," an up-tempo swinger that gives everyone in the ensemble a shot at showing what they can do.
The Billy Childs composition, "Hope in the Face of Despair," features Koonse with evocative solos from Robbins and Oles' bass. The Cole Porter standard "Every Time We Say Goodbye" gets a richly sensual treatment from the ensemble. It is nice to hear what they can do with a classic. Antonio Carlos Jobim's "Caminhos Cruzados" is a lovely duet for Robbins and Koonse. The two work together with subtle charm. "Rotadendron," a Robbins arrangement of music by Nino Rota, closes the album on a high note as she duets with Child's delicate piano.
Carol Robbins playing has been much praised. Moraga is an album that is bound to add to her reputation.