Travis Barker and Shanna Moakler announced last week the sorrowful ending of their less than two-year marriage – a marriage chronicled on Meet The Barkers, another in a series of MTV reality shows poking a camera behind the scenes at marital unions between second- and third-tier celebrities.
Who are the Barkers, you may ask? Travis Barker, 30, is the drummer for Blink 182, the on-hiatus pseudo-punk band best known for chronicling Generation X-ers facing adulthood. Shanna Moakler, 31, is a former Miss USA and ex-love of boxer Oscar de la Hoya (with whom she has a seven-year-old daughter, Atiana).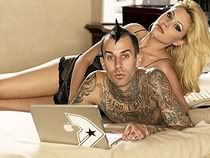 The Barkers are also now known for completing the MTV Marriage Death Knell Trifecta: allowing their tender love story to be crushed under the dense weight of their own stupidity, shallowness, and poor judgment before the prying eyes of the MTV nation.
MTV – though it would deny any culpability – has now helped kill off, I mean, celebrated on tape, three young marriages: Nick Lachey and Jessica Simpson in The Newlyweds, Dave Navarro and Carmen Electra in 'Til Death Do Us Part (who gets to die first?), and now, Shanna and Travis in Meet The Barkers.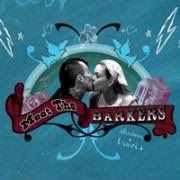 While the durability of celebrity marriage is inherently suspect, by now it seems clear that those who agree to expose their tenuous ardor to the camera before the vows have been tested a time or two are assuring its failure. Despite the adage that "newlyweds" are full of passion and joy, the first couple of years of marriage can be very difficult, even for those who aren't plagued by lifestyle differences, career conflicts, money issues, spouse betrayal, and millions of witnesses.
Apparently, the Barkers hit every major bump along the way down Dissolution Blvd. In a battle of he-said, she-said, Travis and Shanna have issued increasingly hostile statements about the other on their MySpace pages.
The couple has two children together, two-year-old son Landon and seven-month-old daughter Alabama, and Travis has proclaimed himself proud to be father to his stepdaughter Atiana. With three great reasons to work things out, one might think they would have tried a little harder, but no.
Shanna was the first to go public (sans publicist) and use the Myspace forum to express her grievances. In a blog posting from August 8th (the same day Barker filed for divorce), Shanna channeled her inner buddha and wrote, "I am very devastated and very much heartbroken over the demise of my marriage and for the upset of my family… I wanted nothing more to overcome the challenges we faced but failed. I truly believe that everything happens for a reason and I have complete faith in the heavens."
Travis' rebuttal took an entirely different tone and specificity:
Here I will give you a walk in my life with Shanna Moakler.

– It starts around 5:30. (SHANNA SLEEPING) I wake up and get my babies … we play with dinosaurs, numbers, we change dirty diapers, it's the best.

– SHANNA DOESN'T EVEN TAKE HER DAUGHTER TO SCHOOL, her ASSISTANT DOES.

– At 11am (SHANNA SLEEPING) I return from breakfast and kiss the babies goodbye, it's time to drive to [work]. I get back from [work] round' 2pm and I head over to my studio. (SHANNA IS JUST NOW GETTING UP) SHANNA GOES TO GET NAILS DONE WITH HER ASSISTANT.

– Round 6pm I have dinner with the babies and my nanny, (SHANNA IS M.I.A. NOTE TO SELF … SHE IS NOT AT WORK … SHE WORKED 6 TIMES IN THE LAST 4 YEARS, ROUND 8PM I USUALLY RECIEVE A TEXT SAYING SHE'S GOING OUT TO DINNER)

– Around 1am I get home … NO SHANNA, JUST THE SMELL OF PERFUME LIKE GNARLY. MY NANNY IS STILL AT THE HOUSE … (THIS NANNY IS ALSO REFERRED TO AS MOMMY at times :() I SHOWER AND GET INTO BED, ROUND 3:30 AM MY WIFE GETS IN, DRUNK, LOUD CURSING CAUSE SHE HATES MY FRIENDS, HATES MY BANDS, MY WORK, HATES ME…

– That brings me to one week ago, I CAME ACROSS CONDOMS (WE DONT USE CONDOMS EVER) I WAS INFORMED BY OUR REALTOR SHANNA WAS DOING DANCING WITH THE STARS (why wouldn't she tell me, right?)
One can see why perhaps he decided to take down that particular post, but, of course, the proverbial rubber was out of the wrapper, and we all know now that Shanna Moakler is a lazy, good for nothing, crappy whore of a mother. Or at least that's what Travis Barker thinks.
With this kind of wretched track record, why would anyone allow the cameras anywhere near their tender and fragile love? Because for every broken heart via MTV's marriage munching TV shows, there is a flourishing career revved by the kind of intimate publicity many an aspiring star would gladly sell his or her soul – or soulmate – for.
Consider The Newlyweds' post-divorce success. Before the show, Jessica Simpson was a minor singing star. Now she's a movie star, sex symbol, and major recording artist and personality. Her new single, "A Public Affair," rose to #11 on the Billboard pop chart; and the video, featuring hot stars like Eva Longoria and Christina Applegate, is getting serious rotation on MTV and may help the single re-emerge higher on the charts at some point.
Her ex, former 98 Degrees singer Nick Lachey, has had the biggest return on marriage show/divorce investment: his recent album What's Left Of Me peaked at #2 on Billboards Hot 200, and the same-named single scored #1 on Hot Dance Airplay, #3 on Adult Contemporary, #4 on Hot Digital Songs, #5 on Pop 100, and #6 on Billboard Hot 100.
Compare this to his 2003 release SoulO, which peaked at 51 and had no chartable singles – it's hardly conjecture the show he and Jessic had, and subsequent public divorce, has paid off handsomely for his career.
If public opinion plays into records sales, then Nick played his "hurt" card well – Jessica, not so much, and the tabloids have painted her as calculating and on the prowl before the ink had dried.
The second couple to go down in the MTV annals of heartache and reemerge from the ashes are 'Til Death Do Us Part stars Dave Navarro and Carmen Electra. Probably the most famous individuals to sign on as a couple for the channel, Navarro is the former Jane's Addiction lead guitarist and hired gun for the Red Hot Chili Peppers (1995's One Hot Minute), and Electra is a veteran sex symbol, actress, was once a protégé of Prince, and was briefly married (less than a week) to NBA star Dennis Rodman.
While Carmen and Dave haven't had the obvious commercial boost the Simpson/Lachey team have enjoyed, Carmen scored some big screen acting gigs in conjunction with the show, including the key off-type role as Eugene Levy's wife in Cheaper By The Dozen 2 and a supporting role in the remake of Starsky and Hutch.
Navarro, who was certainly well-known in rock circles as a searing lead guitarist, has since added "personality" to his resume for his work co-hosting Rock Star: INXS and is doing the same for current version of that show, Rock Star: Supernova.
What about our current love crisis, the Barkers? Shanna has signed on for the new season of Dancing With The Stars – a fact she failed to share with her husband, it seems – and will certainly be hoping to parlay the current celebrity spotlight into more opportunities.
It will require her to get out of bed occasionally.
Travis Barker will most likely continue adding tattoos (and perhaps have a few altered), hawking his clothing line Famous Stars and Straps, and providing in-studio production and chops for artists like Too Short, Black Eyed Peas, and The Neptune's Pharell Williams.
As for how all this press will shake out for Travis and Shanna, it may be too early to tell, but if history is any indication, the cuckold fares better.
MTV is likely already on the hunt for the next doomed celeb relationship. If their celebrity marriage producers have a hard time selling the deal to reluctant lovers, just remind the couple that, on MTV, the sum of the individual parts is always greater than the whole – after the divorce, that is.