Amid all the hoopla for Sunday's Superbowl, House fans (even those of us who could care less about the Superbowl, besides the commercials) have something to cheer about. Mira Sorvino guest stars in "Frozen," scheduled to air in the desirable post-Superbowl time slot on FOX.
The Oscar-winning Sorvino has starred in such critically acclaimed films as Quiz Show, and Woody Allen's Mighty Aphrodite (1995), for which she won not only an Academy Award but also a Golden Globe. Sorvino graciously took time from her busy schedule as actress and mom to chat for a bit about her upcoming appearance on the House and its star, Hugh Laurie.
Sorvino plays Cate, a teaching fellow on leave from the show's Princeton-Plainsboro Teaching Hospital. She seeks out Dr. House when she suffers extreme incapacitating and unexplained kidney pain. But there's an added problem: thousands of miles separate House from his patient, a psychiatrist stationed at a remote Antarctic research station, where Cate serves as the staff physician. House's only access to his patient is via webcam!
The only doctor on staff, Cate is forced, under House's direction, to perform diagnostic medical procedures on herself. "She doesn't want to use up any of the medical supplies on theoretical diagnoses," explained Sorvino, "because she feels that that will hurt her colleagues' chance of surviving, trapped down there (in Antarctica)." As fans of the show know, House's usual mode of diagnosis involves quite a bit of theory testing. Instant conflict!
Despite the conflict between the two strong-willed doctors, Sorvino sees House and Cate as sort of kindred spirits. "They understand each other. I feel that she gets him in a way that none of the actual people in his world get him. I think she really understands him and appreciates him and sees a deeper side of him than a lot of other people see because they write him off as this sarcastic curmudgeon, but actually I think she sees a bit of a heart and tortured soul in him."
And Sorvino believes that the connection goes both ways. "I think he feels sympathy for her when she's really all alone and has to diagnosis herself constantly and things go from bad to worse." Like the best episodes, agreed Sorvino, House and Cate seem to form a bond. "There's actually a little bit of chemistry between the two of us," she shared. "It's not just a patient-doctor relationship. It's more like a meeting of the minds between two somewhat similar people. There's this nice little subplot, chemistry, sexual tension."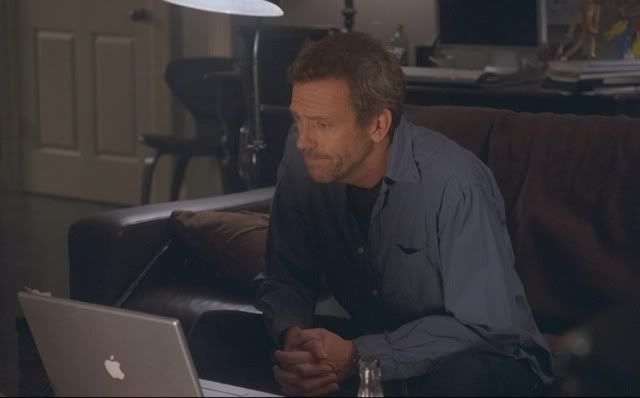 One scene requires Cate to examine herself over the webcam, and under House's watchful eye. The scene has more than the usual tension, suggested Sorvino, as House observes her "from the comfort of his living room with a roaring fire going on and he starts playing 'Let's Get It On'. But it's kind of odd because she's looking for cancer."
In fact, there might be some opportunity for that tension to be revisited in the future. Sorvino would love to return to the House set "for a more intense relationship, perhaps romance, to grow between them." Perhaps a multi-episode story arc. And Cate has to come back from the Antarctic sometime. House and a psychiatrist! Now that would make for a few sparks. [Author's note: Yes. I know we've heard this sort of talk before, but I sort of like the notion that a smart, tough, professional woman would make for a great love interest for House. On the other hand, I haven't yet seen the episode, so more about that when I write my review of the episode.]
One might speculate that a psychiatrist would have a field day with the troubled and tormented Gregory House, unable to resist the urge to psychoanalyze him. But, shared Ms. Sorvino, this is not really the case. Yes, they spar; and at one point she reads off a litany of his issues. Accustomed to everyone from his colleagues to his staff, and yes, his patients, trying to "fix" him, House then suggests, of course, that Cate, particularly being a shrink, will want to take her best shot at him too. Cate surprises House by telling him: "I never said you needed to be fixed."
Sorvino suggested that "everybody else is always trying to change him and they're always moralizing. I feel like Wilson is always missing the fact that House is actually a good guy." If Sorvino sounds like a fan of the series, you are not mistaken. In fact, she admitted, she's an addict!
Admitting that she is a "geeky" House fan, she said that it was her favorite series. "I became absolutely addicted to House and just thought it was so intelligent — and thought Hugh is so fantastic (as well as) the writing and the other characters."
Meeting Hugh Laurie at the Golden Globes in 2005, both nominated, she recalls just "gushing" to Hugh about how much she loved the show. "And I think I might have frightened him," she joked.
She was delighted when, three years later, she was offered a terrifically written role on her favorite show. Sorvino believes that being a fan of the series made it easier, giving her more confidence in her role, which called upon her to have "instant rapport" with House. She understands his loneliness, Sorvino reflected, while he gets her "solitary stubbornness." "You feel like there's a potential for more, and that if they weren't millions of miles away, something might happen."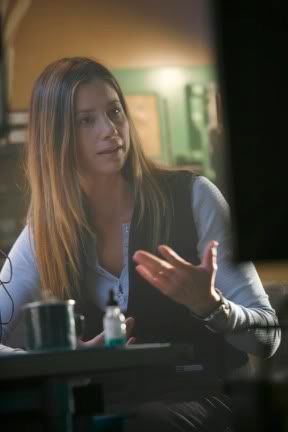 Sorvino loved working with Hugh Laurie, and like so many guest stars on House, she had nothing but praise for Laurie, noting his well-known supportiveness and generosity as an actor. Sorvino explained that because the episode was shot in a unique way, the only contact between patient Cate and House was via webcam. They were never on camera together. "Hugh was awfully generous," she offered. "He would come and sit off-camera for me, even though we weren't physically in the same room. He was actually shooting two episodes at once while I was doing my episode. Hugh is hopping from sound stage to sound stage, and he still found the time to come around and do off-camera with me."
Although unfamiliar with his British comedy work during the 1990s, she noted his "amazing" timing, which enables his character to get away with saying the most "shocking or rude" things. "But," she pointed "he knows he can get away with it, kind of like a naughty boy. Off camera, like his onscreen character, Hugh is both funny and "very smart."
"Frozen," airs immediately after the Superbowl, Sunday night on FOX. The final new episode before the strike-induced hiatus resumes (indefinitely, as of this writing) will air on Tuesday, February 5.