Mike Watt is one of my heroes: a fiercely independent musician who isn't afraid to deal with beast of the mainstream music industry from within, yet he has always set his own terms and never become dependent upon the Great White Teat. Musically, a bass player of range and creativity, he has propelled the Minutemen, fIREhOSE, the reassembled Stooges, and a solo career.
Watt, a coeval of mine with the same hometown of San Pedro, CA, on his new album, The Secondman's Middle Stand (see review by Johno here), takes us on an intensely personal Dante-like tour through his existential (literally) crisis that began in January of 2000 with an internal abscess in his perineum, resulting in near-death, major surgery, and a long recovery including massive weight loss.
Watt's harrowing physical and emotional journey to emergency room surgery is told in "Tie a Reed Around My Waist," the quiet of Watt's voice and the pointilism of the music – a fugue of sorts between lead bass, organ and drums – provide a fascinating counterpoint to the terror of the tale itself.
Now, Watt has released a video to "Reed," directed by Lance Bangs — best known for his behind-the-scenes documentary of Spike Jonze's Being John Malkovich — wherein a gaunt Watt proceeds through a day-in-the-life: morning kayaking, rehearsing the song, driving around Pedro in his beat-to-shit touring van, and visiting his artist pal Raymond Pettibon.
For me, a Pedro native, the driving and kayaking scenes – launching from Cabrillo Beach, just a few blocks from where I lived for about a year in the early-'80s, the familiar inky water of L.A. Harbor, the slick stacked boulders of the breakwall – invoke pangs of recognition that time and distance only make more poignant: what was and what will never be mingling in my heart with great relief and happiness that Watt remains among us, making music more subtle, personal – and as a result – intense than ever before.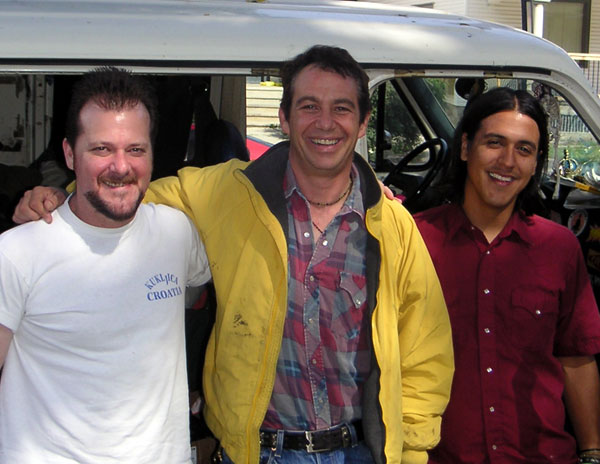 Watt and the Secondmen (Pete Mazich, Raul Morales) are currently on tour supporting the album in that very same beat-to-shit van:
tue, oct 5 – the patio – 6308 n. guilford av., indianapolis, in – (317) 253-0799 – flyer (pdf format)
wed, oct 6 – high dive – 51 main st., champaign, il – (217) 356-2337 – flyer (pdf format)
thu, oct 7 – double door – 1572 n. milwaukee, chicago, il – (773) 489-3160 – flyer (pdf format)
fri, oct 8 – grog shop – 2785 euclid heights bl., cleveland heights, oh – (216) 321-5588 – flyer (pdf format)
sat, oct 9 – oberlin college student union – 173 w. lorain st., oberlin, oh – (216) 775-8106 – flyer (pdf format)
sun, oct 10 – the legendary horseshoe tavern – 370 queen st. west, toronto, on, canada – (416) 598-4226 – flyer (pdf format)
mon, oct 11 – mile end cultural centre – 5390 st. laurent bl., montreal, pq, canada – (514) 495-4448 – flyer (pdf format)
tue, oct 12 – club metronome – 188 main st., burlington, vt – (802) 865-4563 – flyer (pdf format)
wed, oct 13 – valentine's – 17 new scotland av., albany, ny – (518) 432-6572 – flyer (pdf format)
fri, oct 15 – 123 pleasant street – 123 pleasant st., morgantown, wv – (304) 292-0800 – flyer (pdf format)
sat, oct 16 – the dame – 156 w. main st., lexington, ky – (859) 226-9204 – flyer (pdf format)
sun, oct 17 – the pilot light – 106 e. jackson av., knoxville, tn – (865) 524-8188 – flyer (pdf format)
mon, oct 18 – the end – 2219 elliston pl., nashville, tn – (615) 321-4457 – flyer (pdf format)
tue, oct 19 – 20th century theatre – 3025 madison rd., cincinnati, oh – (513) 731-8000 – flyer (pdf format)
wed, oct 20 – alvin's – 5756 cass av., detroit, mi – (313) 831-4577 – flyer (pdf format)
thu, oct 21 – 31st street pub – 3101 penn av., pittsburgh, pa – (412) 391-8334 – flyer (pdf format)
fri, oct 22 – black cat – 1811 14th st., washington, dc – (202) 667-4527 – flyer (pdf format)
sat, oct 23 – south paw – 125 5th av., brookyln, ny – (718) 230-0236 – flyer (pdf format)
sun, oct 24 – maxwell's – 1039 washington st., hoboken, nj – (201) 798-0406 – flyer (pdf format)
mon, oct 25 – iron horse music hall – 20 center st., northampton, ma – (413) 584-0610 – flyer (pdf format)
tue, oct 26 – the call – 15 elbow st., proividence, ri – (401) 751-2255 – flyer (pdf format)
wed, oct 27 – t.t. the bear's – 10 brookline st., cambridge, ma – (617) 492-0082 – flyer (pdf format)
thu, oct 28 – the mercury lounge – 217 e. houston st., new york, ny – (212) 260-4700 – flyer (pdf format)
fri, oct 29 – the khyber – 56 s. 2nd st., philadelphia, pa – (215) 238-5888 – flyer (pdf format)
sat, oct 30 – ottobar – 2549 n. howard st., baltimore, md – (410-662-0069 – flyer (pdf format)
sun, oct 31 – local 506 – 506 w. franklin st., chapel hill, nc – (919) 942-5506 – flyer (pdf format)
mon, nov 1 – the e.a.r.l. – 488 flat shoals av., atlanta, ga – (404) 522-3950 – flyer (pdf format)
tue, nov 2 – cumberland's – 301 king st., charleston, sc – (843) 577-9469 – flyer (pdf format)
wed, nov 3 – market street pub – 120 sw 1st av., gainesville, fl – (352) 377-2927 – flyer (pdf format)
thu, nov 4 – orpheum – 1902 republica de cuba, tampa, fl – (941) 504-0283 – flyer (pdf format)
fri, nov 5 – jack rabbit's – 1528 hendricks av., jacksonville, fl – (904) 398-7496 – flyer (pdf format)
sat, nov 6 – the beta bar – 809 railroad av., tallahassee, fl – (850) 425-2697 – flyer (pdf format)
sun, nov 7 – the nick – 2514 10th avenue south, birmingham, al – (205) 252-3831 – flyer (pdf format)
mon, nov 8 – mental notes – 3207 international dr., mobile, al – (251) 476-7683 – flyer (pdf format)
tue, nov 9 – the parish @ house of blues – 225 decatur, new orleans, la – (504) 529-2624 – flyer (pdf format)
wed, nov 10 – rudyard's pub – 2010 waugh dr., houston, tx – (713) 521-0521 – flyer (pdf format)
thu, nov 11 – stubb's – 801 red river, austin, tx – (512) 480-8341 – flyer (pdf format)
fri, nov 12 – gypsy tea room – 2548 elm st., dallas, tx – (214) 744-9779 – flyer (pdf format)
sat, nov 13 – vino's – 923 w. 7th st., little rock, ar – (501) 954-7851 – flyer (pdf format)
sun, nov 14 – vzd's – 4200 n. western av., oklahoma city, ok – (405) 524-4203 – flyer (pdf format)
tue, nov 16 – jake's – 5250 50th st., lubbock, tx – (806) 441-9121 – flyer (pdf format)
wed, nov 17 – launchpad – 618 central av. sw, albuquerque, nm – (505) 764-8887 – flyer (pdf format)
thu, nov 18 – the t lounge – 1218 texas av., el paso, tx – (915) 533-8227 – flyer (pdf format)
fri, nov 19 – plush – 340 e. 6th st., tucson, az – (520) 798-1298 – flyer (pdf format)
sat, nov 20 – big fish pub – 1954 e. university, tempe, az – (480) 966-5010 flyer (pdf format)
fri, dec 10 – the echo – 1822 sunset bl., echo park, ca – (323) 661-7930 flyer (pdf format)
sat, dec 11 – the casbah – 2501 kettner bl., san diego, ca – (619) 232-4355 flyer (pdf format)
And check out their Tour Diary, most recent of which is:
thursday, september 30, 2004 – iowa city, ia

from watt:

pop to find marty bailed but kevin still on the deck konked. new outfit for the next three days – a pendleton flannel all good and itchy. trippy colors too – mostly blue but w/red and brown laced in. no white though – I like a flannel w/a little white at least so in a pad w/black lights, you can get lit up and look righteous. the thing about these shirt cuz they're all wool is to remember not to put them in a dryer to get dry after you wash them cuz they'll shrink up all small. that's happened to this one at least once and it's kind of hard to tuck in but what the fuck – it's the one I pulled out when I reached behind the seat and into my clothes sack so to hell w/it – it's getting worn the next three days. raul fixes up some kind of coff but damn is it watery. don't mean to sound like I'm complaining though, must be that coffee jones coming down on me. I get some online access on the local phone line here and send out a voter register flow to my peeps I got from jenny toomey and then we get into the boat w/kevin – he wants a lift to near the highway we need out of town. dan told him to lock up cuz he's bound for a trip to brazil. thanks again for the konk space, dan – good luck w/the studio scene.

we get to us-40 and drop kevin off. I then realize my stupid fucking mistake – I donated one my favorite flannels ever at dan's studio, the one I'm wearing on the back of my "the secondman's middle stand" album (it's kind of maroon and has pearloid snaps instead of buttons). I had laid it over a speaker cab to dry out when I readied myself for konk last night. well, kevin says he's been reading these tour spiels so if you're reading this, kevin, please either contact me here at the hoot page or just send it to the hoot line post office box – c/o mike watt, p.o. box 1821, san pedro, ca, 90733, usa. man, do I feel like a total idiot cuz I really love that shirt. maybe it's a lesson to learn about getting to attached to "things" but I did get it really econo at a thrift store and dig it only cuz how it is, it's esthetic and shit like that. aaarrrgggggghhhh, I can't believe I did that – stupid fucking watt.

I take us east on us-40 through downtown saint louis (great view of the arch) and over the mississippi river into east saint louis (which is in illinois) and then onto the I-70 for just a little bit before coming about north on I-55. yet again we have good fortune w/clear blue skies. we pass through springfield, where abe lincoln was born and is buried. then, right past raymond (great name for a town!), some asshole in a big rig that's hauling pigs is driving like a stupid fuck all over the road. he's speeding and not at all being safe so I let him get by to get the hell away but when he cuts right in front, we get splattered by all this pig shit that's running out from the back of his trailer. you can imagine the smell of that – pig shit coming all over our windshield and it the grill. what a son of bitch. we pull off at farmersville, the next exit and clean the windshield while I gas the boat up. I'd like to hand the helm over to pete but he's still tired from his late night talk show w/our saint louis hosts. it's ok – I can take her in cuz we're making good time. the got a 'way here so pete gets me a tuna sandwich while I fuel the boat. I tear into little pieces a couple of our sacto habaneros and fill the 'way-wich w/that when I get into. good eats and nothing like a little heated vapor coming off the brain to keep your attention lively for the road. the next move is I-155 north and through peoria, where my ma spent her teen years. I haven't been here since a boy (this is where my grandma mimi lived and my uncle david and sonny still do) but I don't get much a sight of it cuz we take the belt bypass to avoid the downtown plug. trippy how this tour took me past both towns where my ma was a girl and the town where my pop was raised. then it's north on I-74 to the quad cities.

there's been lots of pro-current-administration signs all through southern illinois – one that struck me was "freedom isn't free – vote bush" like the price of freedom is to give that guy the presidential public servant job. some kind of logic. I think the first debate between him and kerry is tonight though I'm not sure exactly cuz tour has us so focused on getting around in the boat and working the piece for people. yesterday, when I got gas somewhere in missouri, there was a newspaper headline I spotted that said kerry was cutting his ads in that state and that was an indication he was "ceding" it. oh yeah – the newspapers in the u.s. are all part of that "liberal media" stuff that spins things – silly watt.

from the quad cities, we pass into iowa and onto I-80 for the final part of today's journey. raul's learning good at his navigating endeavor and helps me get the boat into downtown iowa city where the gig is tonight at gabe's oasis. how many times have I played here? a bunch and that's ok cuz I dig it. pete gets to see "the famous metals stairs" you load up the equipment onto the stage (the gig is on the top floor of a two storey pad). these babies are all rusted up and through, blocks of wood propping them up and such. too bad it's not raining cuz that's when it's really fun. oh well, we get the stuff up and in, then I go park the boat and get a falafel from one of these outside cart vendors. small but ok. love falaf (love to abbrev too).

coming back, I see davey who's a happening cat I spent some time w/last time I played here. he had invited us to play his tattoo shop acoustically but pete's b-3 hammond is way beyond that. he does play accordion good though so maybe we should carry one of those for just such a gig, hmm… I send pete w/davey up to his shop and he comes back w/a tattoo on his right forearm from the cover of a zen book – davey was a marine and spent ten years in japan. he did it like it was from brushstrokes, good work. davey's invited us to konk at his pad, thank you for that too. we do a soundcheck w/soundman big john – another soundman named john is here too and I thank him again for bring me the little gibson bass one tour when it got spaced and left here during the load out. luckily, this john (the littler john) had a soundman gig in chicago for an iowa band the same day we did (then next day) and brought it w/him after I had called back in a panic. thank you again, john! I go to the boat and try to do two phoner spiels but the one for a paper that serves our town (trippy doing one of those while on tour out here, huh?) so I just do the one w/a montreal cat named oliver who asks me good stuff – singular things that aren't that same ol' same ol', know what I mean? I dig that. I then konk pretty deep.

summoned by pete, I'm yanked from snoresville. I was tired. am better now. I missed both the openers, locals called bottomfeeder and kitkiro – and for that I'm very sorry, like I am w/all that I miss. it's not that I want to be have to concede to my limitations w/the energy/rest thing. aahh, I don't know how to word it to make it as sincere for being that lame on cats playing as I truly mean it. anyway, the piece is to be done and we're here to do it. the secondman band is tight though pete's blowing some clams but they're tiny ones. he has a great confidence-building thing for me, I get much support playing w/pete – he's a rock. I dig the way he's right across the stage and facing right at me so I'm never where I can't see him, be in the moment w/him. I can't ever imagine playing where he was behind me or where I couldn't be able to have my eye easily land on him. that would be a nightmare. raul has got good focus too and he's right there w/us in each instant we shuffle the deck and build the next instantaneous house, collapse it and thread up a new one. he's catching on real good and we're getting a language together, the three-way. I'm trying much to look out too, connect w/the folks but I want to be honest about how much mortar of a spirit kind is putting these bricks up here together. I got some good cats to work the bass w/and it's where it's at for me. watt blows some clams too – be assured but they don't shake me like they have these last few tours. it's still a scary thing for me to do what I'm doing but I'm more convinced of getting it together… shit, I don't know all the way, really – it just seems like I can move this now as it is one piece and something I can make a whole journey of, now having it beginning-middle-end and not just a fragment or even a sizable chunk. john's really got the monitors good – the best all tour so far. I can dig that much! the piece gets done and we go off to the side room and pete's a little down cuz of those tiny clams he blew but I tell him not to worry cuz he did real good and raul too. happening secondmen sharing the stage w/me! we go back out and blast the encores up real good.

the folks are yet again very kind w/their thanks. j mascis' buddy scott puffer's here and shares some niceness. last time I was here we stayed w/rachel, her brother came this time and she's here too. I talk w/more than a few bass players – love doing that. some folks from older shows have checked back in and that's happening. the cats from the openers share w/me… dan, an old friend from when he was drumming for run westy run gives me some bottomfeeder cds – good to see him again. I go settle w/boss doug and he's cat I'm always glad to work his room for. he saw the debates and said it was a lot of image but some points got brought up that have been stomped on w/sideswipes but I think I would've got weirded-out having to sit through seeing that, though I do have a curious mind and would want to put it to an experience rather than hearing it from others. he tells me yo la tango was playing at the school tonight too. I hope the piece doesn't make the body politic (speaking of my physical body) seem like it's more important that the consequences of who's got war powers. I don't know how to balance such shit right, especially immersed how I am in tour mode… not that it's any kind of excuse. I am a minuteman. I sure wish d. boon was here to help w/these things…

back down those stairs and the load-out is injury-free. many thanks. davey piles into the boat w/us and directs us to his pad. his wife melinda (like my sister's name) is there to meet us… so is the puppy who barks and barks 'till he gets secure enough we mean no harm. davey has a million questions for me but he's had an interesting life himself and I like hearing about it. much respect to these kind folks to have us over and be such righteous hosts. I found that mask jimbo gave me – the bonus kind w/the velvet on one side and a wide velcro strap. I dig the fact jimbo gave it to me too. noches.
Carry on, Mike.