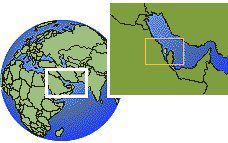 Where would you go in mid-summer if the sun of temperate Santa Barbara was too much for your delicate dermis to endure?
If you're Michael Jackson, you'd head for the absolute monarchy of Bahrain (a group of islands in the Persian Gulf midway between the tip of the Qatar Peninsula and the Saudi Arabian mainland) of course, where Jackson's parasol-handlers will have to work overtime under a blazing sun and daytime temperatures well over 100 degrees F.
Jackson and his three children are reportedly staying as guests of Sheik Abdullah bin Hamad Al Khalifa, the king's son, in one of the royal palaces after arriving by private jet.
"He is here in Bahrain on a friendly visit, to relax and enjoy the hospitality of Bahrain. He is a long time friend of the (royal) family," said an official who requested anonymity so he wouldn't be beheaded or anything.
"(Jackson) wants to be away from the US press and he chose Bahrain to rest after what he went through in the past few months," said another, similarly anonymous official.
Sheik Abdullah is a friend of Michael's brother Jermaine, who converted to Islam in the late-'80s after a visit to Bahrain. Jermaine and the Sheikh announced plans to launch a peace song, called "He's the One Who Makes the Sky Grey," together in January.
(Visited 1 times, 1 visits today)