As I can see, Dorothy, you wear many hats. Why don't you start by putting on your publicist hat and telling our readers what a publicist can do for an author that the author cannot do himself?

First let me begin by saying that I'm an advocate for learning how to do things yourself. If I know how to do it and you need to know how to do it, I'll teach you to do it. For some, it doesn't come as easy as it does for others. Not saying you aren't as smart, but maybe you're just too overwhelmed with editing or are on a deadline and you can't do everything. That's when a publicist comes in handy. Because I am an author much like the clients I represent, I have been in their shoes. I know their frustrations and that's why my approach is very hands on with them. I have a client who is getting ready to go on tour in a couple weeks and he needed a book blog to aid him in his virtual book tour, but as he had never blogged before, much less set one up, he needed my help in setting one up which I did and which you can see at the site, Partially Human.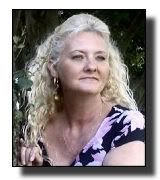 Now, this guy isn't dumb. He's almost 24 years old and has three books published. But, there are just some things he's not familiar with and I'm finding this is happening a lot because when a writer becomes an author for the first time and even for the eleventh time, his or her first instincts are to set up book signings, maybe invest in bookmarks, that sort of thing, and maybe set up a website. But, blogging… I don't think many authors realize the potential blogs have in helping to sell your book. So, that's a little part of what I do that some authors can't do. But, I find it funny — once I set the blog up for them and explain what to do after that, they become blogging fanatics. Now, that really makes me happy.
I think what authors don't realize is that if they spent as much time on the Internet – and that's what I specialize in – as I do, they would learn everything there is to know about online promotion but it has to be a 24/7 thing. A lot of authors just don't have that amount of time to put into promotion simply because they have books to write, edit and revise. That's where a publicist comes in. They do the work so you can do what you do best and that is write. However, I do encourage all my authors to do some kind of online promotion every single day.
Tell us a bit about your company, Pump Up Your Book Promotion, and your mission.
I started Pump Up Your Book Promotion in April '07, so we haven't been in business very long but business is booming. To tell you the truth, I'm not even sure what happened except one thing led to another. I started out by getting a call from an online friend who wanted me to promote her book online. She was a member of a couple of my writing groups and had listened to the various ways I was showing people how to promote online and she insisted on paying me to promote hers. I thought she had lost her mind because I wasn't a publicist. Little did I know, but this was the beginning of my career as one.
I had just finished a virtual book tour myself, which I think was successful, so I suggested setting up one for her but I wanted to test my wings first. A lovely woman, Marilyn Celeste Morris, was my guinea pig. I sent her out in April on a virtual book tour for her book, Once a Brat, for my newly established company, Pump Up Your Book Promotion Virtual Book Tours and I just loved it. While Marilyn was on tour, I was getting emails from authors all over who wanted me to set up their virtual book tours, too. And it hasn't let up since.
Pump Up Your Book Promotion Virtual Book Tours is part of Pump Up Your Book Promotion, a public relations firm specializing in online promotions. There are lots of reputable public relations firms that deal mainly with offline promotion and I thought why not fill that void – that online book promotion that most public relation firms are not concentrating on.
What we do is aim for extensive recognition in the search engines by showing these authors how to get their books in the # 1 position in the search engines for their key search words. By the time their tour is over, if they have properly used these search words in different areas I have instructed them to, it'll happen.
The main purpose in this is that your virtual book tours are perpetual. They keep on promoting you long after your tour is over if the blog host keeps your interview/guest post/review/whatever on their blog. By creating this enormous online presence, your virtual book tour will be a success.
What is the hottest thing in book promotion right now? Why?
Great question, Mayra! The hottest thing in book promotion right this very minute I have to say would be videos and podcasts. Readers love visual and audio. If they go to a website or blog and there's a visual or an audio, they feel as if they've gotten more value out of their time spent there than if they were there just reading text. You need to appeal to the senses. Virtual book tours are hot right now and combined with the visual and audio aids, you've got a real good chance at creating a great campaign.
How easy/difficult is it for an author to plan a virtual book tour?
Ask my authors. I have an article called "The Real World of Virtual Book Touring" where I've had my recent authors give me input on how much work there is even when having someone plan their tours for them. Most of them said they had no idea it was going to be a lot of work. I put in 81 hours a week setting up and maintaining tours for about seven or so authors a month. The authors themselves put in an incredible amount of time answering questions and writing guest posts. If you do a month's worth of tours, you have approximately twenty interviews and guest posts to get done. One of my authors told me it took a half hour just to answer one interview because they are really concentrating on making those search words count.
But, back to your question, it is hard but very doable. If you are setting up a tour yourself, you are querying blog hosts, keeping track of dates, answering questions, and more than likely writing guest posts, then you are following up. When I was on my own virtual book tour back in November '06, I remember it wasn't as easy as it sounds. And I do remember breathing a sigh of relief when it was over.
How can authors find out which blogs have the higher traffic for their book's genre?
Ahhh… trade secrets revealed. Alexa.com gives rankings for blogs (or websites) and compares them to other blogs of similar content. Someone told me recently that so-and-so blog must not have a lot of visitors because no one comments there. You can't judge a blog by comments. I know a lot of high profile blogs where people just don't comment, so you can't judge a blog by that.
If you go to Technorati, for instance, and put in your key search words, you'll have blogs come up related to those words. Take the URL of those blogs over to Alexa and do a comparison. Takes time, but it's the only way you'll at least get an idea of the blog's status. Technorati is the world's largest blog search engine, but there are many blog search engines out there where you can do this.
Book trailers can be very expensive. Are they really worth the cost in terms of book sales?
Book trailers are just like anything else you spend money on to promote your book. Will you make it up in sales? The jury is still out whether or not they are convincing people to buy these books, but they most definitely couldn't hurt. The way I look at it is, if you'd spend a hundred bucks on bookmarks, why not book trailers? Will you get your money back? Well, the thing is, you want to be noticed and book trailers are one way to do it. Authors spend an incredible amount of money on book promotional items, so why not trailers?
I just started a new thing at Pump Up where anyone who purchases the gold package can get a free virtual book tour promotional video to advertise their tour. These trailers can be seen at YouTube, Google Video and Yahoo Video, among other video websites. I recently did one for Caridad Pineiro who will be touring in September, and the most recent one I made was for Hazel Statham who will also be touring in September. So, I'm playing around with this area of book promotion and we'll just see how that goes.
What do you think is the most common mistake authors make when promoting their book?
The most common mistake I feel they make is not realizing the potential of blogging and using those key search words. I have a lot of author friends who are blogging and still don't know how to add tags to their posts. The potential is there, yet it's not until you see it in action do you realize how many hits you could have gotten had you learned. I've got so many funny stories of how even executives and owners of huge corporations find blogging one of the most mystifying things and I try to explain that online promotion is one of the most valuable things you can give to your book's campaign.
If you had to choose among all the various forms of book promotion — press releases, reviews, mailings, book tours, speaking and giving seminars, etc — which one do you think is the most effective for name visibility and book sales? Or are these two different things?
This is the easy. Speaking and giving seminars has to be the #1 way to sell books, plus you're making an incredible amount of money doing it. That's where the money is. What a lot of new authors don't realize when they first get into this promotion thing is that they aren't going to make enough off of royalties to quit their day job and most of their royalty checks aren't anything to brag about. Sorry, but those are the cold, hard facts. Especially if part of their royalty checks are being divided by not only the publisher, but the distributor also. You make pennies at Amazon. We all want those high rankings but if you realized just how much you are making from those sales, you'd laugh. I have two authors right now on tour who are solely living off their speaking engagements and whatever royalties they get. Speaking and giving seminars, no doubt in my mind, is where it's at.
Now, if you're not someone who loves to give seminars, aim online for those sales. Of everything you mentioned above, virtual book tours has got to be my most favorite, of course. If you're looking for name visibility, go on one of these tours. People will get sick of seeing you all over the place! But, one person who will get tired of you the most will be our friend, the Google search engine.
You also keep a series of blogs which offer free promo opportunities for authors.
I have to laugh because in an earlier question, you asked me about how much is involved putting a virtual book tour together and I told you it took a lot of time on the author's part — well, this interview, for example, has taken almost two hours to complete. Multiply that by 20 and you'll see just how much time goes into one.
Okay, my promo blogs! What I've done is create quite a few promo blogs to help authors promote their books and all of them are absolutely free. Here they are by alphabetical order:
Tell us a bit about your book promotion book.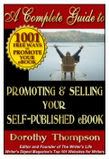 My book promotion book is actually a self-published e-book titled A Complete Guide to Promoting and Selling Your Self-Published eBook. A lot of the principles in the book I am using to help my clients promote their books through these tours. Don't let the "self-published e-book" fool you — it can be used to promote your print or otherwise published book, also. The main goal of this book is to show authors how to and where to promote online. You can visit the webpage. As a matter of fact, I'm offering a freebie to go along with the purchase of the promoting ebook. You can get absolutely free the radio promotion e-book, 101 Internet Radio Shows To Promote Your Books. This is a limited time offer, but it's a great deal while it lasts.
Putting on your author and relationship expert hat, please tell us about your other books.
Oh, my goodness, I have to tell you, of all the books I have, Romancing the Soul is very dear to me because the book wouldn't even have been thought of if not for a dream I had when my twin soul came to me and told me to put this together. I know it sounds new-agey, but it really happened. Romancing the Soul is a collection of true soul mate stories and was published by Zumaya Publications. My other book I co-wrote is titled The Search for the Million $$$ Ghost and that's about an eccentric millionaire's quest to find the ghost of his late wife and he'll offer them a million dollars to do it. I co-wrote that with Heide AW Kaminski and Pam Lawneczak. Both books can be found at Amazon.
Who is Dorothy Thompson, the lady? Describe an ordinary day in your life.
Try overworked? Goodness, you don't even want to imagine what I go through. The Pump Up business keeps me at it 24/7. I love it, but it's an extraordinary amount of time involved to keep it running. If you're not making sure the present tours are running smooth, you're finding tour hosts for the next set of authors going out. It's more involved than you could ever imagine — lots of sleepless nights and plenty of caffeine, but you know, I live for this. I have met so many wonderful people and a lot of them have become lifelong friends. Not only that, the blog hosts I do want to mention have been incredible. Everyone has really made this such an incredible experience and I hope the authors leave with the same feeling. I do give it my all because I'm a perfectionist when it comes to having others trust me to do what they paid me to do.
As an author and publicist, what is your greatest reward?
It's got to be the people I have become involved with since I started Pump Up. We have an incredible lady who is working with me now named Nikki Leigh who basically saved me when my last partner left. I do want to mention her because at the time she came on board, I was handling seven authors on my own and she agreed to take one for me, thus lifting my workload. It's incredible the amount of time you spend for just one author and handling seven at one time was a bit much even for me. She is incredible, fast, and knows the business and knows how to promote. That's what I look for in a partner because this type of business, you have to know online promotion. She's a whiz, that's all I have to say.
But, it's also people like you, Mayra, because if it weren't for the many blog hosts who we have contracted to host these tours, there would be no Pump Up. I thank you and all of my authors thank you and everyone else who have helped make Pump Up a success.
Leave us with some witty words of wisdom.
At 1:14 in the morning, you want words of wisdom? Okay, here's the lowdown. Don't underestimate the power of virtual book tours. While you look over the different stops that my authors appear on and you start to thinking that it looks like a bunch of tours thrown together, what you aren't seeing are the ways we use these stops to further promote your tour. There are press releases being sent out that end up in Google News. We announce your stops on writer's boards and social networking sites. We are submitting your interviews to publications that end up in Google News, also. We go the extra mile. What the casual observer sees is not the whole picture.
Ask the authors. They know what they have been through answering interviews and writing guest posts. It's a lot of work to all involved, but what happens is that all those interviews and all those guest posts end up being archived, thus your virtual book tour is perpetual. That's the beauty of online marketing and the power of virtual book tours.