At turns whimsical and melancholy, Renaud Dillies and Regis Hautière's Abelard
(NBM/ComicsLit) is a French "magical graphic novel" about innocence lost and the immigrant experience. Its title protagonist, Abelard (any connection to the tragic lover is there for the reader to find), is a small bird who ventures out of his cloistered Russian marsh after he is smitten by a beautiful girl named Eppily. Told that the only way he will be able to get her attention is to offer her the moon, he decides to travel to America after he learns that the Wright Brothers have successfully invented a flying machine. "I'd like to gather a bouquet of stars for her," he explains.
Though repeatedly warned that the object of his affections is unworthy of this quest, Abelard sets off on his road trip, anyway, first accompanying a band of gypsies, then teaming up with a surly bear named Gaston. Along the way, he encounters bigotry and dishonesty and experiences the punishing steerage voyage to America, regularly engaging in philosophical debates with Gaston and reading aphorisms that magically appear in his hat. Though he doesn't usually comprehend their meanings/warnings, the bird gets pleasure from reading them anyway. "I like that," he tells a gypsy companion at one point. "It doesn't mean anything, but it's pretty."
Abelard is a wide-eyed naïf, and we know early on from the tears in a gypsy fortuneteller's eyes that his quest is not going to end happily. But Dillies, bringing the same sense of "Krazy Kat" fancy that he brought to his earlier graphic novel tone poem Bubbles & Gondola, makes it all a visual treat. His scripting collaborator brings a high level of wit to the proceedings: one of my favorite moments is a two-page map showing Abelard's meandering progress toward "the rest of the story." Among the stops along the way are the "happy memory of a sunny afternoon" and "a circumlocution in the story." Hautière's dialog between our title hero and the cynical Gaston is particularly engaging.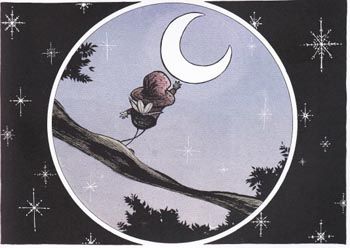 If the cartoon images of birds and bears–and the addition of the word "magical" to the book's front cover–give the impression that Abelard is a children's fantasy, be assured that it isn't. Think of it more as an anthropomorphic piece of magical realism in the manner of Joanne Harris' Chocolat, a reflection on hope and dreams that may surprise you by just how affecting it is.