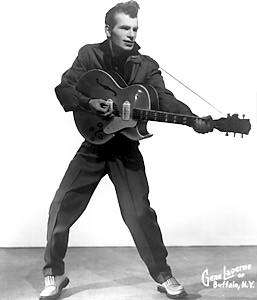 I'll always remember Ersel Hickey because the jaunty pic above appeared on the opening page of my 1976 edition of The Rolling Stone Illustrated History of Rock & Roll, still one of my favorite resources for pre-'70s rock history.
Why they picked Ersel for the opening shot, I don't know, I guess it's something of a classic shot, but now Ersel is gone:
Ersel Hickey, a rockabilly singer best known for "Bluebirds Over The Mountain," has died at age 70, according to a longtime friend.

Hickey had been hospitalized at NYU Medical Center after surgery to have his bladder removed because of a tumor, according to Johnny Vallis, a friend and sometime publicist for the singer. He died after coming down with an infection, Vallis said.

Hickey, a native of Brighton, N.Y., started singing in his teens, as a solo act and also with R&B groups. His first record, released in the late 1950s, was "Then I'll Be Happy/Baby You're No Good." But he is best known for his 1958 hit "Bluebirds Over The Mountain," which he also co-wrote. It was re-recorded by The Beach Boys a decade later.

He also wrote songs for other artists, including Jackie Wilson's "The Millionaire" and LaVern Baker's "A Little Bird Told Me So."

Hickey had no survivors, according to Vallis. [AP]
That's pretty sad, everyone should have survivors.
Here's more on Hickey from the Rockabilly Hall of Fame:
Ersel Hickey was born in Brighton, New York on June 27, 1934. His Mother was from Kingston, Ontario, his Father was Irish (O' Hickey was the original name), he passed away when Ersel was four, there were eight children. Ersel's Mother had a nervous breakdown and was put into a hospital, at that time he was put into foster homes. He would run away all the time, living in different parts of New York State.

When Ersel was 15 he started traveling with his sister "Chicky Evans" an exotic dancer. She was very popular in the circuits and together they travelled for about a year. He decided to go on his own and travel with the carnival, then left and then began living in Columbus, Ohio. From there he was sent to a "tough kids" home, where he became familiar with the main Rhythm & Blues groups and started singing with the gospel group there.

Johnnie Ray was sweeping the nation in 1951. Ersel found his talents singing like him. That year he entered an amateur talent contest and won first place on his own and second place with his group. The prize was $500. While he was there his sister was killed in a car accident. From then on he was raised between his aunt and his brother.

In 1954 Ersel heard "I Don't Care If The Sun Don't Shine" by Elvis and he went crazy for it. Telling everyone about Elvis. Ersel was playing a few places in Rochester that his brother booked him in, he was drawing very well. It was around this time that he went and recorded his first record on Fine Records. One side was "Then I'll Be Happy", an old song and the other side was called "Baby You're No Good" a song Ersel had written. The single was released locally, not much happened with it.

One night Ersel went to a show at the War Memorial in Rochester and was in a restaurant after and one of the members of the show walked in, Phil Everly. Ersel approached Phil and said "I want to be a singer, what should I do?" He says "Well, you got to have a song." That night Ersel went home and wrote "Bluebirds Over The Mountain". Ersel woke his brother up at 2:30 in the morning and asked him what he thought. He said "It's a hit!". Ersel decided to leave for Buffalo the next morning with $20 his brother gave him.

Getting off the bus in Buffalo, Ersel had no clue what he was going to do. Looking up and down the main street he saw a place called "Jan's" a hangout for teenagers. Right next up the stairs was Gene Laverne's "Studio Of The Stars" (where his sister had her photos taken). After introducing himself to Gene he asked what to do. Gene told him he was going to need to take some pictures. Ersel's Aunt and Uncle offered to give him some money. Then came the famous session that took THAT photo ……. Unfortunately with the colors Ersel was wearing, it was only a black and white shot. He recalls "The kids loved that outfit, after I got the gold guitar – phew!" He often wore black with the gold and sometimes grey suits with the black shirts and white ties. The jacket was a reddish-orange and had a yellow lining, the pants were rust-colored with stitching down the sides. The outline itself has become representational of rock and roll.

LaVerne suggested to Ersel that he call Mike Corda who was a personal manager, bass player and songwriter (Corda had previously managed Enzio Stuarti). Corda believed that "Bluebirds" had potential they had a demo session for the song at National Studio in New York, which Corda paid for the session. They brought Jimmy Mitchell to play guitar and Mike Corda played bass. Mitchell tapped on his guitar case to make the "percussion" sound on "Hangin' Around". After they were happy with the session, it was Corda's job to pitch the song to a label.

Ersel went back to Buffalo and stayed with his aunt. Not much was happening so Ersel decided to go back to work. He went to The Town Casino (a big club were Martin and Lewis worked) where it seated about 1000 people, Sam Cooke was playing the lounge. Ersel asked the MC if he would watch him. The MC loved what he saw and took him to the owner. The owner of the club put him on that night. The band had no clue what they were doing, they tried to follow Ersel, but there was very little they could do. They put him in The Glen Casino the next night along with Cab Calloway. He worked the lounge until it got to crowded. Ersel was playing in Niagara Falls at Luigi's when he got news that Epic Records had signed him. Joe Sherman at Epic Records picked up on the song. He liked the demo so much he didn't believe re-recording it would help, but maybe lose the "sound" that had.

January of 1958 it was released.

March 12, 1958 Ersel recorded two more singles "You Threw A Dart", "Don't Be Afraid Of Love" – "People Gotta Talk", "I Can't Love Another" and the unissued "Shame On Me". Ersel went back in the studio May 20, 1958 this time in New York at the old Columbia Studios. They recorded 3 songs "Lover's Land", "Goin' Down That Road" and "Due Time". The next session was October of 1958, they went back into National Studio to record "You Never Can Tell", "The Wedding" and "Roll On Little River". Al Lewis was one of the co-writers on "You Never Can Tell" (co-written Blueberry Hill"). Lewis had just formed a music publishing company with Don Kirshner (later the manager/producer behind The Monkees). Kirshner brought Ersel "You Never Can Tell" and a song called "I'm Ready" both demo recorded by Bobby Darin. Turned down "I'm Ready", but recorded the other. Fats Domino picked "I'm Ready" Ersel's record charted high in Detroit, Chicago and Los Angeles.

September 29, 1959 recorded "Love In Bloom". By the time Ersel went back in the studio December 17, 1959 the music world had changed. Chuck Sagle brought Ersel into the Columbia Studios for his last sessions. The song was "What Do You Want" which was a big hit for British Pop star Adam Faith. Faith sounded a lot like Buddy Holly, Sherman thought that Ersel too had that sound. They worked up an arrangement quick and gave Ersel a day to rehearse it. (It was a split-session with Roy Hamilton and Bobby Vinton). Ersel didn't like the song and didn't want to record it, but Sherman told him he was going to. April 18, 1960 Sagle took Ersel in to record "Stardust Brought Me You" this version was left un-released until 1993. May 7, 1960 Ersel went and recorded his last single for Epic Records "Stardust Brought Me You" and "Another Wasted Day". Al Avellino was the co-writer with Ersel on "Stardust Brought Me You" a song they had written on the piano at Famous Music that Hoagy Carmichael used to write "Stardust". After Ersel three year recording contract with Epic expired, he decided to work more at writing songs….
Tough life, but at least he had a taste of success.
(Visited 10 times, 1 visits today)