Elvis Costello, as musically restless as he's ever been, is set to launch a new album on June 2. Titled Secret, Profane & Sugarcane, the album is produced by T-Bone Burnett, whose relationship with Costello goes back some way, Burnett having produced 1986's King of America and 1989's Spike. Costello is joined on the new album by "some of the most highly regarded recording artists and musicians in traditional American country music, bluegrass and beyond," according to his official website.
Having established his credentials early on with his debut album, My Aim Is True (1977), Costello remains one of the most persistently adventurous musicians on the modern scene.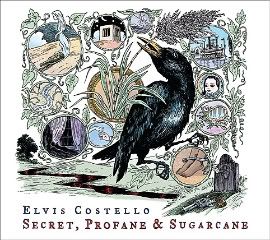 Not content to rest on his reputation, recent years have seen the chameleon-like Costello record an album of jazz ballads (North), continue in a more "traditional" rock vein with his regular band, The Imposters (The Delivery Man, Momofuku), compose a classical orchestral work (Il Sogno) based on Shakespeare's A Midsummer Night's Dream, and launch a cable TV talk show. He maintains a heavy touring schedule (including appearing with the Police on the final leg of their 2007/2008 reunion tour) and will launch a tour to support Secret, Profane & Sugarcane in June.
Ten of the 13 songs on the new album are previously unrecorded. Two of them ("Sulphur to Sugarcane" and "The Crooked Line") were co-written with Burnett and one ("I Felt The Chill") was co-written with Loretta Lynn. This album is the first since King of America to be rooted primarily in acoustic music, although it's not Costello's first involvement with American country music, the influence of which can be heard in a good deal of his other work (not to mention his album of country covers, Almost Blue).
The musicians on the album, dubbed "The Sugarcanes", will be joining Costello on the tour. Preliminary dates can be found on the official website.
Secret, Profane & Sugarcane Track List
1. Down Among the Wine and Spirits
2. Complicated Shadows
3. I Felt the Chill
4. My All Time Doll
5. Hidden Shame
6. She Handed Me a Mirror
7. I Dreamed of My Old Lover
8. How Deep is the Red
9. She Was No Good
10. Sulfur to Sugarcane
11. Red Cotton
12. The Crooked Line
13. Changing Partners