Do you know what is like to fall on the floor cry your guts out 'till you got no more?
Hey man now you're really living.
Have you ever made love to a beautiful girl?
Made you feel like it's not such a bad world?
— "Hey Man (Now You're Really Living)" by Mark Everett (The Eels)
Charlie Bartlett is the directorial debut of editor Jon Poll after his short film The Tree (1982), an exercise in audiovisual expression exploring man's violence against nature through rhythm and figures. Now Poll's second film Something Borrowed (2008) is in pre-production. Charlie Bartlett's screenwriter Gustin Nash also penned the script for Youth in Revolt (2008) with Miguel Arteta.
In Charlie Bartlett teen popularity is a state of mind.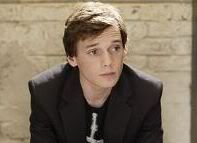 After being expelled from his last private school for forging IDs, Charlie (Anton Yelchin) finds himself attending Western Summit High School, a public school — this time without his limo chauffeur Thomas — where he gets a brutal welcome from a school bully, Murphey Bivens (played by Tyler Hilton).
Charlie innocently translates a Latin inscription on his blazer — "Cor ad cor loquitur" — for a couple of curious bullies as "heart speaks to heart." They mock him and ask him if he is a total faggot or what? Charlie asks, "Is that a rhetorical question?"
He is beaten until his nose bleeds and his left eye turns black, a sign he is going to live in a dark ghetto thereafter; fortunately Murphey soon will reveal a less belligerent nature ("In fifth grade, I played Linus in You're A Good Man, Charlie Brown and I was good") as he comes to know the new snotty boy and overlook the more irritating and snarky sides of Charlie, who tries to teach him how to dominate these bullying impulses, which Murphey calls "fists of fury."
A pretty drama student, Susan Gardner (Kat Dennings), mistakes Charlie for a teacher when she sees him wearing a tie, and she is immediately attracted by his quirky manners, offhand remarks, and his skills in improvising theatre comedy. She is the daughter of the school's principal Nathan Gardner (Robert Downey Jr.), with whom she has a difficult relationship.
Maybe this unsatisfactory family bond is one of the reasons for the mutual attraction between Susan and Charlie. We learn that Charlie's father is locked up in prison due to a tax evasion conviction and his mother Marilyn Bartlett (Hope Davis) is a Klonopin-dependent, "invisible" nice mother who enjoys singing at the piano, "Those were the days…"
Looking for acceptance from the high school cliques, Charlie uses every session with his psychiatrist (to whom he confesses a dream fantasy: "I kind of have this one fantasy. It's just this fantasy of me stepping out on stage, and there are all these kids out in the audience, chanting my name, like I'm a rock star, you know.") to get prescription drugs (Ritalin, Xanax, Zoloft, etc.) which he then sells to his troubled classmates at a bargain price.
While the plot unfolds we can see some similarities with Harold and Maude (1971), Ferris Bueller's Day Off (1986), or Juno (2007), but the references are very blurry and the character of Charlie is in fact original enough to sustain on its own an atmosphere that examines the new anxieties of a fearful, befuddled generation that longs to fit in but is too self-conscious and self-loathing to stand popularity for too long.
All the main characters show us a hidden facet — the principal was a retired history teacher, for example — questioning the usual stereotypes in teen movies. For example Murphey isn't a bitter tough guy, despite videotaping his bullying acts which he sells as "Greatest Afterschool Beatdowns" DVDs. He's also sensitive and has romantic intentions toward a blonde, promiscuous cheerleader, Whitney Drummond (Megan Park).
Murphey: If I'm jealous, it's because only guys like Dustin Lauderbach can get girls like Whitney Drummond.
Charlie: You wanna hook up with Whitney Drummond?
Murphey: No. I want to do it right. That's the kind of girl you go to dinner and a movie with.
Another of Charlie's friends/customers, Kip Crombwell (Mark Rendall), is manic-depressive, suffers from panic attacks, and is a frustrated writer. Feeling isolated, he goes to the boy's room and Charlie "the doctor/actor" gives him this recipe: "Murph, start him on 50 milligrams of Zoloft and half a milligram of Xanax as needed." This is an acid moment that serves as a parody of an adult world of zany psychotherapy and pharmaceutical frenzy.
The school principal decides to allow surveillance cameras to be installed around the campus' student lounge. Susan gets more distanced from her dad since she's dating Charlie, who seduces her by playing a piano duet and singing "Yankee Doodle" with an English accent. Susan's father is terrified of losing her affection and calls Charlie to his office, pretending he isn't an alcoholic, overprotective or insecure guy: "If I were one of those dads, I'd probably say how my job is a distant second to my daughter."
Susan and Charlie share a revelatory encounter in the bathroom, sharing painful memories of their not so happy experiences: "The night he found out my mother was having an affair." In all these confessional visits to the bathroom, the interlocutor never sees Charlie's face, but in this scene you could feel much more than eye contact — although Susan was separated from him by a wall, they were seeing through it. Charlie's face cannot hide a profound, existential disappointment when Susan talks about her dysfunctional family: "I guess what I'm trying to say is it just… it kind of sucks having one parent ditch and then the other one lose their mind. I mean, how can I possibly hope to turn out even remotely functional?" Kat Dennings is really inspired and sober in this conversation.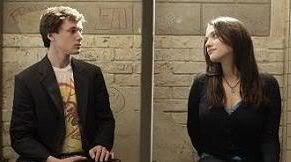 Charlie expresses an individual, national, and universal crisis: "I get up every morning and I look in the mirror and I try and figure out just where I fit in. And I draw a complete blank. And you guys are looking to me to tell you what to do? You need to stop listening to me."
This is an exceptional, subtle performance by Anton Yelchin, who creates a fully fleshed character who is battling a collective crisis and who responds to it without being over-dramatic or hysterical. "Some days are better than others," he says to Susan's father. And Nathan really understands Charlie in a crucial moment when both have shared too much in few minutes (Downey Jr. is brightly jaded here).
DVD extras:
Commentary track with director John Poll, Anton Yelchin and Kat Dennings: discussion of the movie and scenes involved.
Commentary track with director John Poll and Gustin Nash: they discuss more the technical details of the film, including the script.
Spinal Beach "Voodoo" music video.
Restroom Confessional: On the fullscreen side, several of the actors, in character, riffing with their problems to discuss with Charlie in the bathroom. It's essentially a gag reel.