Shinobi: Heart Under Blade is a Japanese ninjutsu romance movie based on the novel The Kouga Ninja Scrolls by Futaro Yamada. This 2005 film adaptation is set in 1614 and the story depicts the clash between two ninja clans, Iga and Koga, and the fated love between the two young heirs Gennosuke Koga (Joe Odagiri) and Oboro (Yuki Nakama).
It's Crouching Tiger, Hidden Dragon meets Romeo & Juliet – both breathtaking and heart-breaking as the Shogun forces these ancient enemy clans into battle.
Shinobi was released in the U.S. on February 6, 2007 as a 2-DVD package. The bonus disc includes the following features:
VFX Behind the Scenes
Director Storyboard Collection
Weapons Introduction
Shinobi Action – Sumpu Castle Fight
Shinobi Art – Manjidani
Original TV Spots and Trailers
Storyboard Collection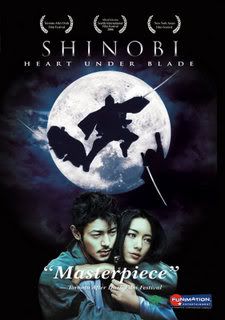 BC Magazine would like to give you the opportunity to win a special prize package consisting of the 2-disc DVD of Shinobi: Heart Under Blade, the novel upon which it is based, and Shinobi manga comics.
To enter, send an email with your name and mailing address to [email protected] with the words Shinobi Giveaway in the subject line (Note: the subject line must contain the words "Shinobi Giveaway" in order for your entry to be eligible).
Entries will be accepted through midnight, Sunday, February 11, 2007 (EST). At that time, one winner will be selected at random and will be notified in the comments section here and via email.
In the meantime, you can view a trailer and visit the official Shinobi website.