Riviera's musical palette contains shades of artists you already love (Neil Young, Rolling Stones, George Harrison) blended together with colors unique to each of the band's three singer-songwriters. On Capital, the band stretches its sounds past the distorted Americana that pervaded their debut, At the End of the American Century…. While that album had a palpable sense of paranoia throughout, Capital is the sound of a band resigned to live in troubled world: "There's a change coming on, and I don't think I know what it means" ("White Limousine"). And it's not going to get better anytime soon: "Evolution's slower than a snail" ("Snails").
Strapped with his acoustic guitar, his plethora of vintage organs, and a cassette multi-track recorder, Whole Wheat's sound has been described as "if Lou Barlow realized that life wasn't always bad". He brings his lo-fidelity recordings to a culture bombarded with disgustingly polished pop music. His songs describe a broken heart and memories of what life was when we all were happy. Whole Wheat got his start in Toms River, NJ as songwriter for his first band, Generic. As the members disbanded, Whole Wheat decided
to keep his cassette 8-track around and began writing songs about his current situations. Situations ranging from his hatred for frat boys, the police, and his love for being in love but never achieving it. Take a listen to his song "The Paranoid Boy," recorded with his backing band, The Action News.
The Wet Spots (Cass King and John Woods) are a musical sex comedy duo who write sophisticated lyrics paired with sweet, catchy melodies. Their musical repertoire is inspired by the risque satirical songs of Monty Python, South Park, Tenacious D and musical comedy legend Rusty Warren. They are known for their lively shows, which include sing-alongs, spankings, and bawdy sex ed. Their first full-length studio album is out (Hello Kinky), and it's been endorsed by Susie Bright and Rusty Warren. Have a listen.

Monster Movie make a fine return on the mysterious Graveface label for another album of melancholy dream-pop. And while that description may feel like its been applied to
numerous bands in the most haphazard of ways, it should be noted that Monster Movie contains a former member of shoegaze legends Slowdive, so it's pretty much a given that these guys know what they're doing.
All Lost has a constant underlying motif of hazy, breezy melodies, but in addition to slow-breathing ballads like "Hope I Find The Moon," there's the Magnetic Fields-inspired electro-pop of "Driving Through The Red Lights" and the buoyant pop of "Return To Yesterday." Monster Movie create pleasingly laid-back sonics that never once drift into monotony, taking the best moments of fellow subtle-pop merrymakers like Low, Mojave Three, Flying Saucer Attack, and Red House Painters and melding together something wonderful in its own right.

With the release of No Wait Wait's album About You, Chairkickers' Union Music (Low, Kid Dakota, Haley Bonar) deals up another glowing sign of Duluth, Minnesota's dense and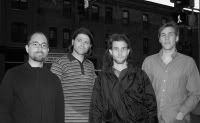 entrenched music scene. NWW front man and New York transplant Marc Gartman (Pale Horse and Rider, Low) traveled to Duluth in 2003 for what he thought was only a fleeting summer getaway, until he found himself a band and a supportive artistic community worth sticking around for. No Wait Wait released a self-titled debut in 2004 and enjoyed a fall 2005 tour with The Retribution Gospel Choir featuring Mark Kozelek (Sun Kil Moon, Red House Painters) and Alan Sparhawk (Low).