There's something deeply and gorgeously ghostly about Barzin's reverb-doused Americana, something that burns as strangely natural. Steel-pedals breeze through the air in a manner previously reserved solely for feedback-drenched shoegazed guitars. Barzin's voice rests at a whisper and the tempos ease themselves in a steady gallop. Like Low parlaying their one-of-a-kind restraint into a Lambchop covers set, Barzin's melancholy tapestries are woven with a pleasing freshness that luckily avoids the standard slo-core/alt-country clichés by possessing a confidence that belies the record's unassuming quaintness. By the end, you come to realize that My Life In Rooms is aptly-titled: a thunderstorm record soundtracking a day resting in bed away from the cold sheets of water outside. Don't be surprised to see Barzin forging new terrains in the No Depression landscape down the line. Listen to the album My Life in Rooms or download a few songs: "Won't You Come," "Let's Go Driving," and "Leaving Time."
BoySkout is actually a girl group. The San Francisco quartet has studied its synthy-post-punk history diligently and attentively. Moving from early 80's Cure dark-tinted bounce to Wedding Present/Heavenly indie-pop fetishism, BoySkout has the kind of early 90's punk sheen that's sadly lost on many of today's young bands. It's apparent that Wire, Gary Numan, the Dischord label and K Records are reference points, considering the downcast cool of front woman Leslie Satterfield. There's even a Kraftwerk cover ("Model") that showcases a subtle dourness that works alongside the very mechanical and cold original. The warm and somber jangle of Another Life is the sound of blood pumping through the veins of art-punk's past, producing a record that takes familiarity and freshness to a solid plane of co-existence. Listen to their new album Another Life or download a few songs: "Happy Yet?" "Fantastic," and "Everybody Knew."
Emerging from Seattle, WA, Riding Paper Airplanes is the solo project of John Wu, formerly of Autumn Sonata and Yesan Damen. Drawing upon influences ranging from pop songs to movie soundtracks, Riding Paper Airplanes' debut paints a stunningly diverse soundscape by incorporating both electronic and acoustic instruments. From the opening notes of "Homecoming Weekend in a Small Town" to the haunting finish of "Lying on a Hill, Watching Clouds on a Saturday," Riding Paper Airplanes takes listener on a journey by means of songs rich in emotional and musical content. Here, dreams take precedence over regret, and fond memories and hopeful sentiment abound. The commingling of John's warm voice with a rich array of accompanying sounds creates an undeniable sonic appeal that is automatically engaging.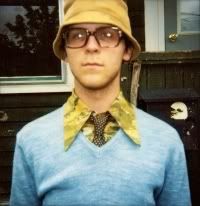 Purrbot's third effort Civil Unrest isn't one of those records that zooms forth out of the speakers; rather, it lurks slowly into your personal space, enveloping its captivating grasp on you in the most intriguing of ways. The one-man project of one Nathan Carter, the songs of Purrbot are minimal to the utmost point, but never once does it fail to draw you in. If Jamie Stewart of Xiu Xiu fame were a bit less restrained, or if Lou Barlow withdrew back into the bleakest regions of his psyche, something like Civil Unrest might be the offspring. Listeners fed-up with the constant barrage of supposedly "emotional" singer-songwriters should be pleasantly surprised with Purrbot's uniquely personal vision of post-folk expression.
Switchfoot recently released the long awaited single "Oh! Gravity" off the highly anticipated new album of the same name due in stores December 26, 2006. Switchfoot has developed a harder rock edge for the songs on the new album, the single "Oh Gravity" is said to be a preview to another excellent album from the groundbreaking rock band.