The purpose of this monthly series is to highlight an outstanding contributor to the site as chosen by the editorial staff. Over the past three years, Blogcritics has grown tremendously, in large part due to the contributions of a stalwart group of writers who have consistently informed, engaged, and entertained us. This designation is meant to recognize and celebrate the best of the best, those writers who not only shine by virtue of their talent, but whose continual participation gives all of us a reason to tune in each and every day. As new readers are continually discovering Blogcritics, we also hope to introduce these fine writers to a new audience.
Please join me in a virtual round of applause for this month's honoree, Mark Saleski!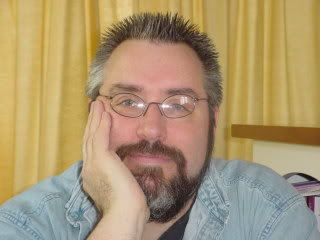 Anyone who visits the music section of Blogcritics on a regular basis knows Mark. His first post dates all the way back to August 19, 2002, so he's been here since the beginning (the site launched on August 13 of that year). While he's contributed the occasional book review and cultural musing, music reviews make up the bulk of Mark's contributions to the site, and he's offered us his very personal take on music in just about any genre imaginable.
Many regular readers, myself included, don't consider the week complete until they've had a chance to peruse Mark's weekly column, "The Friday Morning Listen." The effect this column has on a lot of readers is best summed up by music editor Connie Phillips, who says, "Mark Saleski has a way of taking his writing, be it his reviews or his feature 'The Friday Morning Listen,' to a personal level. He weaves his life into the music and the result is always an entertaining anecdote. My Friday morning isn't complete until I see how Mark's life is affected by the music he's listening to … or how incidents in his life affect his music choice."
Mark is also an active commenter on the site, and as everyone knows, that's a great way to make friends around here. Assistant music editor DJRadiohead offers the following:
Regulars around here will know Mark and I have created this… thing. Highly technical term, thing. You could call it antagonism or rivalry. There is only one tiny problem with that: Mark and I agree far more often than we ever seem to let on. Don't tell anyone, though — especially him. I guess we could just call it good-natured harassment.

Mark's "Friday Morning Listen" column is a must-read each week. Some weeks you get a precise and technical analysis of the music on the CD and other weeks it is a bit more personal. It's always well written and if you're not careful it might even cost you money. I have already bought one CD based on his recommendation. He was right. Belladonna by Daniel Lanois is exquisite.
When asked to provide some biographical info for this profile, Mark submitted the following:
What I was like as a kid:

If you've ever seen the movie Dazed and Confused, I was one of the three nerdy types driving around in the station wagon. Introverted. I thought too much, read too much and, oh yeah, I listened to too much music.

What I'm like as an adult:

Pretty much the same as above, except that my record collection is bigger.
BC's publisher, Eric Olsen, summed him up perfectly when he said, "Mark Saleski writes about music with the enthusiasm of a lifelong fan, the nuts-and-bolts insight of a musician, the range of a musicologist, and the familiarity of a great friend."
Q & A (The Serious Stuff)
BC: I didn't take the time to count them up, but out of your 536 (as of this writing) posts on Blogcritics, a huge preponderance of them are musically oriented. One thing that becomes quite obvious is the breadth of your musical taste — you've covered just about every genre imaginable. Is there anything you don't listen to? Where did this voracious appetite come from? Are you a musician?
Mark: Every once in a while, I like to steal this phrase from a good friend of mine: "It's a big 'ole world out there." We say that when referring to a peculiar occurence/person. Remove the "odd" connotation, and it fits with music, too. It is a big musical world out there. So many genres. So many recordings. Sometimes it feels like there's too much. What do I listen to next?!
What makes it seem like I listen to everything is that I tend to look for the positive in every record. There are a lot of CDs that come my way that never make it into the review pile. Negative reviews, especially the ones where the writer has always disliked the artist and/or genre, are a waste of time. They're pathetic exercises that do nothing but call attention to the reviewer.
So in my roundabout way, the answer to your question is "no." I don't rule out anything. For every modern genre that's supposed to be "crap" – let's use modern "country" here – an album/artist will jump out and surprise me. If I completely ignored country, I would have never heard Martina McBride's Timeless, a gorgeous record. It would be a shame to miss out on something by applying restrictions on what's "acceptable" listening.
I'm not sure where this appetite came from. It's just the way I'm wired, I guess. My folks had recordings around the house when I was a kid – Tom Jones Live at Caesar's Palace, The Singing Nun, Herb Alpert's Whipped Cream and Other Delights, various Rat Pack albums. I suppose just the fact that I can remember these things in detail is a sign that I was "different."
Yes, I am a musician. I've had a guitar in my hands nearly every day for the last twenty-five years. Despite my teen years being in the '70s, I never did play "Smoke On The Water" (OK, maybe just a little).
BC: Your very first Blogcritics post (dated August 19, 2002!) is about the death of radio, or more specifically, the extinction of the radio personality known as the DJ. Given that we can no longer turn to radio as a source of the interesting or the innovative, where do you go to get that stuff? Does the Internet play a role in how you go about discovering new bands (or old bands you just haven't heard of yet)?
Mark: It's interesting that you bring up radio. Four years ago, satellite radio was in its infancy. I don't know what will happen with it in the future, but right now, it's a pretty good source of new stuff. The garage rock and jam band channels on Sirius have given me a whole pile of new (to me) artists to check out.
As far as the more "out there" types of music, I have talked about my discovery of a musician named John Zorn. He's tough to apply a strict category to, since he's written everything from straight jazz to hardcore to chamber music. When I joined the Zorn mailing list, I fell into a group of like-minded people who were interested in a similarly wide range of music. I'd bet I have hundreds of CDs acquired because of discussions in that group. Another big influence on my tastes is a little known magazine named Cadence. It's full of reviews of all sorts of jazz and improvised music. That alone should be enough, but the folks at Cadence also sell CDs. They have an enormous listing that's sorted by record label. A perfect thing for the musically curious. So if I happen to like something on say, the HatArt label, right there are a bunch more to check out.
BC: We're seeing the digital age change the ways in which people consume music, and it's changing the ways in which musicians interact with their audience and the ways in which they record in some cases. The means of production are in the hands of the artists these days, with digital recording technology making it possible to produce music independent of the studio system. Any predictions about the future of the music industry?
Mark: Ah, now this is something that should be interesting to watch. Right now we have this sort of churn going on with the traditional parts of the industry trying to deal with the somewhat unwieldy aspect of the digital age. To a certain extent they've lost control over their baby…and I'm pretty sure that they can't get it back. You're right, the availability of modern computers and software has transferred the power of creating and recording music back to the musicians. The real struggle is in distribution. We now have cooperation going on at places like iTunes. We still have the illegal downloading thing.
Honestly, I don't know how things will turn out. Many people predict that music will only be sold digitally in the future. No actual stores. That may well come to pass, but don't expect me to be a part of it. I like actually objects in my hands. For as much as I enjoy being able to click on a link to order something, it does not beat the experience of being at a store and flipping through bins of the "great unknown."
BC: Aside from BC, where do you go to read stuff these days? Do you have any favorite sites for music writing in particular?
Mark: My favorite non-BC music site is Perfect Sound Forever. Great writing, interesting stuff. A feature about Captain Beefheart here, an article about turntables there…what's not to love?!
BC: And one last question, because I couldn't resist: Why is Mark cranky?
Mark: Now this is funny. When I first put my website together, I struggled to come up with a name. I had this idea to go with "Mark Is…", but couldn't come up with anything. Then, me and TheWife are on vacation on the coast of Maine. We're driving through the little town of Bass Harbor and see a sign on a post in front of a small, nondescript ranch house: "Rue Cottage Books. For Luddites, Greens, and like-minded readers". Oh yeah, we are definitely stopping back there the next day. It turns out to be a very small (as in: it's her living room!) store of new and used books leaning toward the themes referenced on the sign. The owner, author Nichols Fox, has written several books. One of them, which should be next to everybody's copy of Fast Food Nation, is Spoiled: The Dangerous Truth about a Food Chain Gone Haywire. "Cranky" came from Fox's book on the history of the Luddite movement, Against The Machine. In that book Fox describes the "resistors," those who resist many modern technological advances…and that they're usually thought of as "cranks at best."
Yep, that would be me.
Q & A (The Fun Stuff)
BC: What book/CD/DVD do you have more than one copy of, in case something happens to the original one?
Mark: Kerouac's On The Road.
BC: Would you like to tell us who/what do you share your life with?
Mark: You all know TheWife. Her real name is Linda. Not only does she put up with me, she also teaches at a shelter for troubled teen girls. A real job. I respect the hell out of her for it. We have a little competition going on: to see who can buy the most books before we run out of shelf space…though it's getting closer to: see who can make the most piles of books before running out of floor space.
BC: If you had to pick one sense to do without, which of your five senses would it be?
Mark: Common sense doesn't count? Probably smell. It might make politics less disgusting.
BC: What do you wish they'd do a series about on TV?
Mark: The life of a writer. I mean, I've got one whole shelf that's groaning under the weight of books about writers. Why not a TV show?
BC: If you could, would you swap sexes for a week?
Mark: Sure. Why not? A person would be crazy to pass that up. The ultimate adventure.
BC: What do you think you'd learn if you could swap to the opposite sex?
Mark: It might be nice to know, once and for all, if size really matters.
BC: What sports team will you love until the day you die?
Mark: The Boston Red Sox. I've already died several times for them.
BC: What's one sign that you're a total nerd?
Mark: Favorite TV show on vacation: Booknotes on C-SPAN2.
BC: What's the first book you recall reading?
Mark: The Outsiders by S.E. Hinton.
BC: What magazines do you subscribe to?
Poets & Writers
The Writer
The New Yorker
UTNE Reader
Stereophile
Tricycle
BC: Who is your favorite writer?
Mark: For music, that would have to be the late Lester Bangs. Outside of that genre, I'd go with Jack Kerouac and Anne Lamott. Also, Natalie Goldberg for writing and life inspiration.
BC: Who is your least favorite writer?
Mark: Joyce Carol Oates. For whatever reason, I can't make it through more than a couple of paragraphs.
BC: Do you have a favorite Blogcritic?
Mark: A few.
Sadi Ranson-Polizzotti, who pretty much fearlessly gets right to the brutal and delicate heart of whatever topic she's writing about.
The Duke. A young man with a frightening amount of talent. Makes me laugh out loud, though usually I can't safely answer the question "What's so funny?"
Dawn Olsen. I became a Blogcritic because of Dawn. I was an avid reader of her blog "Up Yours & Other Helpful Hints". I do owe a debt to her because I'm not sure I would have gone down this writing path without stumbling onto that funny and snarky site.
BC: What do you think is the best part of Blogcritics?
Mark: The wide range of writers drawn together to form a community. I've made some good friends here.
BC: What song is stuck in your head right now?
Mark: "O Mary, Don't You Weep". Springsteen's Seeger Sessions has, for the moment, completely taken over.
BC: What do you have set as the home page in your browser?
Mark: Blogcritics.org.
BC: Who was your idol as you were growing up?
Mark: Catfish Hunter. No, wait…Elton John. No, John Belushi? My Uncle Stanley the Polka DJ? My dad? Steve Martin?
OK, I didn't really have an idol. That was fun though.
BC: What are three items you would need to have on a desert island?
Mark: A copy of On The Road, an acoustic guitar, and a picture of TheWife.
BC: What's the best place to get a meal in your neck of the woods?
Mark: The Peterborough Diner. I love diners, a true chunk of Americana. Coffee always tastes better in a diner mug.
BC: If you could change one thing about the world, what would it be?
Mark: Is this where I'm supposed to give the "world peace" answer? I'd settle for less ignorance.[ADBLOCKHERE]
Mark Picks Mark
We asked Mark to pick his favorites from among his many Blogcritics articles, and we hope you'll take the time to check these out. In fact, take the time to check out Mark's entire Blogcritics archive for some very worthwhile reading.
Dar Williams – My Better Self by Dar Williams
One of my favorite folkie-type singers. This record dealt with theme of "opposition." It also had a song about searching for love that's so good, my eyes welled up on the very first listen.
What Is Music?
Are there rules for what makes something music? I don't think so.
Bruce Springsteen – Devils & Dust
One of the themes I go back to pretty often is the phenomenon of memories attached to music. This particular Springsteen release took me back a few years. Written at the Eastland Park Hotel in Portland, Maine in the middle of the night.
The Friday Morning Listen: Pete Townshend
I love doing this weekly column. I dug one up that was overflowing with nostalgia.
Pat Metheny Group – The Way Up
Metheny is easily my favorite jazz guitarist. Maybe my favorite musician. This is a review and an exploration of why some music is more 'important' than others.
Rilo Kiley – More Adventurous
A truly great pop record made a kinda sad memory float back to the surface.
Craig Taborn – Junk Magic
I love jazz. Traditional jazz. Modern jazz. Also, improvised music. Completely improvised. The problem is, how the heck do you describe it?