BC Radio Live is the flagship program of the BC Magazine station on BlogTalkRadio. It's hosted by Phillip Winn, Eric Olsen, and Lisa McKay and airs weekly on Wednesday evenings at 9:00 p.m. Eastern. Shows are archived and available for streaming or download after the live broadcast. Our guests on June 4 were authors Ann Vileisis and James D. Stein and members of the rock band Crazy Mary.
Unless you live on a farm or keep a vegetable garden, your local supermarket is likely the source of everything you put on your dinner table. As food production moved away from a local model toward the big business it has become, most of us have completely lost touch with the notion of understanding where our food comes from. Historian and author Ann Vileisis aims to address that problem with her recent book Kitchen Literacy: How We Lost Knowledge of Where Food Comes From and Why We Need to Get It Back. As food travels to us now from great distances (most foods travel 1,500 miles before they reach us, according to Vileisis) we are incurring costs to our health via the use of preservatives, additives, and pesticides and costs to our environment (and pocketbooks) due to the energy costs involved in transporting it. Listen to this archived broadcast to understand why and when this disconnect took place and why it's important for us to re-connect with the sources of our food. Vileisis chats with BC Radio about possible solutions, which include supporting local agriculture and buying organic when possible, and how the current economic climate may support some of these efforts.
Mathematician James D. Stein is the author of How Math Explains the World: A Guide to the Power of Numbers, From Car Repair to Modern Physics. Stein is a professor of mathematics at California State University, Long Beach and is a graduate of Yale University and the University of California, Berkeley. He stopped by BC Radio Live to talk about the book and explain how math touches nearly every aspect of our day-to-day lives. If you have no idea why mathematics guides the timeliness with which your car repairs get done, Stein is here to explain. He shares with us a story about the number 9 and its relationship to the transposition of two digits, and how that led to his passion for mathematics and the mathematical principles and patterns that underlie many processes. Stein describes mathematics as a language, albeit one with which you can make predictions. If you thought that it was possible for a perfect democracy to exist, Dr. Stein will explain why mathematics says otherwise. Taking the conversation from the mundane to the mind-bending, Stein touches on particle physics and quantum mechanics in this far-ranging conversation. You don't need to be a math geek to understand this fascinating and down to earth book.
Musicians Charles, Nick, and Walter from the New York-based band Crazy Mary stopped by to talk about their most recent release, Nuclear Lipstick. Purveyors of psychedelically tinged garage rock, the group, according to their MySpace page, "carries the flame for a time when downtown Manhattan was at its post-punk apex – gritty, smart, artful, edgy and sexy, before its soul was taken over by corporations and developers."
Band member Walter Steding provided BC Radio Live's listeners with some fascinating conversation about Andy Warhol, who managed Steding during his solo career (Steding was working as Warhol's painting assistant at the time). Warhol produced Steding's solo album, which places Steding in the company of The Velvet Underground, the only other band to be produced by Warhol.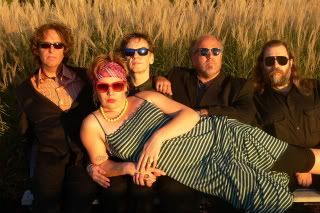 Not surprisingly, the band lists The Velvet Underground among their influences, a list which includes artists as diverse as The Clash and Martha Reeves and the Vandellas. A cult favorite on the New York music scene, Crazy Mary continues to honor its influences while keeping their sound current and innovative. Check out Crazy Mary's official website and their MySpace page for more info.
Photo credit: Crazy Mary by Marcia Resnick