The purpose of this monthly series is to highlight an outstanding contributor to the site as chosen by the editorial staff. This designation is meant to recognize and celebrate those writers who not only shine by virtue of their talent, but whose ongoing participation gives all of us a reason to tune in each and every day. As new readers are continually discovering BC Magazine, we also hope to introduce these fine writers to a new audience.
Please join me in a virtual round of applause for this month's honoree, Chris Beaumont!
Chris Beaumont's name is well known to regular BC readers. One of the most prolific film and DVD reviewers here (or anywhere!), Chris brings reviews of current films, DVD releases, CDs, and live concerts to BC's readers on an almost daily basis. In addition to his reviews, Chris is a regular columnist in the film section, contributing a weekly box office update (in which he also gamely makes predictions for the week to come), a weekly pick from the current crop of DVD releases, and a rundown of the week's theatrical releases, all with his personal take on what to expect.
BC's publisher Eric Olsen had this to say: "Chris combines deep knowledge and palpable love of film, TV, and rock music with insight, an ease of communication, a winning personality, and the most astonishing work ethic we have ever come across."
That work ethic is evidenced by the fact that since joining BC in July, 2004, Chris has written over 1200 articles, primarily in the film and music sections. His taste in movies runs the gamut from action to art house and includes everything in between, and he's one of BC's resident metal-heads when it comes the music scene. While he always looks for the positive in the material he reviews, his honest take on everything he writes about ensures that his readers get an objective opinion every time.
This month we'll have an opportunity to meet the man behind all those reviews. Before we get to the Q&A, a bit of background on Chris in own words:
Christopher Beaumont was born in the year 1975. That same year, Steven Spielberg helped usher in the age of the summer blockbuster with Jaws, plus a couple of the greatest comedies of all time were released, Young Frankenstein and Monty Python and the Holy Grail. Queen, Kiss, Pink Floyd and Led Zeppelin were at the top of the rock charts. Among the television shows that took up my parents' time were The Munsters, The Monkees, and M*A*S*H. I wonder if any of those things had anything to do with the way I am today?

Anyway, I was born in Virginia, but quickly moved to Vermont, and then to New York where I still reside today. I graduated from Our Lady of Lourdes High School in 1993 and from Marist College in 1998, currently working in the software industry while secretly wishing I could find a job writing. I spend much of my time watching movies, television, and listening to music.

There isn't much to say about me — I live a quiet life, working and writing and taking in the occasional movie.
While Chris's reviews tell us plenty about what he likes (and doesn't like) in entertainment, here's our opportunity to get to know the man behind the computer screen.
Q&A: The Serious Stuff
The breadth of your movie-going experience is impressive. You review pretty much everything from the major blockbusters to the art house and everything in between. When did your passion for the movies develop? Do you have a favorite genre or a favorite filmmaker? Do you have any formal background in film?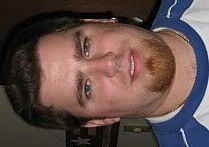 I've always been a fan of movies, but my desire to do anything related to the industry didn't fully ignite until I was a few years into college. I was really late getting into the entertainment game in general. It wasn't until I hit high school that I really got into music. The late 1980's saw me using the burgeoning world of hair metal as my gateway drug to music, which also led me to want to play the guitar. So I did try my hand at guitar, taking lessons for a couple of years, along with a friend who was learning the drums. I soon learned that I didn't have what it took to take it to the next level (my friend, on the other hand did, and he is now a member of the hardcore band Hatebreed). So, my performance career was short-lived, but my love of music grew.
When I reached college, I thought my path was leading me towards math and science, hence I went into engineering. After nearly flunking out, I deemed it necessary to look for another major. While flipping through the course book I came across the communications programs with audio and video concentrations. At this point, I was still more of a music guy, so I dove into the audio program. I was still a little unsure of myself so I took both audio and video classes. Here it turned out I was a little bit better at the video and my focus shifted more towards the movie side. Anyway, I graduated with my degree in Communications: TV and Film Production, but was unable to get a job. I blame that on not taking an internship. Well, a couple more years passed by and my working knowledge of making a movie has greatly diminished, but my enjoyment of viewing has been ever increasing. It was a few years ago that my desire to write was reignited. I tried writing back in the late 1990s, the first time I tried to have a website. Needless to say, my writing was horrendous, I barely scratched out a couple of paragraphs (I should dig these out as a warning of how not to write a review). But ever since I started to write, I have found my viewing to be rather insatiable.
Frankly, I love movies. Good movies, bad movies, and everything in between, I don't discriminate and I don't regret. Everything that I see adds to my experience and gives me something to write about or think about for future experiences. The important thing to remember is to be a fan of movies, try not to let the snobbish attitudes of some critics seep into your own perceptions. Not every movie has to have a message or speak to some human condition, and not every movie needs to be looked at in those terms.
And if you follow my writings, I am much more than movies; I've always wondered if that fact has hurt my development. I have my television and music addictions as well, so the thought of spreading myself too thin has always festered a little. I tend to not think of it and to just write as much as I can.
As far as genres go, I will always be a science fiction and horror fan at heart. I am always willing to give anything a shot, I don't discriminate, but I will always lean towards those two genres. They offer some of the biggest opportunities for visual development, plus I love futuristic action, and am always a sucker for free-flowing blood.
The problem is that all too often films are either hailed for their visual flourishes or for their story and acting; it is not often that the two areas come together, so I always like to see filmmakers take chances with their work and try to bring visual style and storytelling together.
As for favorite directors, I cannot say that I have a favorite, but there are a few that when I hear they have something new coming out, I tend to perk up a bit. Those that catch my eye include Quentin Tarantino, Robert Rodriguez, Darren Aronofsky, M. Night Shyamalan (despite my disappointments in his last couple), Bryan Singer, Christophe Gans, Luc Besson… the list goes on. I am always interested to see what names get attached to which projects, and it is fun to watch some directors develop. Guys like Zack Snyder, Eli Roth, Lucky McKee, Rian Johnson, and Alexandre Aja have bright futures ahead of them.
Your contributions to BC are all down to business; you write reviews, but you stay away from the more personal stuff. With the exception of the very moving tribute that you wrote to your late grandfather, we don't get to see much of the real Chris in there. What would you like your readers to know about you that might not be immediately apparent from your writing?
You know, I didn't get into writing to share much in the way of personal stuff, although there are always times when I do take a dip into the personal pool, most notably with the tribute you mentioned. As much as that goes, I never really liked being called a blogger, or having my reviews called blogs. I cannot say exactly why, but I want to be called a writer or a critic.
I look at my writing as a way to share my views on entertainment, that was always my primary focus. You say that you don't see much of the real Chris in there, and I think that you are wrong in that respect. Reviews are a very personal thing, they aren't based on what others say or think, nor are they there for the benefit of others — they can be seen as an extension of the person doing the writing. If you read enough of someone's work, I think you can get a good idea of the person at the other end of the keyboard.
As for knowing something about me that you may not already know? Well, I am very easy to get along with. Sure, I have my moments where no one should be anywhere in the vicinity of me. I can be goofy and sarcastic, and I can be the most comforting person you know. If nothing else, you will get honesty from me, and if you like to talk about entertainment, we'll be friends for life.
I know, not terribly hard-hitting, no exposing of hidden skeletons. I am a pretty simple guy to know.
The sheer number of film and DVD reviews you write boggle the mind. Where do you find the time to watch all this stuff? How does all this work fit in with the rest of your life?
Well, the first thing you need to do is stop thinking of it as work. This is fun to me, I love to take in a film or watch a show, or whatever. I will be honest and say that the music is little easier to fit in as I use my drive time to and from the day job to listen to a lot and I also am able to listen to music while I do that day job.
I do a lot of multitasking, watching something while I write about it, or watching things while checking email or whatnot. The biggest thing, again, is to not consider it work. If you enjoy something enough, you just find a way to make everything work. Although there have been times when I feel overwhelmed and have to dig my way back out from under a pile of shrink-wrapped media, I always find a way out.
With all that I write, I find that there is never enough time to write all that I want to. For as many pieces as I turn out, there is probably an equal number of concepts that have passed through my mind that I never even got to start. Even considering that, I am often amazed at how much I turn out, but then again, a writer never stops refining his craft.
I've never had any formal training as a writer, so I figure the more I write the better I can potentially become, despite how inconsistent my quality is.
There are a lot of film writers on the Internet — how hard is it to stand out? What are your plans for the future with regard to your writing? How has BC helped you further your development as a writer?
Standing out is something I do not think I do, but I truly do not have a lot of confidence in my perceived skills as a writer. There is nothing that hits that confidence harder than reading other reviews. At these times I feel that if I stopped writing right now, I would not be missed, not even register as a blip on the radar. There are so many people doing what I do, and the vast majority of those people are doing it better than I am, at least in my eyes. Sure, I am not writing for them, or anyone, but it is hard for me not to get a little down on myself when I read all of these fantastic writers out there, many right here at BC.
The best thing that I can try to do is to develop my own skills and continue trying to find my voice as I write. I have to keep writing more and more and perhaps that will be enough. I really do not know how to make myself stand out any more than by keeping my name in people's minds as I keep producing more columns.
For the future, I plan to keep writing for myself, updating my site as often as I can, and continuing with my wonderful relationship with BC. I also am considering submitting some samples to local newspapers, see if I can open up any other avenues of exposure. I also look to other sites to work with as well, expanding my online footprint.
I stumbled on BC about two and a half years ago, and I have loved being a part of this site. I have seen it grow and evolve over that time becoming a larger and larger presence, gaining more and more notoriety and truly become a great destination for opinion on all manner of topics. I feel truly honored to be allowed to add whatever little value I can offer.
In return BC really has helped me improve my skills. First and foremost, without BC I really doubt that I would still be writing today. If not for the wonderful community and support group, I probably would have been discouraged and abandoned my blog a long time ago. That alone is a big reason for me to love the site and its writers, but it is more than that. Since the inception of the editorial staff (I love you guys and gals!) I cannot help but think that my skills are improving; I have to be pretty good and accurate in what I put down to get past the staff and up on the site. I have been surprised at how few times I have needed any major revisions or clarifications to my submissions. I am always sure that I have something very much out of whack that will be sent back in a heartbeat. Occasionally this has happened, and I commend all of the editors I have worked with. Every piece that I have published is a credit to BC and the impact they have had on me as a writer.
I look forward to my continued contribution to the BC landscape for the future to come and I thank you very much for this honor. It is something that I never would have expected.
Q&A: The Fun Stuff
What book/CD/DVD do you have more than one copy of, in case something happens to the original one?
Surprisingly, I don't keep any extra copies, although there have been a couple that I have had to buy more than once. One of those was Pantera's Far Beyond Driven. I accidentally left the cassette (yes, there was a time I bought cassettes) on the seat of my car and it melted beyond recognition. I replaced that with a CD. Generally speaking, I am rather careful when it comes to taking care of my entertainment media. Though, with the way some things go out of print, I should probably take care of my harder-to-find favorites!
If you had to pick one sense to do without, which of your five senses would it be?
This is a tough one. I love film and TV (obviously), so I cannot do without my sight. I love my music, so hearing has to stay. Then there are the various culinary delights that I like to consume, so I need my taste. Touch is a necessity, else I wouldn't be able to properly grasp my remote control or my popcorn. Smell is essential to taste, but I think I would have to go with smell. Since I would most likely be a shut-in at this point, I wouldn't have to worry about offending anyone with the aroma that I am unable to detect. So, smell it is.
What do you wish they'd do a series about on TV?
Hmmm, never really gave that much thought. I guess I always hope they'll just show me something interesting, and cut back on all of that reality TV. If there is one thing I cannot stand, it's all the reality junk they keep throwing up on the screen. There is one good thing about it, it does cut down on the shows I find myself enthralled with each week. I guess I would like to see an in-depth, yet entertaining, look into the making of television programs and films. I know there is already a lot of material like this available on DVDs and such, and for all I know there already is a show like this. It wouldn't necessarily be about any particular show or film or even genre, just a series that takes a look at the various jobs that people do, with a consistent set of on-screen talent to take us through the processes. Maybe something like the existing entertainment television magazines like Extra or Entertainment Tonight, only less gossipy and more informative.
If you could, would you swap sexes for a week?
This is actually pretty easy — no. I have a hard enough time just being me. It would take me a lot longer than a week to get used to living in someone else's skin that has little in common with my own. Besides, the owner probably wouldn't like what I do to it while I'm in town.
What do you think you'd learn if you could swap to the opposite sex?
That would definitely be the high cost of maintenance!
What sports team will you love until the day you die?
The New York Mets! Through the good times and bad, I will always be there for them. Growing up in an extended family of Yankee fans, you'd think that would be my team, but fortunately for me, my interest picked up during the magical season of 1986 when the Mets were winning everything and playing exciting ball. I haven't looked back since, from the dynasty that never happened, to the long years of the mid-1990s and to their once again climbing talent pool. Now, if only they would do something about their starting pitching for next season…
What's one sign that you're a total nerd?
Besides perking up at the first notice of a movie or television discussion? Probably my willingness to talk about the various 'universes' that have been created. You know, thinks like Star Wars, Star Trek, comic franchises, Farscape, Battlestar Galactica, the typical genre-related topics. It isn't often that my inner geek has an opportunity to make himself known.
What's the first book you recall reading?
Charlotte's Web. I read that book cover to cover countless times. It had some sort of strange control over me, to this day I cannot explain it. That was the first book I can recall reading, and it still holds a special place in my heart, although it carries much less prominence outside of it being the first.
What magazines do you subscribe to?
None; who has time to read? I am way too busy writing. Although, from time to time I will pick up an issue of something to read. Generally, I will pick up some movie- or music-related mag to read, things like Cinescape, Rolling Stone, Fangoria, Premiere, or something along those lines. I have also been known to check out issues of Maxim.
Who is your favorite writer?
I don't read as much as I used to, actually, I cannot remember the last time that I read an entire book. Despite the time that has passed since my last attack on a novel, I still have a couple of favorites. First is the late Isaac Asimov. His Foundation series opened my eyes to what great science fiction is. Then there is the master of the macabre, Stephen King. The Stand is my favorite book, one which I have read a good dozen times. These two are always at the top of my recommended writers list.
Who is your least favorite writer?
None really come to mind. To be honest, there are few writers whose names I keep track of; if the book is bad I tend not to remember who was behind the train wreck. Quite a different story from my movie watching.
Do you have a favorite Blogcritic?
I don't read nearly as much as I would like to, and I avoid the politics section altogether (that just is not for me). There are a couple who I have enjoyed over the years. I always like something new from Matt Paprocki, his dedication to Sci-Fi Channel Originals is astounding! Also, Eric Berlin has provided some good reading, especially when he was doing his Cathode Ray Fray column. Iloc Zoz has a great style; I've enjoyed reading his reviews. Recently I've started reading Marty Dodge's music column and he does a great job of getting straight to the point, and Neil Miller has a good voice for his film reviews. I really need to dedicate some more time to reading my fellow writers, there is so much great stuff being contributed every day.
What do you think is the best part of Blogcritics?
Where to begin? I first stumbled upon the site a few years back and saw it as another venue to get my writing to a bigger audience. I guess I would have to go with the larger audience it provides me for my work. Still don't know if anyone actually reads it, but a guy can hope!
What song is stuck in your head right now?
There have been parts of a couple cycling through my gray matter. There is "Rocket" by Def Leppard, "The Blister Exists" by Slipknot, "A Bid Farewell" by Killswitch Engage, and "Perfect Lineage" by the now defunct local band Frail.
What do you have set as the home page in your browser?
I never changed the defaults, I use both Internet Explorer and Firefox on my two PCs for a couple of different reasons. IE is set to MSN and Firefox goes right to Google. I do have a few sites that I visit before getting down to real business, including IMdB, Intervocative.com, Ain't It Cool.com, WrestlingHeadlines.com, The Digital Bits, and Home Theater Forum. That is, besides BC, of course!
Who was your idol as you were growing up?
I went through a couple of phases. The first phase was sports and I had chosen Howard Johnson and Kevin McReynolds as my favorite players. Then I moved into my "desire to play the guitar" phase where I looked to guys like Steve Vai for my inspiration. Through it all, there was always my Dad giving a great example of how to be a good person, and continuing to do so to this day.
What are three items you would need to have on a desert island?
Never been much of the outdoors type. I wouldn't mind having a little company, does that count as an item? If not, I think I would need a lighter, or something to create a fire, a knife or some sort of weapon, and a well powered entertainment system/library. I know, the last choice is a cheat, but I've never given much thought to the scenario, but perhaps I should.
What's the best place to get a meal in your neck of the woods?
Not much of a restaurant guy, but there are a couple of very good Chinese takeout joints within a couple of miles. There is also a fine assortment of chain restaurants that can provide a fine meal.
If you could change one thing about the world, what would it be?
Change the world… it would be easy to say world peace, or feed the hungry, or shelter the homeless, but I don't think that would solve the bigger issues. The thing I would like to change is people's stupidity. It's not that I am the brightest guy in the world, but I see so much stupidity around the world that it makes me sick. So let's get rid of stupidity, then maybe we can move forward.
Chris Picks Chris
We asked Chris to select a few of his favorites from among his many articles. We suggest these as a good starting point if you've yet to become acquainted with Chris's work, and be sure to check out his writer's page to see what other good stuff you may have missed.
With over 1200 columns published on BC, it is tough to go through all of them to uncover my favorites. I have had a habit of avoiding my work once I have unleashed it on the masses; I have never had an easy time reading my own work post-publication. Still, there are a few that have stuck with me, some are recent, and some go back to my early days. Here are a few of those that have lingered inside my brain:
In Memoriam: Edwin Bell (1924-2006)
This is the most personal article I have ever written. My Papa's passing is something that has affected me deeply and will for a long time. This was the least I could do to honor his memory. He will be greatly missed, but his memory will live on, and others will be able to get a little taste of what he was like.
The Misadventures of a Budding Critic
This one was a lot of fun to write. I had been hoping to get around to writing something of my online history, and what better way to do it than to commemorate my 1000th post on BC by giving a touch of the past that led me to be here.
DVD Review: Cannibal Holocaust
This was a difficult piece to write. After watching the film, I wanted nothing more than to be rid of it. The problem was that it stuck in my head, haunting me, and I found I had to write about it to get out of my head. The end result is something I am actually rather proud of.
Concert Review: Bob Dylan & Willie Nelson
I always liked how this one turned out. This was from way back in the early days of my writing resurgence, this was also my 21st post to BC. It was a concert that I went to with my father and just had an amazing time. I hope that came through in the review.
This is another review that goes back to my early days, back in 2004. I always liked how this one came out. It pointed me in the direction that I had more to say on movies that fell in the middle of the ratings pool, rather than at either end of the spectrum.
CD Review: Killswitch Engage – The End of Heartache
This is not my best written CD review, but it is for an album that opened my eyes to a band which has become one of my favorites. It was a review written by a gushing fanboy for an album that ignited a fire inside of me. I cannot quite put my finger on it, but the album took me by surprise, and I think the review shows that.