If you're a fan of timeless epic romances and ruminations on the nature and immortality of love, you'll surely find BC Magazine's latest movie giveaway appealing. New Line Home Entertainment is pleased to announce that Love In the Time of Cholera has been released to DVD on March 18, and BC Magazine is pleased to announce a giveaway to mark the occasion.
Based on the bestselling novel by Gabriel García Márquez (an Oprah's Book Club pick for 2007), Love In the Time of Cholera (2007) was directed by Mike Newell and stars Academy Award-winning actor Javier Bardem (No Country for Old Men). This sweeping, romantic saga takes place in South America and tells the story of a man who is willing to wait decades for his true love.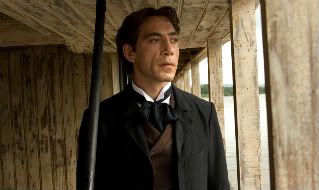 The film also stars Giovanna Mezzogiorno, Benjamin Bratt, Catalina Sandino Moreno (Maria Full of Grace), Hector Elizondo (The Princess Diaries 1 & 2, Pretty Woman), Liev Schreiber (The Omen, The Hurricane), and John Leguizamo. Shakira's "Despedida" earned a Best Original Song Golden Globe nomination.
In addition to the film, the DVD includes a director's audio commentary, a behind-the-scenes "making of" documentary, and deleted/alternate scenes.
BC Magazine is very pleased to offer our readers a chance to win a copy of Love In the Time of Cholera on DVD. We have five (5) copies of the DVD to give away. Here's how it works:
Fill out the entry form.
All entries must be received by April 8, 2008.
Five lucky winners will be drawn after April 8, 2008.
Winners will receive a copy of the film Love In the Time of Cholera on DVD.
Winners will be notified by email and in the comments section below.
Giveaway open to U.S. residents only.