In an outstandingly generic match up of pop, punk, and triteness, Canadian pop-punk princess Avril Lavigne married boyfriend, pop-punk Sum41 singer Deryck Whibley, at private ceremony yesterday in Montecito, California.

Proving she's more priss than punk, Lavigne shed her "Sk8tr Boi" tie and wifebeater for a more Cinderella look in all white; and just to show that the punk nonsense was all an act, she marched down the aisle to the tried and true Mendelssohn march.
Not wanting to be too big of pussies, Whibley, 26, and Lavigne, 21, did bust out the Goo Goo Doll's "Iris" as their first dance "wedding" song.
Nothing says punk like the Goo Goo Dolls.
Avril, keenly aware of how the cheesy chintz and lace may affect her career, had this to say about her "white rose" and twee theme, "I might look like a tough chick –- and I am –- but I'm also a hopeless romantic inside."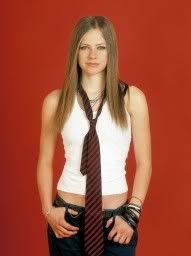 Aren't they all – well, at least the fake punkers are.
The bantamweight couple has been dating since 2004 and were engaged last year in Venice.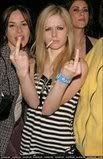 Lavigne, recognizing the trappings of punk and the maturing process, has branched out into film, lending her voice talents to the movie Over the Hedge as Heather the possum. But, don't worry, she is currently working on her third album where her angst will most surely be riddled with themes of dirty socks not making into the hamper, and hubby staying out late with his friends and banging slutty groupies.
This development may give new meaning her songs "My (less than) Happy Ending," "Nobody's Home," "Fall to Pieces," and a new one possibly titled "Ch8ter Boi."
Seriously, as long as she doesn't puff up and start popping out little tattooed and pierced peepers, all will be right. Best of luck you two crazy kids.