The season four finale left House, MD fans breathless with anticipation of the new season. Back in May it seemed that the summer hiatus would last an eternity (well, four months, anyway). But, indeed, summer is over and House, MD returns next Tuesday for the premiere of its fifth season.
Airing in a new time slot (8:00 p.m. ET/7:00 p.m. CT), the season premiere "Dying Changes Everything," picks up where season four ended, dealing with the fallout from last season's finale episodes "House's Head" and "Wilson's Heart." Two months (in the story's timeline) have passed since the events of "Wilson's Heart." Wilson (Robert Sean Leonard, who gave a compelling performance in the finale) continues to mourn the loss of Amber; House (the brilliant Hugh Laurie, who will — fingers crossed — get his long-deserved Emmy for "House's Head") is recovering from the bus accident, which left him with a serious head injury.
Although not a conventional cliffhanger, the finale did leave us wondering about the state of House and Wilson's close friendship. After Wilson asked House to risk his own life — undergo a dangerous deep brain stimulation procedure — to recall any information that might save Amber's life in "Wilson's Heart," we learned that Amber had gone to pick up a drunk House. House, not wanting to be rescued by Amber (he had called for Wilson), tried to ditch her. But the persistent Amber followed him onto the bus before it crashed, killing her.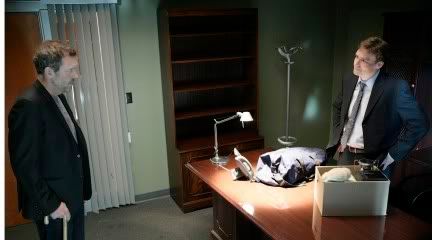 As House began to recall the events that would lead to Amber's death, he went into a seizure before falling into a coma. Near death, House grappled with whether to succumb to the pain-free "white light" and no longer be miserable and in pain. But House, the ultimate survivor, returned to the land of the living to face life — and Wilson's expected anger. And when we last viewed House he was lying awake, but staring into space after Wilson stopped by for a brief moment without a word, looking into the room, but saying nothing. Would Wilson somehow blame House for Amber's tragic demise? Would House blame himself? Does House bear some responsibility for Amber's death?
I briefly caught up with the premiere's writer, Eli Attie, via email, and he was kind enough to answer a few of my questions. Attie is probably best known as a writer/co-executive producer on the venerable (and departed) series The West Wing, and in the same function on Studio 60 on the Sunset Strip. He joined the House creative team at the beginning of season four, writing "Games," the final episode of the "survivor arc" last season, and also serving as a co-executive producer on several other episodes. "Dying Changes Everything" is the second House episode written by Attie.
Since "Dying Changes Everything" is sets two months after the finale, I wondered what happened during the weeks between the "Wilson's Heart" and the premiere. (I recall the collective frustration felt by hard-core fans at the beginning of season three, when House returned from being shot and undergoing the ketamine treatment with little reference to House's recovery.)
"Wilson has taken some time away from Princeton-Plainsboro — during which he hasn't spoken to his best friend House," shared Attie. "Each of them has had time to be alone, to absorb what happened to Amber in the finale. In terms of their friendship," he added, "we actually pick up right where we left off." During the two months since the finale, House, of course, has had some time to recover from his head trauma. However, "House certainly begins the season in more than his usual amount of pain," said Attie. But he's had "nearly two months to recover, so it's not a big part of the storyline."
One thing from the finale that is crucial to the upcoming storyline: House's powerful speech as he sat in the white bus with Amber. In that poignant scene, House confessed to the dead Amber (really to his own subconscious) his ambivalence about living, preferring to "stay on the bus," where the is no pain. "It doesn't hurt here," he says to her. "I don't want to be in pain; I don't want to be miserable," House acknowledged emotionally.
Attie told me that "in many ways, that speech fuels the first few episodes of this coming season, in terms of House and his personal life and the ways in which he tries to cope with what has happened between him and Wilson."
Asked how House feels about Amber's death, whether he feels any guilt (or is in denial of his feelings), Attie replied that it's a "question that will be explored in some detail in the premiere." He suggested that a central theme of the premiere has House grappling with his feelings both about Wilson and Amber's death.
With Wilson out of House's life, says Attie, "House will try to fill that void in his life — but not in a way we might expect (even of House)." There is a hint in the numerous episode previews out there circulating on the "interweb" (as House might say) that Cuddy oversees couples counseling for the estranged friends. "Let's just say," noted Attie, "that the first session is not a rousing success. And not for Cuddy's lack of effort and enthusiasm as a counselor."
Will the rift be repaired (as we all hope it will — and must)? "Obviously, House does not have another friend who's even comparable to Wilson," remarked Attie. "There's no replacing Wilson in House's life, and no replacing House in Wilson's. But the rift between them and the damage it causes are very real."
As to the significance of Cuddy's sitting with House as he was in the coma and beyond, holding his hand (and looking quite worried), Attie teased: "Not to spoil upcoming episodes, but there's going to be a lot of tension between them, and some of it just might pay off this season…" The House team is now shooting episode nine (which I believe is being directed by Katie Jacobs, who directed the wonderful "Half-Wit" in season three and "Wilson's Heart"), which, according to Attie, should be completed by the time the premiere airs on next Tuesday, September 16 on FOX.
As a special treat, Hugh Laurie is scheduled to appear on Jay Leno Friday night, September 12, and he will also be a presenter at the Emmy Awards ceremony, airing Sunday, September 21 on ABC. Of course we are all pulling for Hugh and the series to win the four awards for which they are nominated.
And — to pass the time until next Tuesday — you might want to try your hand at "Son of House Trivia Quiz" if you haven't already.