Between the phone records, the answering machine message, the corroboration of the parents, the photos of them together, the detailed knowledge of Abdul's home and habits, I have very little doubt that SOMETHING interpersonal occurred between American Idol contestant Corey Clark and judge Paula Abdul back in '03, as he claimed last night on ABC's Primetime Live special.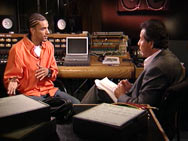 However, Clark (and ABC) — who alleged that Abdul coached him on song selection, helped buy him clothes and style his hair, and initiated a sexual relationship — has cleverly left himself with an out for the inevitable next phase of the "scandal," which is an "investigation" by Fox of the allegations of improper conduct between the then-22 year old Clark and 40 year old Abdul, by stating today on Good Morning America that he will not aid Fox in their investigation, thereby letting Abdul off the hook and precluding the examination of any "hard evidence."
"I don't have any interest in helping American Idol out whatsoever, because they haven't helped me out whatsoever," Clark said. "They made it very hard for me to do what I'm doing, which is my career."
Should Abdul be kicked off the show? Clark was asked. "I don't know. I'm not attacking her at all. She just happens to be the key to getting this 900-pound gorilla off my back.
"I think they should look at what I was trying to say, which was that she risked so much to help me avoid the exploitation of the machine called American Idol," he said.
Aah, so he did it for the children.
Fox replied this morning in a statement. "We have concerns about the motives behind last night's purported news special, as much of it was filled with rumor, speculation and assertions from a disqualified contestant who admitted during the special to telling lies.
"Regardless, we are absolutely committed to the fairness of this competition. We take any accusation of this nature very seriously no matter their source and we have already begun looking into this."
"We have gone to great lengths and great expense to create a voting system that is fair and reliable. Judges may offer opinions, but viewers vote using their own subjective criteria, and it is the voters who ultimately determine each season's American idol."
They also indicated they had asked Clark for his help investigating the claims but "that has yet to happen."
And it won't because Clark doesn't want it to happen — it's not to his advantage to alienate Abdul THAT much and to swell a backlash against himself in sympathy with the elfin singer/dancer/choreographer were she to be kicked off the show — and neither does Fox.
The way it stands now, Clark got an hour of prime time TV exposure, including numerous shots of him recording his tell-all song "Paula-tics," he had the opportunity to reasonably prove that his allegations weren't fabricated out of thin air, he got to tweak the nose of the show that kicked him off for nondisclosure of legal problems resulting from an altercation with his younger sister, AND he will probably be able to avoid too much antagonism from fans of Abdul and the show, because he, in effect "refuses to testify."
No one REALLY loses, and Idol life rolls on. I wonder if this result was negotiated behind the scenes. It will be very interesting to see if Abdul is renewed for next season after all of this, however.
(Visited 1 times, 1 visits today)