Veteran TV, film, and stage actor Peter Boyle has died at the age of 71, according to his publicist. Best known to TV viewers for his ten-year portrayal of Frank Barone on the popular CBS sitcom Everybody Loves Raymond, Boyle had been in ill health, suffering from both multiple myeloma and heart disease. He survived a stroke in 1990 (which robbed him of his capacity to speak for six months) and suffered a heart attack on the set of Raymond in 1999.
Fans who came of age during the social upheavals of the Vietnam era might first recall seeing Boyle as the title character in a 1970 film entitled Joe, which played upon the stereotype of the blue-collar worker as intolerant bigot. But it was the 1974 Mel Brooks classic, Young Frankenstein, in which Boyle made a memorable splash playing the Monster to Gene Wilder's Dr. Frederick Frankenstein. The duet they perform in white tie and tails ("Puttin' On The Ritz") has always been a cinematic high point for me, with Boyle pulling the whole thing off with a carefully nuanced blend of monstrousness and urbanity.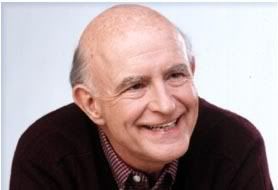 Boyle kept very busy throughout his career, appearing in dozens of films and televisions shows, including an Emmy-winning guest appearance on The X Files, but it wasn't until he landed the role of misanthropic paterfamilias Frank Barone in Everybody Loves Raymond in 1996 that he became a fixture in living rooms all over America.
As unattractive as the squabbling Barones could be — was there ever a TV sitcom family that seemed to like each other as little as these folks did? — Boyle managed to find Frank's heart of gold. Fortunately for the viewers, it was hidden under a very gruff and cynical exterior, and his character's lack of an internal editor provided some of the show's funnier moments, made even better by Boyle's unfailingly deadpan delivery.
Born in Philadelphia, Boyle spent three years studying for the monastic life before succumbing to the pull of the real world and the lure of acting. He made his home in New York City and is survived by his wife and two daughters.