Warning: Very mild spoilers ahead
House, MD executive producer Katie Jacobs has a lot on her plate. As "showrunner" of the hit series, she, along with series creator David Shore, are largely responsible for House's feel and look; its stories and direction. Approaching its 100th episode, and in the middle of its fifth season, House was the only network series nominated for a Golden Globe award. The show's star (and executive producer) Hugh Laurie was the only star of a network drama nominated in the drama category. I had an opportunity to sit down with Jacobs by phone the other day to chat about the show and reflect on its upcoming milestone 100th episode (airing February 2).
Although House, MD came away empty-handed from the Golden Globes, Jacobs said that the nomination "made us really, really happy." She pointed out that the other nominated series (including the winner, Mad Men) are "wonderful, ambitious, and original." But she also pointed out that "they don't have to do 24 episodes a year. To be included alongside them, when we have to produce so many shows a year," she continued, "is really an honor — especially in our fifth season."
House returns Monday, January 19 (NOTE: Another new timeslot for the show!) at 8:00pm ET with an episode entitled "Painless," an ironic title given House's own problems with pain. This week's patient, suffering with pain more "advanced and severe than House's," according to Jacobs, has been referred by House's former fellow, Cameron. The patient's pain has become intolerable "to the point where painkillers no longer work," Jacobs explained. "He's at a place where House may find himself at in years to come. That's the focus of the episode." She continued, "House is in a constant state of pain; believes that his drug use lets him do his job and relieve his pain. Cameron introduces the patient to House hoping that he sees some sort of version of what it might be like for him if he doesn't take better care of himself. She is worried about House, how he deals with his pain."
As you all might recall, when last we saw Dean of Medicine Lisa Cuddy back in December, she had rescued a left-for-dead baby, hoping to first become a foster mother and then adopt the child. "Painless" picks up with Cuddy dealing with the challenges new-motherhood. As anyone who has tried to cope with the trials and tribulations of being a working mother of an infant knows, it is an incredibly challenging task. The them resonates deeply with women who try (and not always with success) to find some sort of balance. "Would it be fair if we didn't present the challenges that it presents?" asked Jacobs. "Hopefully at some time she will find a balance, but it takes time," she added. "One of the things that is going to happen at the end of the next episode — Cuddy will see if perhaps someone else can do her job for a period of time so she can spend more time being a mother."
In the last new episode "Joy to the World," as Cuddy contemplated motherhood while peering at her new baby in the hospital nursery, a subdued House watched on before quietly wishing Cuddy a Merry Christmas. I asked Jacobs whether the sexual tension between House and Cuddy will cool off now that she's going to be a mom. "The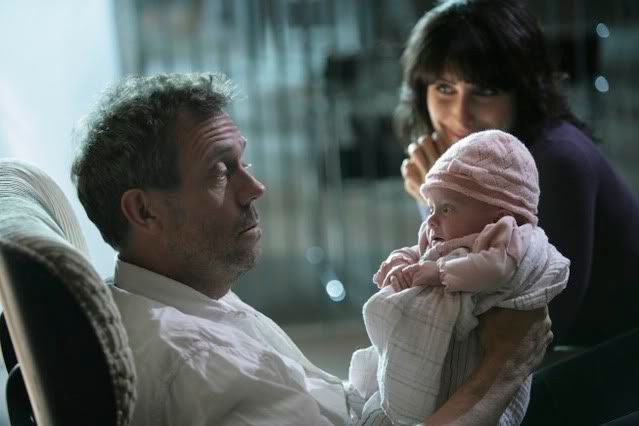 tension and chemistry are still there. Neither one of them is actively fessing-up to looking for a relationship, but they are drawn to each other. None of the flirtatiousness is going to go away. The stakes are very high for them. The attraction is still there. We are absolutely going to continue that. It's real and it's palpable. And it's who they are."
Clearly they have strong feelings for each other. And House is capable of real, grand, romantic gestures, like arranging to have Cuddy's old medical school desk installed in her newly-redecorated office (and the desk, Jacobs assured me, was indeed a gift from House). But House's romantic streak is "covered in fear and pain and a desire not to make himself vulnerable," explained Jacobs. "I think he's deeply romantic. As romantic as he is wounded, and that's part of the problem." Is it also why women viewers seem so attracted to someone who is, on the surface, such a jerk? "I think we see the pain behind the eyes.. the fact that he has a soul; that's where this all comes from. If he could only allow someone to ease that pain… But he's not at a point where he can do that," she emphasized.
I wondered whether anything special had been planned for episode 100, which is called "The Greater Good." Jacobs confessed that although they are excited and grateful to have gotten to 100 episodes, "David Shore is committed to treating it no differently than any other episode. It's an intriguing episode, hopefully. But it's no different than any other episode," she stressed, emphasizing that all episodes are handled with equal care. After the 100th episode will be one entitled "Unfaithful," which involves a priest. The ongoing storyline will continue to address "what it means for Cuddy to take on motherhood." In addition, there will be a hitch in Foreman's drug trial with 13.
Jacobs acknowledged that even after 100 episodes, she is still "amazed by the pilot. What I love about this show," she explained, "is that we have such a strong structure, it allows us to sometimes go in a completely different direction. Do episodes outside the formula." Those are the episode that tend to be her favorites, noting last season's two-part finale ("House's Head" and "Wilson's Heart, which Jacobs directed.) " I think our success is in part based on the fact that we have a show that people can know; but I think my favorite episodes are those that break that [structure]."
Speaking about the show's structure, I expressed my frustration with the recently-introduced "six-act" format. Unlike the conventional "four-act" drama series structure ("teaser" followed by a commercial break then four "acts" divided by commercial breaks), this new format cuts away less at the beginning of the show, but compensates by interrupting the story for more frequent, longer, commercial breaks during the second half-hour. Jacobs shared my (and many fans') frustration. "We hate it! We hate it! We hate it! It's not our choice! I'm like the audience; I don't like to cut to commercials that frequently at the end of the story. We beg and plead to go back to a four-act structure. We control content as best we can, but we have no control over this." Audience unite! When do we start a petition drive?
Jacobs is very involved with establishing the musical feel of the show, and has strong hand in selecting the series' soundtrack — the diverse range of songs that overlay (usually dialogue-free) montages. Music is a crucial element in the series, especially since House is, himself, a musician and aficionado of eclectic tastes. The music is often used not only to establish mood and atmosphere, but to move the story forward.
The show has developed an extensive music library, from which the series' tracks are chosen. "Music supervisors Gary Calamar and Lynn Grossman, Hugh Laurie, and (writer/executive producer) Peter Blake and I all contribute to the music library," Jacobs explained. "The music editors cut in what they think fits (as a first pass). The director gets a version, possibly more changes, then I come in, and I always like to hear a bunch of different things. I let them sit in my brain for a little bit.
"It's a cool part a show," she continued. "We use music sort of differently. Not just as background filler. We aspire to use it more cinematically. We usually try to have some sort of soulful element to them." But Jacobs emphasized that a variety of genres fit the bill. "Curtis Mayfield ('Superfly' was used in the season three episode "Top Secret") fits House too."
The series soundtrack has ranged from Bach ("French Suite No. 5" in season two's "Skin Deep") to Ella Fitzgerald to heavy metal. Jacobs pointed out, however, that the only time she really knew ahead of time that she wanted to use a particular song was after getting an advance copy of John Mayer's album Continuum, which included the song "Gravity." "I knew that House would be starting out (season three) not using a cane, and then he goes back to using one. When I heard the song 'Gravity,' I thought 'this will work' for when House needs to go back to his cane. That show coincidentally aired the day Mayer's album came out." Anyone remembering that scene at the end of "Cane and Able" is aware of how powerfully that track resonates as House finally succumbs to the returning pain, picking up the old cane.
"In the upcoming episode "Unfaithful," revealed Jacobs, giving me a bit of a mini-scoop for fans, "there's a piece of music so beautiful so evocative and amazing — and composed by Hugh Laurie!" House fans do notice (and covet) those too-rare moments when House plays piano or guitar (or even sings). Of course, Jacobs acknowledged, Laurie has contributed musically to the show several times, but not quite in this way.
"Hugh has contributed not only in front of the camera, but has contributed in a way nobody else could. He is such a partner." When Laurie signed on for an eighth season, he was made an "official" executive producer. In fact, early on during this season, he is doubly credited as both star and "executive producer." Some very observant fans noticed that soon thereafter, his executive producer credit mysteriously disappeared from the opening credits. Although Jacobs isn't involved in that part of the process, she explained that, true to very modest Laurie's nature, "he probably doesn't want the double credit up on the screen. He's much more demure about these things. He is an executive producer, and rightly so. I don't think that Hugh even knew it was going to be there; and when he saw it said…no, no, no…don't want another credit up there! "The truth of the matter is," Jacobs acknowledged, "there are three people who run this show: David (Shore), myself, and Hugh. Hugh has been contributing in so many ways from the very beginning, which is why the show is so successful. He's really been an executive producer from the start."
House airs Mondays on FOX at 8:00pm ET.