Rock Star: Supernova has ended more than their season and the competition, it looks like the very name, "Supernova" may be a thing of the past. For the time being, for me, the name remains the same.
The choice has been made on Rock Star. A lead singer from the pool of the fifteen original contestants has been chosen. I predicted Lukas Rossi to win the competition the first night I watched the show, written in my commentary, Rock Star: Supernova First Light.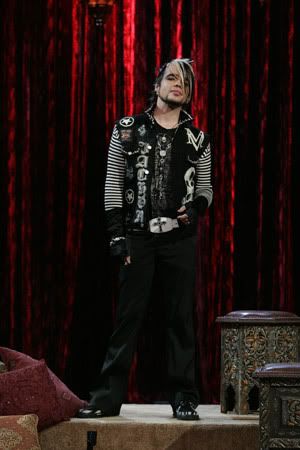 Entering the Rock Star: Supernova final four finale, the format at first confused me -- down to four? Last season on Rock Star: INXS, the finale featured the top three contestants. Reviewing the results of the past few weeks of Rock Star: Supernova, Week Nine had Ryan Star, Dilana, and Storm Large in the bottom three with Ryan Star "tommyhawked" from the show. It was then announced that Magni carried the highest numbers of votes for the night, followed by Toby Rand. Week Ten, Dilana once again revisited the bottom three, joined by Storm Large and a surprise bottom three visitor, Lukas Rossi. Week Ten had The Iceman and the handsome Australian Toby Rand with the highest number of votes. Also, in the weeks prior to the finale, there had been discussion about a dual elimination in Week Ten. Instead, only Storm Large went home to sleep in her own bed.
One reason for two contestants from Rock Star not being sent home the tenth week could be as simple as the producers wanting to fill the last show with more material. One other reason, that if two had been sent home in week ten, the resulting finale would not have been as dramatic. Considering on Rock Star: Supernova there has been a big drama played out involving one of the finalists, Dilana, a finale without one of the main ratings cash cows, and biggest on-line draws would not be as exciting, or as possibly profitable. Week Ten was Dilana's second trip to the bottom three, so she'd have been the natural one to exit along with Storm Large. That would leave the finale with Lukas Rossi, Toby Rand, and Magni.